India's Tharoor charged over wife's death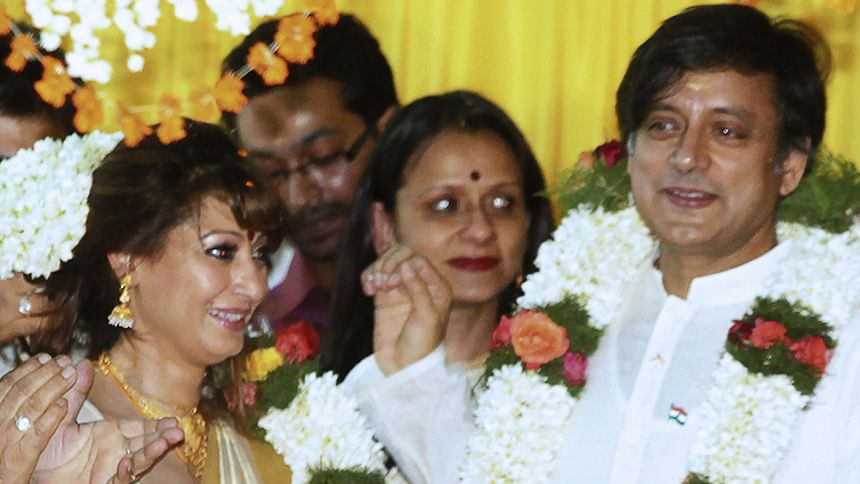 A prominent leader of India's opposition Congress party, Shashi Tharoor, today rejected police charges against him for abetment in the suicide of his wife in a case that has led to political mudslinging.
Tharoor's wife, Sunanda Pushkar, was found dead in a Delhi hotel in January 2014, prompting an investigation by city police. Her death came days after she was involved in a row with a Pakistani woman journalist over Twitter.
On Monday, Delhi police said Pushkar's death was a case of suicide and brought charges against her husband for abetment and cruelty, a police officer said. The officer declined to be identified in line with service rules.
Tharoor, who also served at the United Nations, dismissed the charges and said he would fight them.
"I have taken note of the filing of this preposterous charge sheet and intend to contest it vigorously. No one who knew Sunanda believes she would ever have committed suicide, let alone abetment on my part," Tharoor on Twitter.
"If this is the conclusion arrived at after more than four years of investigation, it does not speak well of the methods or motivations of the Delhi Police."
He did not respond to a Reuters message seeking comment.
Tharoor, a former foreign and human resource development minister in the previous Congress party-led government, married Pushkar in late 2010, the third marriage for both of them.
Under Indian law, a magisterial inquiry is automatic if a woman dies within seven years of marriage. Subramaniam Swamy, a leader of the ruling Bharatiya Janata Party, went to court demanding a special investigation into Pushkar's death.
The Congress party said today it stood by Tharoor and accused its rivals of playing politics.