Mahathir to be sworn tonight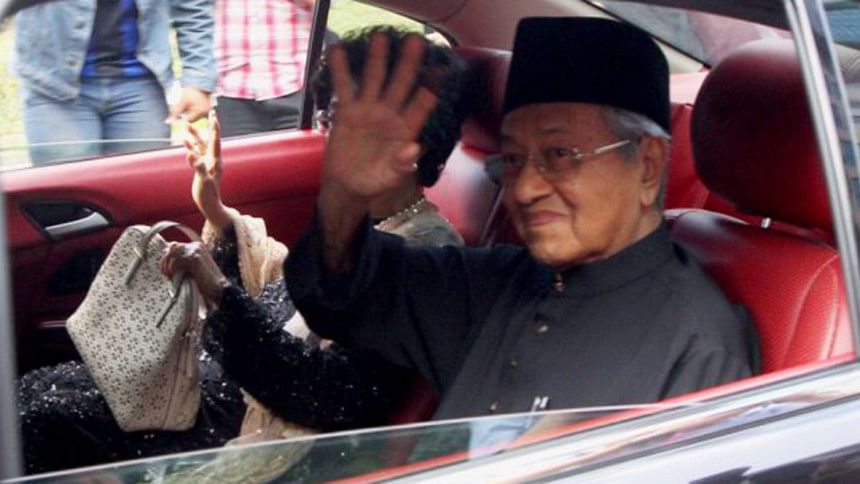 Tun

Dr

Mahathir Mohamad is expected to be officially sworn in as Malaysia's seventh prime minister at

9:30pm

tonight.
Bernama tweeted that the ceremony is set to take place before the Yang di-Pertuan Agong Sultan Muhammad V at Istana Negara at about 9:30pm.
However, hours passed without the entourage leaving, raising questions as to what developments were taking place inside.
In a later tweet, Bernama said that four Pakatan Harapan leaders completed their audience with the Yang di-Pertuan Agong at 6:48pm.
Sources said that the evening meeting with the King was not for the swearing-in ceremony.
"The Yang di-Pertuan Agong took the opportunity to talk to the leaders. He had individual sessions with them," said the source.
However it is not clear what are the issues that were raised in the meeting between Sultan Muhammad and the presidents of the three parties.
Around 6:40pm, news started circulating that the swearing-in would only be held later.
A Facebook fan page for Dr Mahathir's son and newly-elected Jerlun MP Datuk Seri Mukhriz also mentioned the matter.
The posting said: "Setelah lama menunggu. Ayahanda Tun Dr Mahathir mendapat Perkenan untuk mengangkat sumpah sebagai Perdana Menteri Malaysia jam 9:30 malam nanti. Syukur Alhamdullilah (After a long wait. Tun Dr Mahathir has received consent to be sworn in as Malaysia's Prime Minister at 9:30pm. Syukur Alhamdulillah)".
The Dr Mahathir-led Pakatan won the 14th General Election with 113 parliamentary seats.
Copyright: The Star Online/ Asia News Network