Kim's rare trip to China!
Reports say train believed carrying top N Korean delegation leaves Beijing after whirlwind visit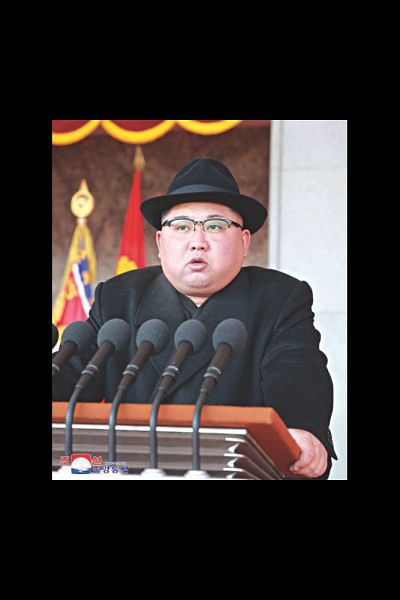 A train believed to be carrying a senior North Korean delegation left the Chinese capital yesterday following a dramatic whirlwind visit that some reports said included the country's leader, Kim Jong Un.
The conservative South Korea Chosun Ilbo newspaper, citing an unnamed senior intelligence official, said the delegation had included Kim and that he had since left to return to North Korea.
South Korea's left-leaning press Hankyoreh also reported Kim had travelled to Beijing for meetings with Chinese President Xi Jinping on Monday afternoon before leaving for a "third location" yesterday. It did not cite specific sources.
The Hankyoreh did not specify where the "third location" was but said it could be in China. Hong Kong's South China Morning Post said Kim was on the train that left Beijing, citing two anonymous sources.
South Korea said it was closely watching events in Beijing, where a foreign ministry spokeswoman deflected a question on whether Kim, his sister or some other senior North Korean was visiting. South Korea's spy agency declined to confirm the report.
"At present I have no understanding of the situation you mention. If there is news we will release it," foreign ministry spokeswoman Hua Chunying told a regular daily briefing.
Diplomatic sources in Beijing said a senior North Korean official was in town, but did not know exactly who.
Bloomberg, citing three unidentified sources, reported late on Monday that Kim was in Beijing in what would be his first known trip outside North Korea since taking power in 2011.
The unconfirmed visit came ahead of planned summit meetings with South Korean President Moon Jae-in and US President Donald Trump.
"The presidential Blue House is watching things in Beijing very closely, while keeping all possibilities open," said the senior official in Seoul, who spoke on condition of anonymity.
Improving ties between North Korea, which is pursuing nuclear and missile programmes in defiance of UN Security Council resolutions, and China would be a positive sign before the planned summits, he said.