21 'bodies of trafficking victims' to be buried in Malaysia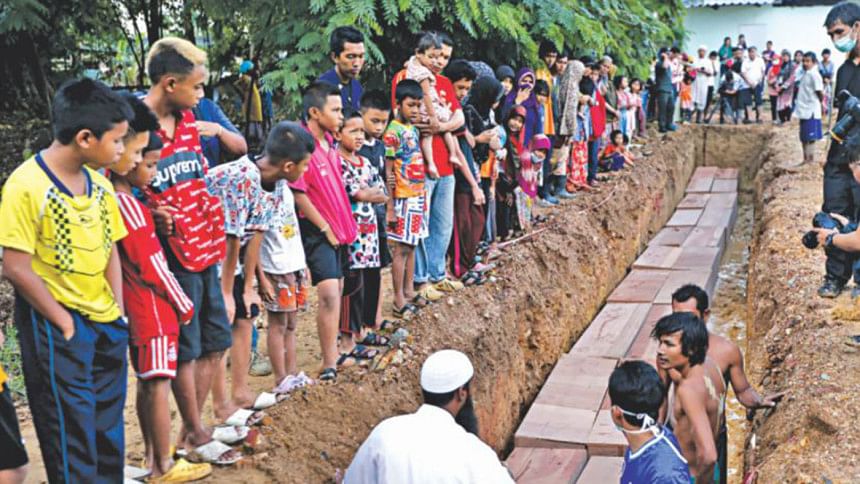 At least 21 bodies believed to be of human trafficking victims were brought to Kampung Tualang of Pahang state in Malaysia for a mass burial this morning.
They were the first batch of a total of 106 bodies to be buried in Kampung, reports Malaysian English daily The Star.
The bodies were retrieved from the 139 graves scattered around 28 transit camps abandoned by a human trafficking syndicate in Wang Burma hill and Wang Perah hill in Perlis, at the Malaysia-Thailand border.
The victims were believed to be Bangladeshi migrants and Rohingyas from Myanmar.
Meanwhile, Malaysian Home Minister Datuk Seri Dr Ahmad Zahid Hamidi said the government has no plans to form a Royal Commission of Inquiry into the existence of human trafficking camps and mass graves near the Malaysia-Thai border.
He said this was because the Government had faith in the agencies under the ministry, which had the necessary expertise to conduct investigations on the matter.
"We are currently reviewing the security agreement between Malaysia and Thailand or the general border committee to boost security at the borders. "We will not compromise on safety," he said when answering questions in the Malaysian parliament Dewan Negara.
 The Malaysian Home Minister gave his assurance that the government will not compromise on taking action against government officials including high-ranking officers if they were found to be involved in human trafficking.
"It will not only be limited to disciplinary action but we may bring them to court if they are found to be involved," he said.
It is reported that 28 human trafficking camps and 139 graves were discovered in Wang Kelian and at the Malaysia-Thai border.