​Ferguson police chief quits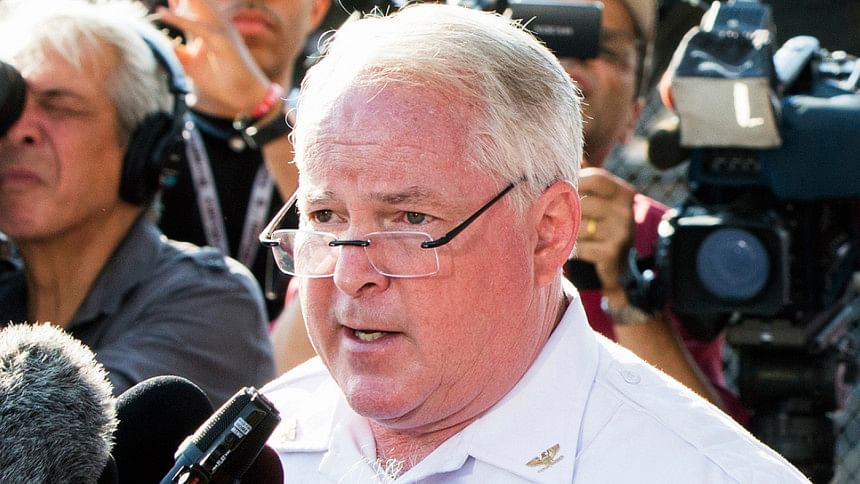 After a federal report alleged widespread racial bias in his department, the police chief of Ferguson, Missouri, has agreed to resign.
Ferguson came under investigation after a white police officer killed an unarmed black teenager in August, sparking weeks of unrest.
Several other Ferguson officials have stepped down in wake of the report.
US authorities have vowed to reform the force, possibly dismantling it.
Thomas Jackson had resisted calls from protesters and some state leaders to step down, after the shooting of Michael Brown and the weeks of demonstrations that followed.
The St Louis Post-Dispatch newspaper has published what it said was  Jackson's resignation letter.
"It has been an honour and a privilege to serve this great city and to serve with all of you," the letter reads.
Brown's shooting in August drew international attention, and  Jackson's handling of the situation drew widespread criticism.
A St Louis County grand jury and the US Justice Department found that Officer Darren Wilson did not break any laws when he shot Brown.
But the shooting and the riots that followed spurred a federal investigation, which found overwhelming racial bias in the town's policing practices. The report, released last week, detailed how Ferguson officials used the city's police and court system to generate revenue.
Ferguson Mayor James Knowles called  Jackson an "honourable man" on Wednesday, saying the chief decided to step down after much "soul searching".
The resignation will be effective on 19 March. The city said it would be giving  Jackson a severance payment and would pay for his health insurance for one year.
The city said that it will conduct a "nationwide search" for a permanent replacement for Jackson who has been chief since 2010.
The police force had three black officers, despite the fact that the city of 21,000 people was predominately black.
Commenting on the report into abuses at the department, US Attorney General Eric Holder said the federal government will "use all power that we have to change the situation."
That could include dissolving the police force and turning over law enforcement responsibilities to neighbouring agencies.
Mayor Knowles has downplayed this as a possibility, and has said that city leaders will meet with officials from the Department of Justice later this month and discuss reforms to the police department and court system.
"We are committed to keeping out police department and having one that exhibits the highest degree of professionalism and fairness," Mayor Knowles said on Wednesday.
The federal report found that black motorists were more than twice as likely as others to face searches during traffic stops and were more likely to be subject to excessive force from police.
Since the report was released, the city manager, a judge, two police officers, and a court clerk have either resigned or been fired.