Healthy Lifestyle, Healthy Heart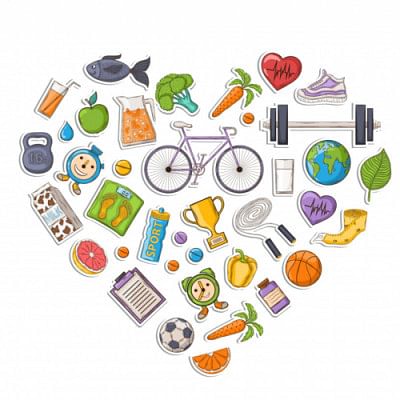 Are you aware of how your lifestyle might affect your heart health? Are you aware of your surroundings and their effects on your heart? If you have not taken a closer look at your heart, here's why you might want to.
Healthy fat, NOT trans fat
We have been told to avoid fat to keep us safe from heart diseases, but what type of fats? Most of us might be unaware of the fact that healthy fats, as the name suggests, are healthy for us whilst trans fats are not!
If you have been wondering why you might have no significant improvement on your weight or heart health, this may be because you have been cutting back on healthy fats as well. In case you're wondering what healthy fats, they comprise of foods such as avocados, whole eggs, cheese, dark chocolates, different types of nuts, oh and let's not forget, chia seeds. Then what are trans fats? Fried fast foods, bakery products, pizzas, potato chips, microwavable popcorn, and more.
Qamrun Ahmed, a senior nutritionist of Labaid Hospital, says: "I prescribe a low cholesterol diet to my patients.
Some heart patients that consult me avoid taking milk in their diet, but it is important to have skimmed milk. I advise my patients to avoid heavy snacks in the evening." Other than fatty foods, a check-up of your daily food intake is necessary too. Too much sugar, oily foods, sodas, red meat and more cause you to be at risk of heart diseases.
Dr Lutfor Rahman, Chief Cardiac Surgeon of Labaid Hospital, says: "Food quality should be of utmost importance. If we look for good quality oil for our cars, why not our heart? People need to give up the trend of 'too much oil, too much salt, too much sugar.'"
Yes, oral health matters!
Brushing two times has more benefits than you would have ever
expected. Not only does unhealthy teeth lead to gum diseases but also heart diseases.
Samia Huda, a practising dental surgeon, says: "The bacteria, which forms gum diseases, when it keeps increasing it reaches the heart through blood circulation. This is why heart diseases may occur from gum diseases too."
Desk jobs are not quite healthy for the heart
Sedentary jobs are a part of our life. There is no denying that our modern lifestyle mostly revolves around desk work and requires us to sit for hours after hours. Now, you might be familiar with the fact that sitting for long hours in one position gives you back pain but did you know it causes heart diseases too? This is bad news for all of us who work desk jobs.
Not only are long hours of sedentary work bad for us but even if you are travelling for too long, attending long seminars, or doing something as simple as attending long meetings, it may cause problems too. Nothing to be afraid of though! Dr Lutfor Rahman suggests, "Inertia is not a good state. Moving around in the office, taking short walks away from your desk, eating away from your workspace are good ways to keep yourself in a balance."
Enough sleep – you need enough sleep
Sleep is an underrated topic. Sleeping keeps you happy, keeps you healthy! As we all know, lack of sleep can affect your immune system, leading to stress, depression, high blood pressure, obesity and more. Lack of sleep is also a very strong determinant of cardiovascular diseases (CVD). To those who sleep less than six hours at night, chances are you are at risk of heart disease.
Passive smoking
If you are worried about putting yourself at risk of heart disease by smoking, you are probably putting others at peril too.
Enough with "smoking causes heart diseases"! Even if you are not a smoker, you are at risk of heart disease too. Studies actually show that non-smokers who are exposed to heavy smoking environments are at risk in the same way that smokers are.
Especially if you are a patient of high blood pressure or high blood cholesterol, your chances of attaining CVD are higher than usual.
Qamrun Ahmed says, "Most of my male patients are smokers, and so I advise them to lead a lifestyle which will reduce their cigarette intake, this will create a healthy environment for non-smokers as well."
Does the modern lifestyle have anything to do with my heart?
Our lifestyles have evolved drastically with time. Our noodles are instant, our food is processed, our calls are now texts over messaging apps like WhatsApp. The digital world is all-pervasive.
What we fail to notice a lot of the time is that our lifestyle has a very big impact on the chances of us being at risk of heart disease. Our family, environment, friends, work and lifestyle have a lot to do with our health.
46-year-old Imran says he stays quite busy with his work. Busy enough to not be able to give his daughter, Ameena, 12, and his wife, Shaila, 42, enough time. On weekends, Imran likes to spend time with his family by trying new restaurants around Dhaka. His wife, Shaila, says she's concerned about Ameena's health. The doctor says Ameena is overweight for her age and may be prone to heart diseases due to her increasing level of cholesterol.
On asking the reason, Shaila mentions that both Imran and Ameena love red meat for dinner and so almost three days out of seven they dine with red meat cooked at home and the weekend calls for restaurants!
She mentions, "My parents were never worried about such an alarming issue when I was young. We always opted for home food rather than restaurants as there weren't many restaurants before unlike now and the ones that we went to were quite expensive and so we seldom ate outside." She adds, "Ameena lacks access to proper and safe playgrounds, due to which we prefer taking her out to restaurants. We had the option of going out and enjoying ourselves but restaurants were never our first priority."
"I recently get many young patients due to increasing awareness through social media. This is a good thing. I would suggest teachers enforce this matter to students, so they are aware of diseases beforehand" says Dr Lutfor Rahman
"Evening walks are much better than morning walks, therefore I suggest my patients walk in the evening to maintain a healthy lifestyle." Qamrun Ahmed says.
So now, ask yourself is your lifestyle healthy for your dear heart?