Unhr commissioner's visit: Rights issues, Rohingyas to figure high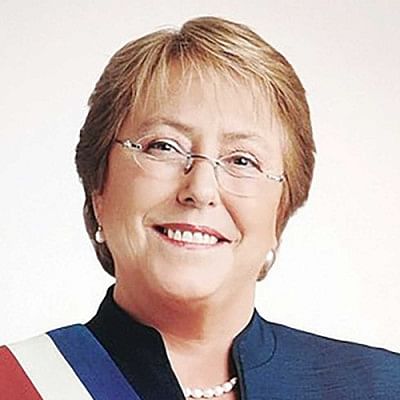 UN Human Rights Commissioner Michelle Bachelet will be focusing on human rights situation in Bangladesh, Rohingya crisis, and climate change during her four-day visit here that begins on August 14.
Arriving at the invitation of the Bangladesh government, she is likely to call on Prime Minister Sheikh Hasina, Foreign Minister AK Abdul Momen, Home Minister Asaduzzaman Khan Kamal and Law Minister Anisul Huq.
The former president of Chile, who has been appointed UN High Commissioner for Human Rights in 2018, may also hold meetings with the UN representatives and civil society groups and visit Rohingya camps in Cox's Bazar and a climate vulnerable site to learn of how climate change is affecting human rights situation in Bangladesh, said officials.
"Previously, Michelle Bachelet's schedules were fixed but changed thrice -- in February, April and May. But she had to cancel the schedules for various reasons, including sickness," a foreign ministry official told The Daily Star yesterday.
This visit comes when Bangladesh faces US sanctions on Rab and seven of its current and former officials on the grounds of human rights violations, while the country also faces the burden of one million Rohingyas and the recurrence of natural disasters induced by climate change.
The foreign ministry official said violations of human rights of the Rohingyas have been a focus area for Bachelet, who will definitely focus on it during her visit to Bangladesh, specifically the Rohingya camps in Cox's Bazar.
"Also, for Bangladesh climate change is a serious issue. A lot of people are being affected by the impacts of climate change and there are issues of their rights violations as well. So, this will also be highlighted," he said.
In a statement on March 14, UN human rights experts called on Bangladesh to immediately cease reprisals against human rights defenders and relatives of forcibly disappeared persons for their activism and co-operation with international human rights bodies and UN mechanisms.
They said following the announcement of US sanctions against Rab on 10 December 2021, Bangladeshi authorities had reportedly launched a campaign of threats, intimidation and harassment against relatives of forcibly disappeared persons, human rights defenders, and civil society actors.
The experts noted with concern the increasingly challenging situation relatives, human rights defenders, and civil society are facing in Bangladesh. Repeated accusations by senior government officials against some civil society organisations of providing "false information" to the UN mechanisms risk undermining the civil society's key role.
The statement said since 2009, the Rab has reportedly been involved in the perpetration of the majority of cases of enforced disappearance in the country, as noted in several reports by the UN Working Group on Enforced or Involuntary Disappearances.
In the latest statement of Bachelet's office on June 10, it said it was concerned by Bangladesh's decision not to approve the renewal of registration for Odhikar. The decision follows repeated accusations by the authorities against Odhikar for "spreading propaganda" and "publishing misleading information" about extrajudicial killings and enforced disappearances.
Another foreign ministry official said the government would clarify various aspects of human rights issues in Bangladesh and the measures already taken.
Under the UN Wing of the foreign ministry, an official was designated to better coordinate the issues of human rights. Earlier experiences suggest that the reporting mechanism was not comprehensive or the way the UN and other rights bodies want, he said.
Since the US sanctions, there are almost no allegations of "extrajudicial killings", the official said.
"We have already improved our rights situation and will highlight these."