Violence against teachers: A sickness caused by deterioration of values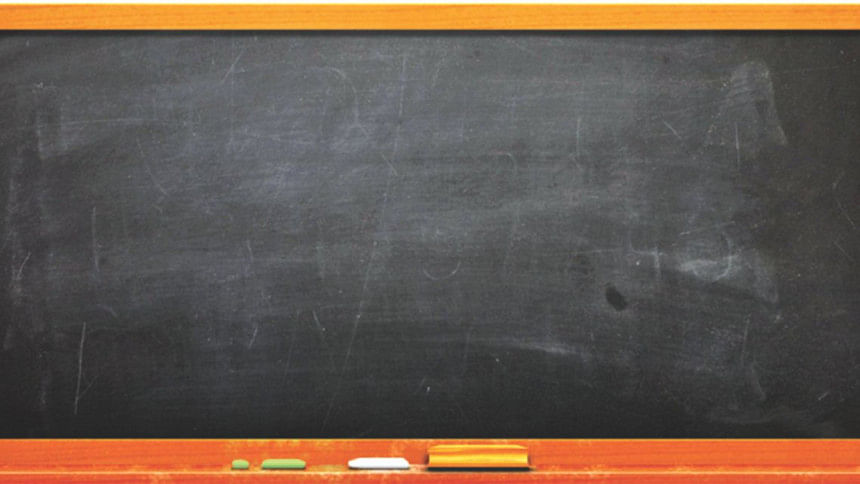 They were never part of the political elite. Neither were they among the wealthy. Yet they were always considered the most revered and respected members of society because they were teachers -- high school teachers in particular.    
Traditionally, many teachers were practitioners of Hinduism and treated teaching as sacred as a religious ritual.
They were people of refined tastes, intellectual prowess and progressive thinking. They were above the biases created by differences in religion, caste and colour. As much as the students feared them, they respected and admired them a lot more.
Their presence was significant even three decades ago. Most of today's middle-aged citizens of Bangladesh have taken lessons from them. When needed, they rebuked their students, and on occasion, didn't spare the cane. The students feared them but never could they even think of disrespecting their teachers.
While they exerted authority, they also knew how to nurture students with love and affection. They would protect their students like their own children. The relationship between students and teachers was one of great respect and affection. Guardians too respected the teachers.
Times, however, have changed quite a bit since Bangladesh gained independence. Politics headed down the wrong path and this created a hostile environment for teachers. As a result, they were gradually forced to leave the country.
But the gap left was never filled. Thus, the main reasons behind the anarchy in our education system can be traced to the dearth of such revered educators.
We claim that the society has changed, but when asked why and how it has changed, we have no acceptable explanation, nor any related research.
In any society, it is always the middle class that plays the most important role in setting the norms and deciding standards.
The student-teacher relationship was based on mutual affection and respect emanating from a value system adopted by the middle class. And politics played an important role when this value system was constructed. The middle class had control over politics, and culture was deeply connected with it. The middle class also led the main cultural activities. In addition to teaching, teachers were directly or indirectly in charge of these cultural activities. Teachers commanded absolute loyalty and respect from the middle class and students eagerly followed the path adopted by their parents.
After gaining independence, Bangladesh's politics went through a lot of change. Honesty continuously eroded from politics. A significant portion of the middle-class leadership has already been lured by the charm of dishonest politics. The principles-based leftist politics and cultural activities, once so prominent in our region, gradually began to weaken.
The leftist politicians and cultural icons were never too influential in terms of the popular vote-based politics. But they always played a central role in defining the middle class's values and tastes. These values were reflected in their day-to-day lives. Thus, the middle class could rally behind them.
That thought process has become virtually extinct. Many of those iconic personalities are bogged down by despair and frustration. Many have compromised their integrity. Thus, the engineers of social reform, the middle class, are in a state of confusion. Their leadership has adopted dishonest politics and become seduced by financial gain.
They continue to hold leadership positions within the middle class but have long abandoned its value system. Today, they are the ones most prominent when talking about anomalies in society. They are vociferous about the moral decay of society and the disappearance of values. They have made the terms "values" and "decay" rather fickle.
The fact that the values did not leave us but have instead been driven away is something that no one has the courage to utter.
There is no platform which can be used to challenge this so-called middle-class leadership, the members of which have long since strayed from their original path -- thanks to politics. Aided by the middle-class leadership, politics of opportunism has managed to obliterate the mainstream educational system to a great extent.
A damaging habit of leaking question papers and not taking any actions against the culprits is in vogue. Teachers of higher educational institutes were lured with promotions and better designations. Obviously, they are suffering from an eroding moral compass.
In today's society, teachers are being oppressed. Politicians are giving them corporal punishments, they are being forced to wear garlands of shoes in presence of members of the police, students are physically assaulting their teachers and killing them. None of these are events disconnected from society. These are inevitable results of the society we have created.
These problems have no instant solutions. Why the student-teacher relationship has deteriorated to this level, why students no longer respect teachers, why students are killing teachers -- these questions have no simple answers.
There are no ad-hoc solutions. This noxious environment wasn't created in a day, it took years to arrive at this point. If we are serious about getting out of this quagmire, we have to start taking steps from today.