Walton Primo RX2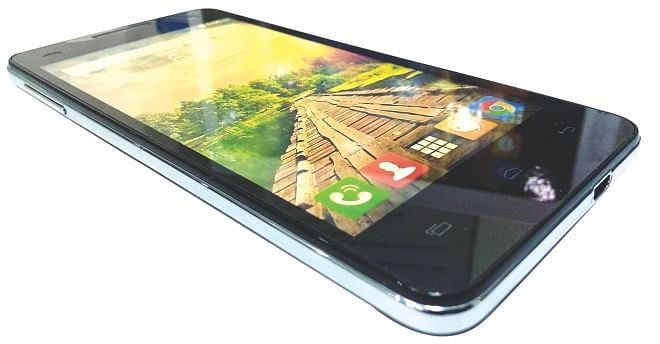 When it comes to the Smartphone industry of Bangladesh, Walton has made a significant dent even for industry giants like Samsung and HTC. Sensing the rising demand for Smartphone Walton decided to offer them with a price tag that the vast majority of the country can afford. Within, a very short span of time they became somewhat more than "successful" and captured a good chunk of the Smartphone industry of our country. These days you will rarely find anyone without a Smartphone. I personally feel Walton has played a vital role to achieve the goal of "Digital Bangladesh". The moment they launched their latest wonder of the renowned Primo series, I rushed to my nearest Walton outlet to get a glimpse of the device.  
Design and Display:
Well when I first got my eyes on RX2, it seemed like just another Primo series phone. However the moment I started surfing the phone to get a deeper insight, my premonition slowly started to fade away. The predecessor RX, which we have seen last year, is a bit out of shape compared to this one.  Measuring only 8.25mm in thickness gives the phone a bold and polished vibe that many devices are missing these days. It has a 5 inch display which is great when it comes to tapping out texts, with the keyboard. With a resolution of 1280×720 and pixel density of 294ppi, the display seemed….. Meh. The capacitive touch screen is well protected by 2nd generation Corning Gorilla Glass. Below the display there are three brightly lit Android capacitive buttons. The power button is placed on the top right corner, the Volume keys are on the left side and the top contains a 3.5mm headphone jack. Frankly I wasn't very satisfied with the overall design of the phone. Not that it is obnoxiously designed but we have seen better-even from Walton.   
Hardware:
Although the display was quite a disappointment, I still decided to dig a bit deeper in to the hardware of the device. Nevertheless it all matters on what's on the inside Primo RX2 is well equipped with a 1.5 GHz Hexa Core ARMv7 processor, which is creating a lot of hype these days in the Smartphone arena. The chipset has a 6 core processor which is supported by a RAM of 1GB, which is not adequate if you compare it with the processor. In order to support a Hexa Core processor Walton should have amplified the RAM to make multi tasking smoother. However, I was quite staggered to see even with a RAM of 1GB the phone didn't show much sign of laggings. For graphics it packs a Mali 450 GPU.  
OS:
After an agonizing wait Walton at last armed its device with the latest version of Android. Primo RX2 runs on the latest android 4.4 Kitkat, which makes it completely unique from any of its predecessors. The OS is smooth and user friendly and the phone is stuffed with pre loaded apps. Talking about apps, the phone contains a special feature, which is the main highlight of RX2. The feature known as "Anti Theft" feature will protect your phone from theft or any sort of misuse. The feature is SMS based, works remotely and is capable to wipe out all the data your phone contains. To enable this feature you need to provide an alternate number, which will work as a remote in case you lose your phone. The moment a SIM is inserted in your phone a SMS will be sent to the number that you have provided. By sending some simple SMSs' you will be able to lock your phone or erase the data the phone contain.
Camera:
If only one word could describe it properly- it would most definitely be "Bewildering". The 13 megapixel back camera and 2 megapixel front camera gives you yet another reason to go for this device. The 13 megapixel camera will allow you to relive the past moments and cherish the memories. The image quality is brilliant and the device allows you to record Full HD videos. With an expandable memory card slot of up to 32 GB it is highly unlikely that you will run out of space.
Battery:
The Primo V1 is powered with a 2,220 mAH removable high density Li-polymer battery.  That packs enough juice to run you device for One day in full mode. If you are a 3Gholic like me then this battery might seem a bit less, but at this price you ain't getting anything better than this.
Specs
Primo RX2
Display: 5 inch, 1280*720, 2nd generation gorilla glass
Processor: 1.5 GHz Hexacore Processor
Operating System: Android 4.4.2
RAM: 1 GB, ROM: 8 GB
Camera: Primary- BSI 13 Mega pixels with auto focus, Secondary- 2.0 Mega pixels
Sensors: Motion sensors: Accelerometer, Proximity, Hall Sensor, Noise Reduction etc
Battery Capacity: 2200 mAh
Special Security: Remote Phone Lock, Remote Data Wipe, Fetch back Anti Theft PIN, Data Encryption
Price: Tk. 15,990/-
Verdict
With a "Just-OK" design and "Really good" processor the Primo RX2 is a run of the mill device with its affordable price tag. The display and the RAM is a bit of a disappointment but when you compare the overall specifications with the price tag it seems quite reasonable. The processor, which deserves a special mention, is simply great. It comes with a great anti-theft feature which we liked as well. With so much pickpockets and WHITE ALLIONS (or PREMIOS) lurking out there, the Walton Primo RX2 doesn't seem to be not that bad of a choice.