How can we stop migrant workers' deaths abroad?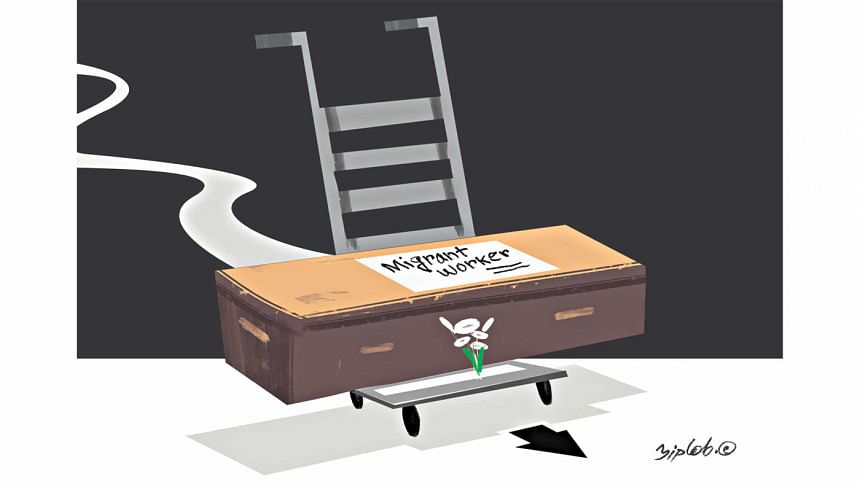 Shobuj, a young man from Tangail, in his late twenties, was reluctant to comply with his supervisor's instruction to enter a sewage pipe for maintenance work without an oxygen cylinder. He thought it was too risky. He had been in the Middle East for more than a year and, despite fulfilling the stipulated obligations of his work contract, his company was not issuing him the Iqama (residence card tied to employment). Shobuj was aware that the document was critical to prove his bona fide stay and employment in that land, and failure to show it on demand to the members of law enforcement agencies might entail a prison term for irregular stay. After weighing the pros and cons of not doing the task—that bore the risk of termination and deportation—and his supervisor's reassurance that the matter of his Iqama would soon be sorted out, Shobuj descended into the unsafe sewage pipe with a couple of his workmates. Soon, they suffered from asphyxiation (presumably from entrapped gas), and Shobuj subsequently succumbed to it.
To this day, Shobuj's family has not received any explanation as to why no appropriate safety equipment was provided to him, nor what precluded the company from issuing him the Iqama for such a long time. No less important was the absence of any explanation as to why the family would not get any compensation for the death of an employee in an accident while performing a task that was assigned to him.
Shobuj's case is not an isolated one. Each year, thousands of workers from the Asian region die in the countries where they go to earn a livelihood. While a section of these mostly young men and women die due to road accidents and explainable causes, many such deaths cannot, in reality, be attributed to "natural causes" (that are marked in the official records), and are deemed to be "avoidable" if appropriate mitigating measures were taken by the authorities concerned.
About 70-80 percent of the 58 million migrant workers who work in the Gulf states of Bahrain, Kuwait, Oman, Qatar, Saudi Arabia and the United Arab Emirates (UAE) are engaged in low paid sectors: domestic work, hospitality or construction. A good section of them work under the open sky—those in construction sites, maintenance tasks, orchards or tending animals. Their exposure to heat, humidity and dust storms is relatively higher than those who work in covered compounds. Despite periodic expressions of concerns by a few international rights bodies and limited reporting in the mainstream media, there is a paucity of organised information, data and research on this important issue. A recent multi-country research and advocacy initiative, named the Vital Signs, produced a report titled "The Deaths of Migrants in Destinations" and helped trigger discussions at the national level in a few countries of origin, including Bangladesh.
The principal focus of this initiative is to gather evidence about the experiences of migrant workers who often work and live in difficult and unsafe conditions that can lead to their deaths. It also attempts to engage with members of the workers' families to understand the trauma and uncertainties they endure when often the sole breadwinners in their families meet untimely and unwarranted deaths. The study and the related national consultations of stakeholders that were held in Bangladesh, India and Nepal in March 2022 have noted that the lack of recognition of the migrant workforce's contributions in the economic development of the countries of destination (CoDs) and the absence of a right-based regime for workers increase their vulnerability. The destination states' lack of initiative for protection of low-skilled migrant workers, and their ability to source workers from another country if one country insists on better protection of its nationals, accord them with undue economic and political leverages over the sending countries. In addition, competition among the labour sending countries to secure a share of the Gulf labour market and the perceived benefits of outward migration (most importantly in the form of remittances) have often discouraged those countries to collectively articulate the demand for better protection of their migrant workforce in the regional and global forums and processes.
Over the years, right groups, trade unions, academics and the media have made detailed documentation of serious abuses of workers and the gaping holes in the protection systems of the destination countries. They also underscored the critical gap in research pertaining to how many workers are dying and the reasons for their deaths. Allegations have been rife that the Gulf states have largely avoided structural labour reforms, while the countries of origin (CoOs) have been unable to ensure proper protection for their citizens abroad.
Studies have claimed that none of the Gulf states have laws to adequately mitigate the risks faced by outdoor workers in extremely harsh climates, and have only addressed the issue with rudimentary blanket ban for stipulated hours during summer. Recent findings in medical research have noted that migrant workers engaged in strenuous work in harsh climatic conditions are likely to suffer from chronic kidney disease (CKD). There is also growing evidence that links poor air quality with acute mortality.
All these, compounded by the challenging—if not abusive—working conditions, including excessive working hours, also take toll on the physical and mental well-being of the migrant workers. Feelings of alienation and isolation and the lack of rest and leisure also contribute to their sufferings. Job insecurity, unhygienic living conditions, lack of access to redress mechanisms, and pressure of debt repayment expose migrant workers to long-term chronic psychosocial stress and are likely to have a detrimental impact on their mental and physical health. There is a growing body of evidence that highlights dangers inherent in work and lax occupational health and safety practices in sectors that employ low-skilled migrant workers. Psychiatric experts in the Gulf have noted that the mental health of migrant workers in the region "is underdocumented, underresearched and underreported."
Demanding and long working hours without rest, leisure and weekly or annual holiday, having to serve in more than one establishment, lack of privacy and private space, and lack of freedom to move and communicate with relatives and friends (including over phone) contribute to the alienation and isolation felt by female workers. In some instances, this is further compounded by physical, verbal and sexual abuse by their employers, followed by distrust and mental torture inflicted by their partners residing in their home countries. All these take a toll on female workers' mental and physical well-being.
The condition of workers with irregular status is particularly dire. Their insecurity of job and poor working and living conditions harm their mental health. The constant worry of being apprehended, incarcerated and subsequently deported precludes them from accessing healthcare services when they fall sick. It may be noted that in many instances, irregularity in status of migrant workers is not a matter of choice for the concerned workers.
The Covid pandemic has further exacerbated the pre-existing fissures in the healthcare services for low-skilled migrant workers in the CoDs. In view of the fresh evidence generated by the multi-country study on the deaths of migrant workers, both CoOs and CoDs need to take measures to mitigate the health and safety problems that contribute to the untimely and unfortunate deaths of a section of low-skilled migrant workers.
The CoDs need to establish specialised teams of inspectors and medical examiners to ensure that all deaths of migrant workers are investigated and certified in accordance with best international practices. They should commission independent investigations into the causes of migrant workers' deaths, and examine the possible role played by heat and humidity, overwork, air pollution, psychosocial stress, and the workers' ability to access healthcare. There is also the need to take account of circumstances and contexts where invasive autopsies are not possible, and introduce non-invasive and verbal autopsy procedures after consultation with experts.
The CoDs should pass legislation to address the occupational risk of heat stress and ensure mandatory break times. They should also conduct widespread screening and treatment programmes for hypertension and institute studies to find the prevalence of CKD or early-stage kidney disease among low-paid migrant workers.
Destination countries should make primary and emergency healthcare for low-paid migrant workers free of charge, irrespective of their immigration status, and ensure that they have access to mental as well as physical healthcare. CoDs also need to improve the quality of available data on mortality statistics for migrants disaggregated by age, gender, occupation, nationality, date of death, and underlying cause of death to allow comparison across multiple categories.
The CoOs should collect and make available all data on deaths of overseas workers, disaggregated by destination, occupation, age, gender, date of death and cause of death, adhering to the World Health Organization's International Classification of Diseases. In cases where death certificates provide no underlying cause of death—for example, when they are certified without further context or explanation to "natural causes," "cardiac arrest," "acute heart failure" or "acute respiratory failure"—they should be attributed to the ICD code that refers to "ill-defined or unknown cause of mortality" in government records.
The CoOs need to strengthen the capacity of their embassies to deal with death cases and ensure that families can secure compensation when they are entitled to it. The countries of origin should ensure that the issues of investigation into their migrant workers' deaths, protection from risks to migrant workers' health, and migrant workers' access to healthcare are on the agenda of regional processes such as the Abu Dhabi Dialogue and the Colombo Process.
Dr CR Abrar is an academic and heads the Refugee and Migratory Movements Research Unit (RMMRU).