When will our health system put patients before profits?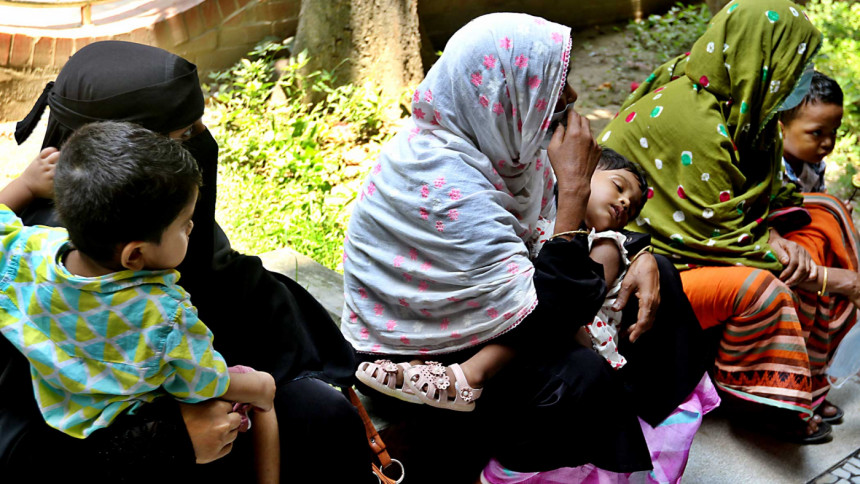 The recently reported cruel act of a hospital—that removed oxygen tubes from six-month-old twins because their mother couldn't pay the hospital bills—speaks volumes about the state of our healthcare sector. According to a report by the daily Prothom Alo on January 8, 2022, Ayesha Akter admitted her twin sons with breathing difficulty and fever to a private hospital in Dhaka. Diagnosed with pneumonia, both the babies were given oxygen support. After five days of their stay at the hospital, the authorities handed her a bill of Tk 1.26 lakh. As the poverty-stricken woman could not pay the amount, the hospital owner directed the staff to remove the oxygen tubes from the twins' mouths, and the staff complied. An hour later, one of the twins succumbed to his illness.
While this may be an extreme example of cruelty and medical malpractice by a particular private healthcare provider, news of patients being driven out of hospitals for not being able to pay medical bills is not uncommon in Bangladesh. Patients are often handed exorbitant medical bills by these hospitals and clinics, as well as given unnecessary diagnostic tests and medicines. While many patients sell their land and other properties to pay for better treatment, those with no money or properties are left with no options but to seek over-the-counter (OTC) treatment, or worse, stop seeking treatment at all.
A number of studies carried out by government and private agencies last year revealed how malpractices by our private healthcare providers led to this high medical expenditure, pushing poor patients and their families into further poverty. One such study, conducted by the Health Economics Unit (HEU) under the health ministry last year, found that Bangladesh's out-of-pocket (OOP) health expenditure was the highest in South Asia. OOP expenditure refers to the expenses that a patient or their family has to pay directly to the healthcare provider, where the state or an insurer does not give any financial support.
According to the HEU study, Bangladesh's OOP treatment cost was 68.5 percent in 2020 when the global average was only 32 percent. One of the main reasons for such high health expenditure has been identified as the high cost of medicines: 64 percent of our OOP expenditure goes into buying medicine, whereas it is only 28 percent in India. This is because our doctors prescribe excessive and costly medicines which are in many cases unnecessary, the study found.
People are forced to seek treatment at private hospitals because of poor management in our public hospitals. Reportedly, in many of our upazila hospitals, it is often difficult to find doctors and staff for help, as well as the necessary medical equipment to run tests. In other facilities, high-quality equipment such as X-Ray machines are lying idle because there are no trained staff to operate them.
Our budgetary allocation for the health sector is also not sufficient—while an ideal health allocation should be 15 percent of the total budget, according to the World Health Organization (WHO), our budgetary allocation for health is only 5.42 percent in the 2021-22 fiscal year. And whatever little money the government does allocate to the health sector is not properly utilised either. Furthermore, this sector is riddled with lack of good governance and rampant corruption, which has been widely reported in the media recently.
As more people seek treatment at private facilities, they are faced with a number of problems. The high diagnosis and medicine costs are two of them. Reportedly, the expenses in private hospitals are hardly monitored by the authorities concerned. In 2020, the High Court directed private hospitals, clinics and diagnostic centres to submit their price charts for medical tests and also directed the authorities concerned to formulate guidelines to monitor these facilities under the Medical Practice and Private Clinics and Laboratories (Regulation) Ordinance, 1982. Sadly, we don't know if any progress has been made in this regard.
Regulating our private healthcare providers and improving the overall management of the public ones are all the more necessary now, as the country is at the outset of another Covid-19 onslaught. In the last two years of the pandemic, patients suffered a lot due to the extremely high treatment costs at private hospitals and the inefficiency of public healthcare facilities. A study conducted during that time revealed that Covid-19 treatment cost was unusually higher in private hospitals compared to the public ones; while the government hospitals spent, on an average, Tk 1.28 lakh for a Covid patient in general bed, in private hospitals, the cost was around Tk 2.42 lakh—almost double. This was mainly due to the differences in diagnosis and medicine costs. However, only a few public hospitals were properly equipped to handle Covid patients.
Therefore, unless the ridiculously high health bills in private hospitals and clinics can be brought down by formulating a set of guidelines and implementing them, and public hospitals and health complexes are operated efficiently, ensuring everyone's access to healthcare will remain a far-fetched dream.
Naznin Tithi is a member of the editorial team at The Daily Star.