We need an inclusive roadmap to combat the fallout from Covid-19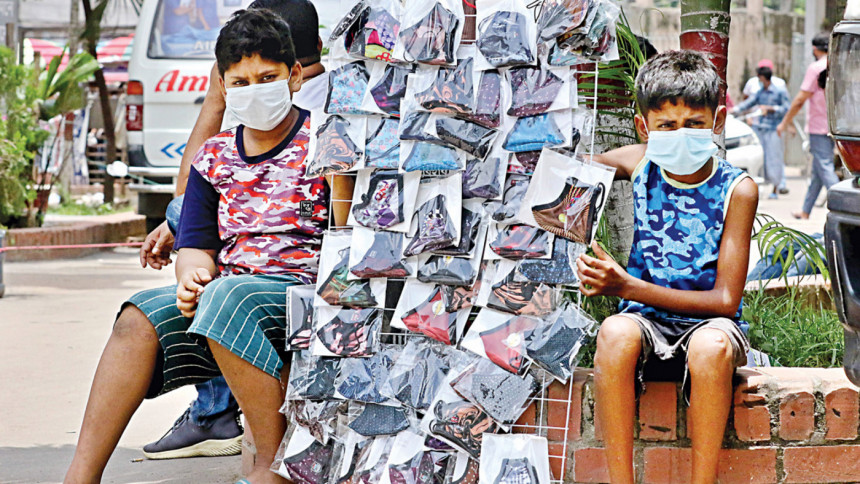 Bangladesh has demonstrated significant economic resilience, despite the surge of the Covid-19 virus. However, we need to envision an inclusive, multi-sectoral and integrated roadmap to effectively combat the impact of the pandemic, and move ahead with the growth trajectory. The proposed roadmap with targeted policy support and focused interventions, for both recovery and growth, should be compliant with key objectives, strategies and programmes outlined in the current budget and Five Year Plan.
The roadmap should incorporate short term and medium-term components to cushion shocks caused due to the pandemic, as well as carry forward inclusive and sustainable GDP growth trends. In this context, key interventions are required to address constraints that impede performance of current drivers of growth—RMG exports and overseas remittances. In the medium and longer-terms, the roadmap should stimulate additional sources of growth, and substantially reduce poverty and inequalities. Retention of the current monetary and fiscal policy imperatives would be useful in smooth and efficient implementation of the roadmap.
Based on the impacts of the previous stimulus packages, the government needs to ensure a strengthened operational mechanism to reach targeted beneficiaries, and provide easier access to credit. The government may consider a series of stimulus packages—preferably one every six months, on average, for the next two years—that would include a broader range of beneficiaries from the new poor and unemployed. The roadmap should also aim at enhancing the volume of stimulus packages to around 10 percent of GDP. These packages should be both demand-driven and supply-responsive, and provide extensive coverage to mitigate poverty, support livelihoods of the extreme poor, and compensate for low wages and sharp reduction in seasonal employment. The informal sectors that have been most severely affected by the pandemic warrant special attention.
In the proposed roadmap, the government must consider attaching utmost priority to the most affected sectors. The core strategy should emphasise on efficient resource allocation and utilisation, and reduce public expenditure to optimal levels. There is also a need to focus on further efficiency in "ease of doing business" and in achieving overall competitiveness. Enhanced incentives for SMEs and expansion in entrepreneurship, as reflected in the national budget for the past couple of years, should be prioritised. Public expenditure should cater to reducing budget deficits and efficient utilisation of resources in order to spur growth. Efficient and optimal use of resources would propel effective implementation of the Annual Development Programmes (ADP), the current average implementation of which ranges from 45 to 65 percent.
Efficiency in public expenditure can be best achieved through cost effectiveness and rationalisation. It is important to curtail recurring expenditure and minimise cost escalation, especially in segments that do not bear immediate impact on GDP growth. There is a need to reallocate funds to sectors/areas that would effectively mitigate the adverse impacts of the pandemic. Implementing agencies often find it challenging to spend allocated resources. In such cases, it may be necessary to revisit, restructure and strengthen implementation mechanisms, upgrade skills and competencies, and strengthen inter-agency collaboration. Performance-based and results-based approaches in implementing the roadmap should contribute to achieving expected outcomes with significant efficiency.
Current safety nets and social protection mechanisms should further be strengthened and broadened to ensure a comprehensive "welfare approach" that would add value to current anti-poverty interventions. The roadmap may propose that, at least for the next two years, 50 percent of current safety nets and protection programmes be exclusively marked to minimise the pandemic's impacts. Overall, there is a need to facilitate further access of the poor to emergency cash support and soft credit to the unemployed, new poor and extreme poor. The government may consider initiatives to integrate funds from Zakat, charitable donations and alternative sources of resources that are currently under-utilised.
A significant aspect of the roadmap should be enhanced focus on food security with broader availability, easy access, sufficient storage and efficient distribution. Provisions for rationing of essential food items in Dhaka and the divisional headquarters may be implemented within the current year, and may be extended to district and upazilas during the next financial year. This could be implemented on a pilot basis for the next two years, or till the pandemic eases.
A comprehensive corporate social responsibility framework could be useful in supporting and strengthening pro-poor programmes as well. With the government in the lead role, the Federation of Chambers of Commerce and Industry (FBCCI) and its affiliated business and trade groups could finalise the Corporate Social Responsibility Action Plan (CSRAP) to effectively mitigate pandemic perils.
The proposed roadmap should chart a programme of action to significantly improve health infrastructure on a priority basis. This should incorporate four elements—increased allocation and broader coverage, efficient utilisation, strengthened health surveillance and monitoring, and identifying current constraints that impede utilisation of health expenditure. The roadmap should incorporate a well-coordinated public-private partnership (PPP) approach for the health sector. The PPP model should incorporate a blend of adequate local and foreign investments, as well as funds from public and private sources. This could be relevant in easing pressure on government resources, and enable mitigating constraints and enhancing capacities in the sector.
The education sector has suffered enormously due to the pandemic. Keeping this in mind, the roadmap should aim at  fast-tracking recovery, and envisioning quality-driven upgradation of academic programmes and digitalisation to propel efficiency in academic programmes and research.
The roadmap should also outline a Business Continuity Plan (BCP), based on which every sector should create alternative programmes to carry on with business, despite unforeseen risks and uncertainties. The BCP should include strategies and programmes to deliver targeted outputs and achieve respective sector targets in the most efficient manner, despite being confronted with critical disruptions.
The UN and some of its affiliated agencies have undertaken policy interventions that aim to provide resources, and technical and advisory support to member countries during the pandemic. The roadmap needs to review how our national efforts can be strengthened through collaboration with global and regional initiatives in mitigating pandemic effects. In this context, the roadmap will also track and address constraints in implementing SDG targets. The South Asian Association for Regional Cooperation (SAARC) initiatives need to explore alignment with programmes currently undertaken by Association of Southeast Asian Nations (ASEAN) and Asia Pacific Economic Cooperation (APEC) countries to minimise the impact of the pandemic.
In terms of governance, a parliamentary standing committee to review implementation of the roadmap could add to strengthening accountability and fostering transparency. Citizens' consultative committees may also be considered to give advisory support to concerned ministries.
The roadmap framework may be based on a simple input-output model that would reflect expected output/outcomes from specific, targeted interventions, as well as key result areas that are assessable, measurable and can be monitored. The roadmap should also include a design monitoring and assessment framework that would incorporate indicators to identify core issues and challenges, and highlight fast-track, inclusive and sustainable solutions.
Dr Mohammed Parvez Imdad is a senior economist, governance specialist and policy analyst who worked in the national and international civil service for several years. Views expressed in this article are his own.
Email: mpinayefmimdad@gmail.com