The tug of power between our politicians and bureaucrats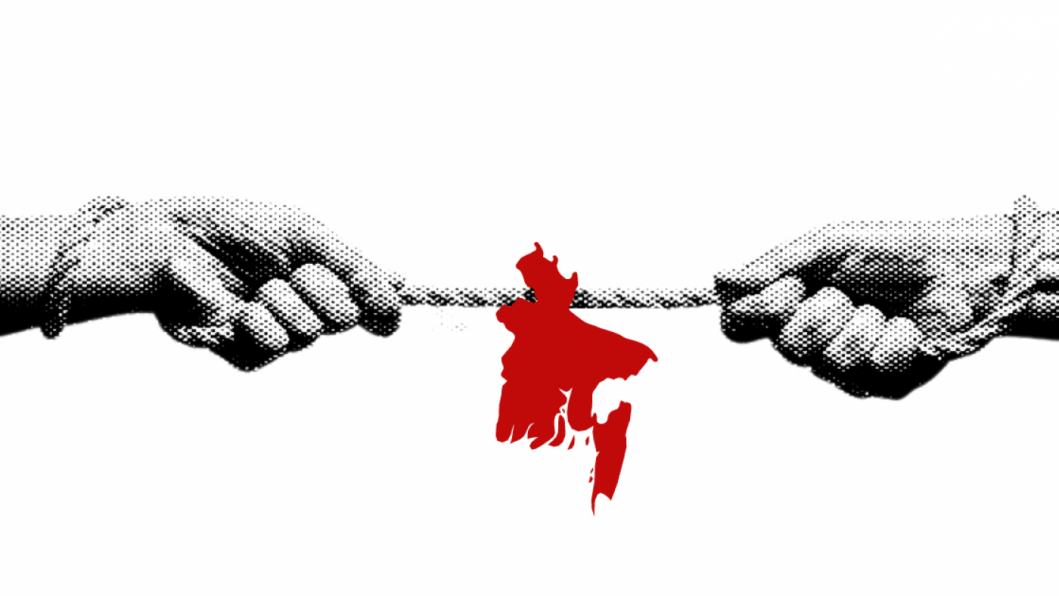 If you ask someone born and raised in Bangladesh before 1990 about what government jobs meant for them, the first things they would probably say are "respect" and "job security." From a village-level officer to a top-ranked bureaucrat at the Secretariat Building, respect and job security are the two main factors that likely motivated them to put their minds and bodies through the arduous and excruciating process of memorising thousands of pages of "general knowledge" in order to take an extremely competitive examination on public service – with no guarantee of success at all.
Of course, government employees also enjoyed certain degrees of influence within their own circles of authority, but no one really ever associated "power" with government employees, aka bureaucrats. Power, in the true sense of the word, has been exclusively reserved for the politicians, who got to enjoy it only after investing years of physical, mental and monetary capacities to gain popularity among a large number of people, and more importantly, prove their mettle in street activism and finally show their leadership acumen.
Now, if you ask the same question to someone born after 1990, they would probably say it is mainly "power and influence" that make government jobs attractive. Respect and job security are still very much part of the package – it's just that they are not the most desired deals anymore.
Take the example of a motor vehicle. Politicians are like the drivers, while bureaucrats make the engine. Politicians show the way by making pro-people policies and legislations, while bureaucrats find the most efficient ways to put those policies and legislations into effect by using the available resources.
However, if the person behind the wheel suddenly starts to feel that the engine is not behaving the way they want it to, a crash does seem inevitable. And that is exactly what is happening in Bangladesh. It is increasingly becoming apparent every day that there is a tug of war going on between our bureaucrats and politicians.
Planning Minister MA Mannan, who was a veteran government employee himself before becoming a full-time politician, recently commented that bureaucrats were keeping local-level politicians on a tight leash. He made this comment in connection with the harassment that union- and upazila-level political leaders often face even by a low-ranking government officer. What this goes to show is that the balance of power has decisively shifted towards the government employees.
Although it is hard to really pinpoint exactly when this shift began to take place, what is absolutely certain is that it was the politicians who got the ball rolling. It was them who approved an unprecedented pay hike for government employees. It was them who passed the Bangladesh Public Service Act, 2018 in parliament that prevented law enforcement agencies from suing or arresting government employees without judicial permission. It was the politicians who caused a widespread "politicisation of the administration" by indiscriminately lobbying to appoint political workers in government jobs.
The result of those actions is that now the administration is full of politically connected bureaucrats with political ambitions. All of these have eventually culminated into government employees feeling more empowered than ever before, and consequently, they are now replacing politicians as the heads of local-level relief committees during crises (such as the Rohingya influx in 2017 and the Covid pandemic breakout in 2020) and natural disasters (such as the ongoing floods in Sylhet and Sunamganj), which is another clear sign of the shifting of the balance of power.
A senior field official from a top national security agency once told me about an interesting theory on how government officials deal with local politicians. He called it the "ABCD of bureaucracy." The first thing that our bureaucrats try to do is "avoid" when they receive a request from a local politician. Then they "bypass" said request by forwarding it to a fellow official. If that doesn't work, they try to "confuse" the one making the request, and if that also fails to turn the politician away, they finally resort to the time-tested "delay" technique.
You may ask: Isn't that what bureaucrats always do? I'd say yes; they always do this to the common people, but until recently, they never did this to a politician. But given the outcomes of the last two general elections, people's distrust of our politicians is on the rise. The politicians have also gotten alienated from their voters, because there are now easier ways to win elections. Add to that all the legislations, policies and practices enforced in recent years to empower the bureaucrats, and you know who the politicians have to blame as their authority gets seriously challenged on a regular basis – no one but themselves.
Mohammad Al-Masum Molla is deputy chief reporter at The Daily Star.