The path to cultural redemption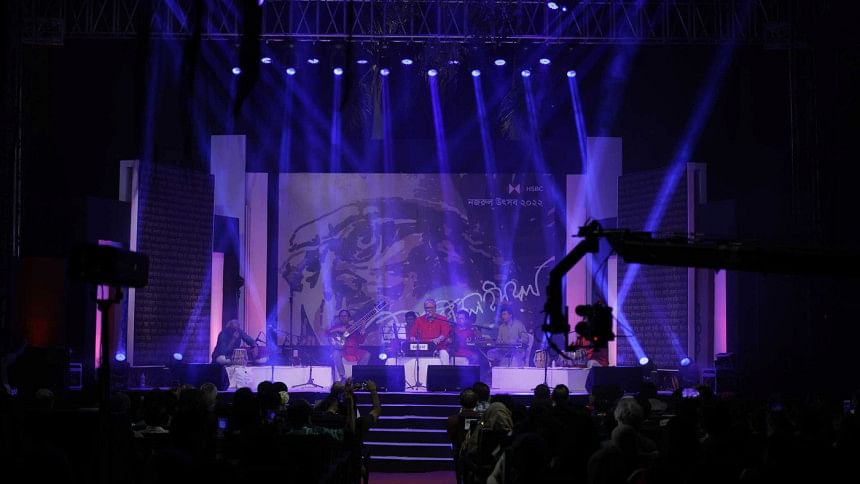 The Nazrul Festival 2022, a two-day cultural extravaganza that was open to the public, has recently concluded.
The event was headlined by the who's who of artistes from Bangladesh and West Bengal, including Khairul Anam Shakil, Srikanta Acharya, Ferdous Ara, Yasmin Mushtari, Sreeradha Bandyopadhyay and Jayati Chakraborty. However, what provided the event genuine heft was an astonishing number of artistes culled from all over Bangladesh—all told, well over 50 more artistes performed.
Events like this add an indispensable fillip towards nurturing a broader awareness of our language and culture, particularly for our urban younger generations.
Five decades after independence, we face a crossroads. Our language and culture face new headwinds as English threatens to swallow the whole world in this brave, new globalised world.
In Bangladesh, for all our protestations of love of the mother tongue come each February, there is no gainsaying the fact that English has become the de facto lingua franca for the elite. It is beyond the scope of this article to dwell on the underlying causes, but I will mention a personal anecdotal experience that really brought this home to me.
Over the years during my annual travels to the old country, one of the charms was hanging out with my nephews. A few years ago, they were all schoolboys, and I noted with alarm that while they spoke Bangla well enough, they were increasingly detached from our cultural tradition.
The busybody mama that I am, I decided to sit them down with a reading from the delightful short stories of Satyajit Ray, a bedtime staple in my childhood that gave me countless hours of joy. What better way to kindle a love of language and culture, I thought, than introducing them to the wondrously rich treasury of Bangla literature?
Suffice it to say, for my nephews the experience was about as pleasurable as a root canal. I came to the ironic realisation that today, young Bengali kids in upper-crust homes in Dhaka (and, I daresay, Kolkata) are more likely to discover the charms of Ray's unforgettable sleuth Feluda in English translations, rather than in its original Bangla form. This telling vignette epitomises the formidable challenge of nurturing Bangla language and culture for the next generation in the metropolis.
I think wistfully about a different time. Half a century ago, we were still East Pakistan, and the ruling Pakistan government and its Bengali quislings looked askance at our love of Bengali culture. It considered the inclusive humane Bengali cultural tradition an existential threat.
In those days, organisations like Udichi and Chhayanaut stepped up to the plate. This is a unique cultural tradition—I am hard-pressed to think of any equivalent effort in South Asia—where activists, out of a passionate love of culture and language, launched and sustained extensive endeavours to ensure that our culture endured.
Over the decades, Udichi cultural activists nurtured the performing arts across the length and breadth of the country, while Chhayanaut, a school for Bangla music, has trained—and most importantly, instilled a passion in—generations of youngsters in the songs of Rabindranath Tagore and Kazi Nazrul Islam, classical music and much more.
It's heartening to note that this tradition continues. In the recent past, the Bengal Foundation created a track record of cultural philanthropy in an astonishingly diverse variety of fields, running the gamut from print, CD, art to performing arts. Thanks to the foundation, for instance, the exquisite kirtans of Nilufar Yasmin, instead of being lost forever, are saved for posterity in pristine, state-of-the-art recordings. The foundation's all-night classical music concerts, headlined by the leading lights of South Asia and thronged by tens of thousands of attendees, are a cultural landmark in Bangladesh.
As we brainstorm to develop ways to mitigate the apparent cultural apathy of the metropolitan elite, it is this rich cultural tradition, of which the Nazrul Festival 2022 is a distinguished addition, that can prove an effective corrective.
At the Nazrul Festival, while top performers from Dhaka and Kolkata provided the ultimate imprimatur, what moved me deeply was the artistes from all over Bangladesh. Youthful, talented, dedicated to their craft, they were living proof of how deep and extensive the roots are of Nazrul's songs—and by extension, the Bengali culture. I almost teared up when I saw them on stage—young, eager faces from places as far-flung as Cumilla, Chattogram, Bogura, Pabna, Jhenaidah, Cox's Bazar and Narail.
Then I looked at the names of the artistes—from Dhaka and Kolkata, Hindu and Muslim, all united by the love of Nazrul and his vision of a humane, inclusive, plural Bengali identity.
Over half a century ago, essayist and rhymester Annadasankar Ray lamented, "Bhul hoye gechhe bilkul/Aar shob kichhu bhag hoye gechhe, bhag hoyniko Nazrul (It's all been a dreadful mistake/We've divvied up everything else, only Nazrul remains undivided)."
Not only is Nazrul undivided, he still brings all lovers of Bengali culture together.
The author was the art director for Nazrul Festival 2022.
Ashfaque Swapan is a writer and editor based in Atlanta, US.