A ray of hope for people and marine wildlife
Bangladesh extends legal protection to threatened sharks and rays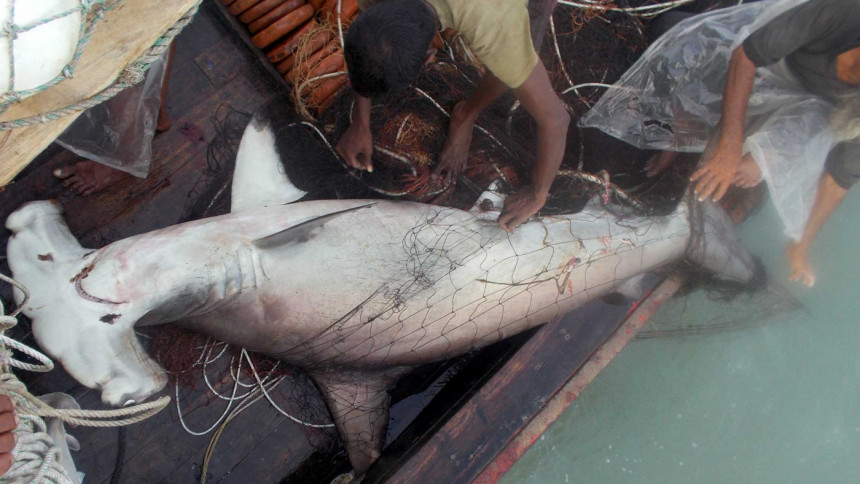 Bangladesh recently took a major step towards strengthening the protection of threatened sharks and rays by updating the list of species and species groups under the country's Wildlife (Conservation and Security) Act, 2012. As per the amendment, all sawfish, guitarfish, wedgefish, cownose, eagle and devil rays, thresher and mako sharks, hammerhead sharks, and another 23 shark and ray species are now strictly protected, while the landing and trading of butterfly rays and 29 other shark and ray species is permissible only if not detrimental to the wild populations.
This amendment has significantly improved legislation for sharks and rays that are at risk of extinction from overfishing and global trade demand, and is a milestone for marine conservation in Bangladesh. The upgrade reflects growing knowledge about these diverse soft-boned fish in our waters, as well as concern for their survival gained through collaborative research. The amended list also reflects commendable motivation among government officials to put international conservation and trade commitments for sharks and rays into action, which is critical to making these new regulations work.
Systematic research on sharks and rays, aimed to inform conservation management and sustainable harvesting, is relatively new in Bangladesh. Much remains to be done in order to reduce mortalities and to prevent protected species from entering markets, and to ensure that those not currently threatened do not become so.
Working for nearly two decades on advancing the protection of marine wildlife in Bangladesh has taught us that we need innovative solutions grounded in robust science, and developed jointly with the communities dependent on marine resources.
Like dolphins or whales, most sharks and rays grow and reproduce slowly. This makes them particularly vulnerable to overfishing. Coastal fishermen in Bangladesh generally release dolphins entangled in their nets—not only because the law requires it, but also because many of these fishermen regard marine mammals as brethren at sea.
But sharks and rays are highly valued for their fins, gill plates and skins, which can be exported to international markets and meet growing domestic demand for their meat. So, it is financially worthwhile for fishermen to retain all sharks and rays they catch. Unlike with marine mammals, we cannot count on positive cultural perceptions to reduce their mortalities.
We can, however, build on precedence. Marine turtles used to be retained for their meat. A commendable commitment, good communication, and strong enforcement of their legal protection by the Bangladesh government resulted in fishermen fearing punishment and releasing marine turtles.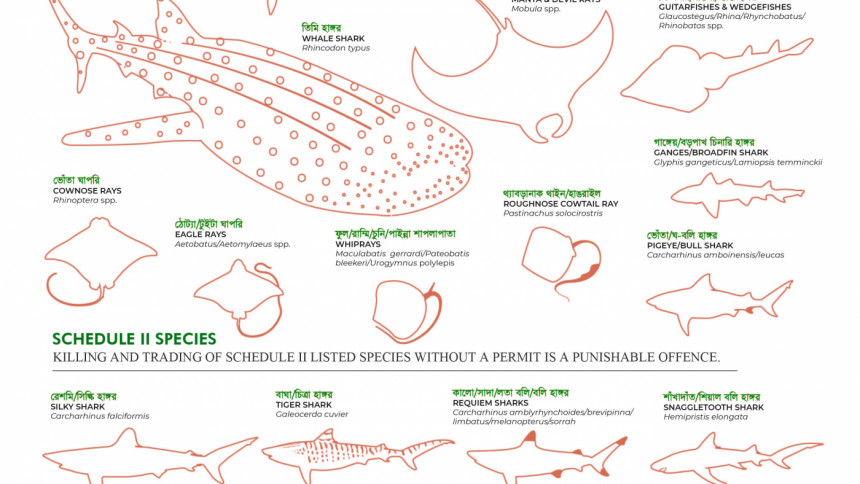 Bangladesh has transitioned into a lower middle-income country. Our country is blessed with large productive water bodies that provide vital animal protein and export revenue. But conservation management interventions are urgently required to avert economically valued fish stocks from plummeting, and globally threatened marine wildlife from going extinct.
Under the leadership of the Ministry of Environment, Forests and Climate Change and the Ministry of Fisheries, there has been a noticeable shift from maximising extraction to sustaining the productivity of our natural resources. National economic growth and concerted efforts for the sustainable growth of our blue economy compel us to take a strong stand against the consumption of threatened marine wildlife. Sharks and rays play an important role in maintaining the ecological balance in our waters. We can no longer justify eating threatened sharks or rays, for the sake of our health and that of our oceans.
While some may argue that this amendment is just words on paper, we firmly believe that it is a crucial step to improve the survival chances of globally threatened sharks and rays in our waters. This amended list brings clarity about which species we can or cannot catch or trade. It is easy to communicate. In the three-plus years that it took to prepare the amendment and get it endorsed by national and international experts, government departments and ministries, the Wildlife Conservation Society (WCS) Bangladesh has developed communication tools and training programmes to support its implementation.
The shark and ray amendment also shows our government's strong commitment to ensure that the exploitation of non-threatened shark and ray species and the trade in their body parts do not negatively impact their populations. It aligns Bangladesh's legislation with regional agreements, international conventions, and our constitution that mandates the protection of biodiversity. The Forest Department, mandated with the protection of threatened wildlife and critical habitats, is developing a national conservation strategy, with a plan of action for the conservation management of sharks and rays, in collaboration with the Department of Fisheries and with technical support from the WCS. These commendable initiatives by the government, building on the amended listing, are beacons of hope for imperilled sharks and rays in Bangladesh.
Elisabeth Fahrni Mansur, Shamsunnahar Shanta and GM Masum Billah work at the Marine Conservation Programme of Wildlife Conservation Society (WCS) Bangladesh.