Ramadan: Not a month to earn, but to give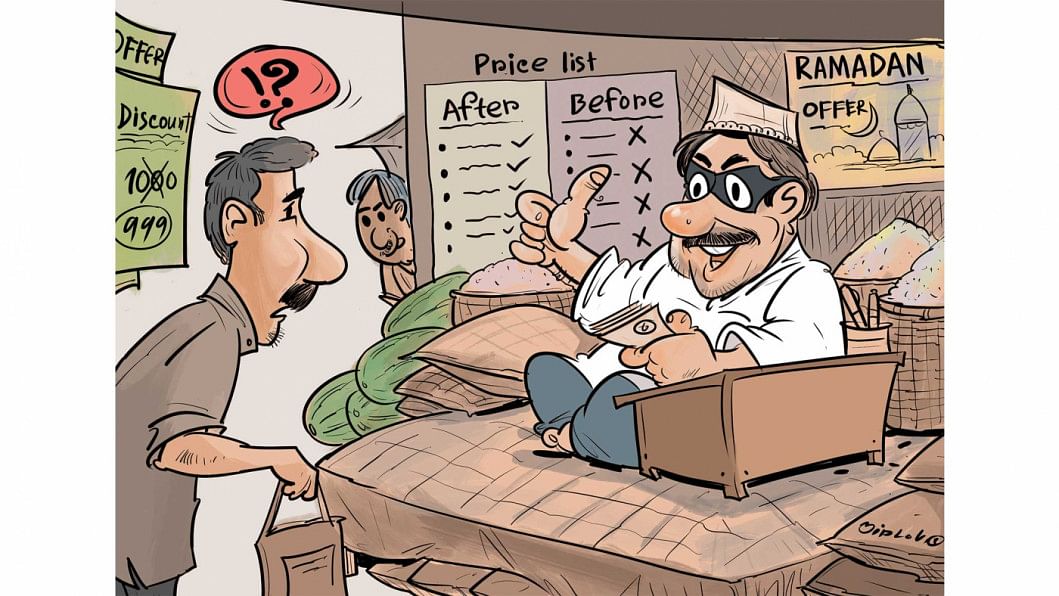 When the half crescent appears in the western sky to announce the advent of the holy month of Ramadan, some of our brothers in trade see it as a gold pendant hanging up there, while some others perceive it as a dollar bill. They smell money, lots of it, coming their way. Like a pack of predators, they gather together to fix strategies to launch their attack on the general public. This is the month to go for the big kill, so they must garner maximum out of the situation. This is THE month of blessings for them. They sing in praise. They dance in ecstasy.
Traders and their henchmen in Bangladesh get busy collecting import licences, delivery orders, permits, customs clearance certificates, etc, and fill up their warehouses, godowns, storehouses, bedrooms, bathrooms, living rooms and even the empty space under their beds with onions, pulses, spices, sugar, powder milk, salt, cooking oil, dresses, sarees, cosmetics and so on, targeting the Eid market. Their couriers prowl the land borders and river routes to collect clothes coming from India with catchy name tags, imitating popular Bangla and Hindi TV serials.
During the last-minute shopping spree till midnight before the Eid dawn, a sequined lehenga or an ornate dress may sell between Tk 3 lakh and Tk 5 lakh, which a week back was sold for only Tk 20,000-50,000.
You see, such are the times when one should not be miserly while shopping—especially at the last moment before Eid. When you have unaccounted-for money and a large heart (don't mind the three blocks), the foxy shop-owner knows how to deal with you. As he notices the layers of gold necklaces around your neck and bangles on your hand, his nose begins to twitch and he uses his best weapon, "Apa, I have saved this dress/saree for you only. I didn't show it to anyone. And I know you are the only person who can afford it." You melt like wax and bring out wads of cash from your bag.
Ramadan in this country sees a phantasmagorical frenzy of raising the price of everything. Literally, everything. Even dirt is not cheap this month. You may choke on a small piece of a cucumber if you forget to ask for its price before putting it in your mouth. Your vision may get blurred hearing the price of a pair of lemons. If you are wearing a pacemaker, you avoid going near that part of the kitchen market where they sell beef, mutton and chicken (fowl). But you get the jolt anyway when you ask for the price of a kg of small fishes like bata or tengra.
Ready-made iftar items look delicious from a distance, and you remember Aesop's tale "The jackal and the grapes." Just daring to buy a pair of beguni may ruin your appetite. The Old Dhaka people are known for their wit and ready repartee. They know who has the buying power. So, to keep the likes of us away, they have named an iftar item Boro Baaper Polai Khai, meaning only the sons of rich people can afford this. What an insult to our middle-class pride.
While our brothers in trade in Bangladesh merrily increase the price of everything in Ramadan, we are told that it does not happen in all countries. Here is a recent report from a Malaysian daily: "The government will extend the Keluarga Malaysia Sales Programme throughout Ramadan to allow the people the opportunity to purchase basic necessities at lower prices, Domestic Trade and Consumer Affairs Minister Datuk Seri Alexander Nanta Linggi said. He further said Prime Minister Datuk Seri Ismail Sabri Yaakob has given the green light to the Domestic Trade and Consumer Affairs Ministry for the programme to continue. The programme was supposed to end this month, but KPDNHEP wrote to the prime minister recently (to seek an extension). The ministry has been allowed to continue with the programme (until the end of Ramadan). We need to fine-tune (some details) for it to be more comprehensive and easier to be carried out" (The Borneo Post, March 26, 2022).
A commendable step by the Malaysian government, no doubt.
In Bangladesh, Commerce Minister Tipu Munshi recently said the deputy commissioners (DCs) had been ordered to strictly monitor the prices of essentials, set by the government for the holy month so that there is no unusual hike.
The commerce minister said, "I have told the DCs that the month of Ramadan is coming, we will fix the prices of some essential items in the markets."
We can only hope that the DCs will find time to do such monitoring besides performing more demanding administrative works and attending important meetings. Selling some essential commodities directly to the poor people is a praiseworthy step taken by the government. But, as usual, the middle-class remains outside the government radar.
It is widely believed that the prices of almost everything come down during puja in West Bengal. Our personal experience while visiting Kolkata during the festivals corroborates the claim. Possibly, shop owners believe in the theory of "sell more to earn more" on such occasions, which from an economic point of view is a healthy practice.
Ramadan is the month of fasting from dawn to dusk to restrain one's desires, covetousness and gluttony. So, don't just show to the world that you are fasting. Show that you have successfully chained your weaknesses, as has been ordained in the scriptures. It is not the month to earn extra profit at the cost of human suffering. It is the month to give away all the extra profit you have earned throughout the year.
Shahnoor Wahid is a senior journalist.