Good news cometh from Carew & Co?
We must remember the age-old words of caution: Alcohol is injurious to health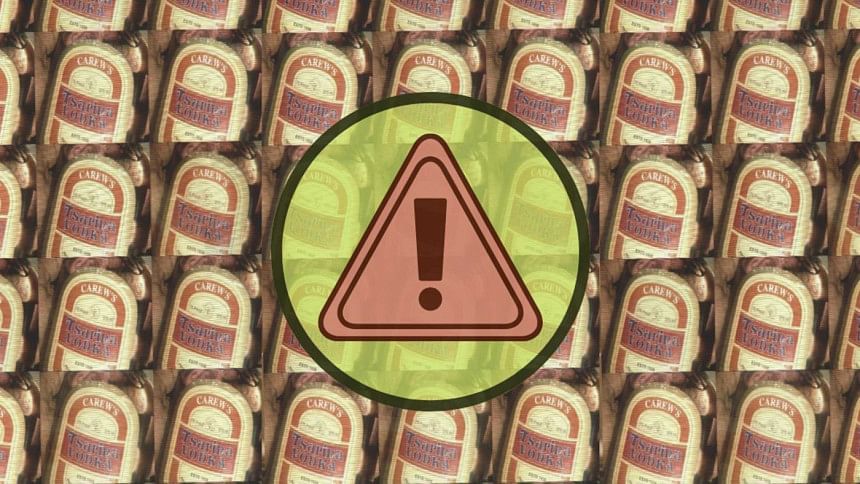 A recent news update from Carew & Co will uplift the spirit of many of my friends who frequently take to the bottle to release bottled-up emotions. Whether sad or ecstatic, the strong liquid helps them find the answer to life's mysteries—at least that's what they think. The mystifying liquor, when downed in large amounts, makes them want to consume more and more, until they remain drowned in it for the rest of their lives. That's why it has been said, "Bacchus hath drowned more men than Neptune." You see, for man's folly, Bacchus, the Roman god of wine, had to take the blame.
Now to the Carew news. It has been reported in the media that the country's lone state-run distillery, Carew and Company (Bangladesh) Ltd, is planning to double its alcohol production through an automation project and go for market expansion, observing a recent hike in sales. That means the hike would enhance the number of "hic" in the pubs!
My bottle-savvy friends are humbled to learn that they have contributed to the increase in sales of whiskey, rum, brandy and gin by over 50 percent year-on-year in the October-December period last year. They swear they could do more, but for the prying eyes of their better halves! Wives now check their husbands' water bottles when they go for a morning walk around the park. Bravo ladies! Keep up the good work.
Well, it's good that only people with a licence will be able to buy Carew liquor, as these will not be sold in the open market. Consumption of hard drinks has never been encouraged in Bangladesh, where the majority of people follow a conservative lifestyle. Alcohol is reputed to have caused thousands of motor car accidents and street crimes in almost all countries where it is sold openly in the pubs and liquor shops. By all means, it should be kept out of reach, particularly of the youngsters, here—or anywhere, for that matter.
The Carew press release tells us that around 12,000 to 13,000 cases of liquor are sold on an average every month. A case contains 12 bottles. In the 2020-21 fiscal year, the company made a profit of Tk 195 crore from alcohol sales. Carew is planning to invest Tk 102.21 crore to complete the expansion project in 2022, automating the distillery's capacity. To make the popular whiskey, rum, brandy and gin of this company easy to avail, three more sales centres will be opened in Rooppur, Cox's Bazar, and Kuakata. These nectars will also be available at two warehouses in Rajshahi and Ramu of Cox's Bazar.
So, it is good news from a business point of view. The company has the potential to increase its production capacity and export to many countries. The ministry concerned should give full support to the project, so that we may add another item to our export basket.
Here is an important piece of information for the readers. The 83-year-old company has nine brands: Yellow Label Malted Whiskey, Gold Ribbon Gin, Fine Brandy, Cherry Brandy, Imperial Whiskey, Orange Curacao, Tsarina Vodka, Rosa Rum, and Old Rum. I have met foreigners in the country since pre-liberation days appreciating Carew's products, especially rum, gin and brandy. They said these were on a par with the best categories around the world. They would obtain permits from the government to buy these drinks at company rate and keep a good stock at home.
From the pre-liberation days up until the 80s, there was a licensed liquor shop on the New Eskaton Road (among others at other locations). A good number of Anglo-Indian families used to live in and around that road. They all had liquor drinking licences as Christians by faith. So, now I know why my friends often took them to the Chinese or the naan-kabab joints.
Around the globe, many men prefer to have a peg or two before starting the day's work, and also after work. Here is a piece of important information for the newcomers: A peg is a unit of volume, typically used to measure amounts of liquor in these parts of the world. Informally, a peg is an undefined measure of any alcoholic drink poured in a glass. Reference books say: The terms "large peg" and "small peg" are equal to 60ml and 30ml, respectively. A peg alone simply refers to 60ml. Liquor's alcohol content is typically 42.8 percent ABV. A 30ml peg of liquor usually contains 12.84ml of pure alcohol. Whew!
To talk about the downside of drinking alcoholic beverages, many celebrities from various fields of excellence such as movies, stage drama, sports, politics, literature, music, etc lost control of their drinking habit at one stage, and ultimately lost their way in life. Often, stardom became too heavy for them to carry around, and they took to the bottles to lessen their stress. Those stars who suddenly found themselves out of the limelight started to drink heavily to drown their sorrow. And Bacchus was never sympathetic to their woes.
Hard drinks usually lead to multiple hazardous drugs. Many celebrities got addicted to drinks and drugs at an early stage in life while others got hooked later in life. Legends like Richard Burton, Richard Harris, Spencer Tracy, Peter O'Toole, Greta Garbo, Frank Sinatra, Dean Martin, James Dean, Robert Shaw, and Martin Sheen, and many, many other celebrities drank day and night without caring a bit for their health or reputation. Some of them even took a peg or two in between shots at shooting spots. It has been said sarcastically that some of those old Hollywood buzzards went to their graves smelling of booze.
Among most of the Western writers, whiskey was a popular drink, but why the name of William Faulkner stands out clearly is a puzzle.
Anne O'Neill wrote an article in The Irish Times some years back, titled "Booze as muse: writers and alcohol, from Ernest Hemingway to Patricia Highsmith." She mentioned that alcohol had played a central role in the creative lives of some of the most famous authors of the last few centuries. Four of the six Americans who have won the Nobel Prize for literature were alcoholics, namely William Faulkner, Eugene O'Neill, Ernest Hemingway and John Steinbeck. However, Hemingway himself suggested not to write while drunk.
Hard drinks were popular among the newsmen of the past, just as much as these are in the present day. Perhaps the following old advice should be kept pinned up on every desk in a newspaper office, "Write drunk, edit sober."
Among politicians, Winston Churchill was boldly naughty about his drinks. When, at the age of 25, he was sent by The Morning Post to cover the Boer War in South Africa, he took with him 36 bottles of wine, 18 bottles of 10-year-old scotch, and six bottles of vintage brandy. As the British prime minister, he always had a glass of whiskey with him. He was known to have consumed both brandy and champagne at lunch and dinner. During his visits to the US, the White House staffers had a tough time finding his favourite whiskey, brandy and wine, to be served during breakfast, lunch and dinner! When he was told to downsize his drinking as the prime minister of the UK, he said, "Europeans appreciate a leader who could hold his liquor."
These stories of great bouts of drinking by the foreign celebrities should not encourage our people (young and old) to get hooked on liquor bottles. Let Carew keep producing their high-quality drinks for the foreign markets and earn foreign currency for us. Meanwhile, parents, keep your youngsters away from them.
Shahnoor Wahid is a senior journalist.