Five reasons why 'safety zone' for women is a bad idea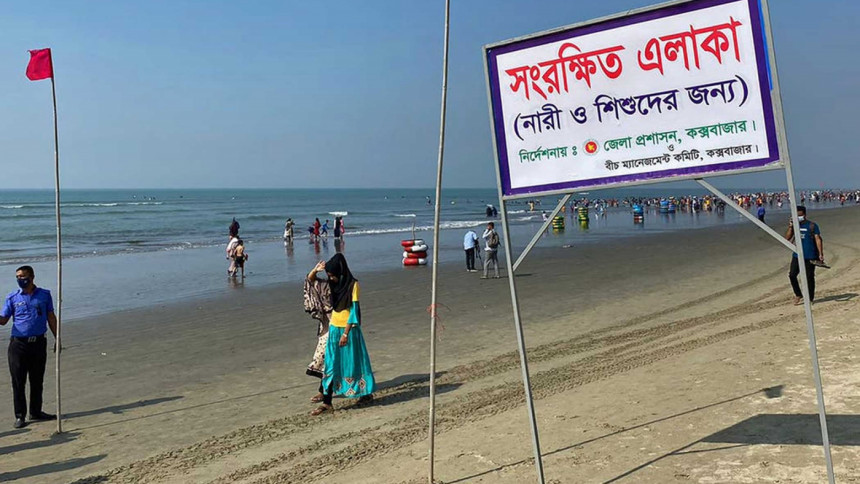 According to media reports, a 600-feet-long "safety zone" was recently allocated for women and children visiting Cox's Bazar. This was days after a woman had been gang-raped in the area. Thankfully, the idea was scrapped a few hours after the inauguration of this special zone. But I think it's important to investigate the underlying problems of this supposed "solution" which rightly received a lot of backlash.
First, the "solution" did not address the real problem. This reminds me of how Bangladesh once tried to stop public urination by painting Arabic script on walls on city streets, in the hopes that the general populace (the majority of them being Muslim) would deem the text "holy" and therefore shy away from peeing on "sacred" words which, frankly, most of them could neither read nor understand. Well, the campaign failed, because it didn't address the actual problem: lack of (functional) public toilets. Creating a designated area for women and minors on the beach, too, does not address the main issue: misogyny and toxic masculinity, along with a lack of empathy (i.e. the reasons behind rape).
Second, the so-called solution demeans women. To provide a "safe" space for women does not require women to be segregated from their male counterparts. In fact, grouping women and children together basically points to the fact that women are just as vulnerable and dependent as children.
Third, it is the same as saying that women should wear "modest" clothing if they don't want to be raped. Just as female victims of rape and sexual assault are morally policed for their choice of clothing, and others are told to cover themselves up in an effort to avoid the perverted male gaze, the female tourists in their designated area, likewise, would be secluded and therefore physically segregated from their male counterparts, ensuring that they don't become the objects of the male gaze.
Fourth, it actually sexualises women's bodies. Through creating a separate zone for women, the message that is given is that women's bodies are sexual objects that need to stay hidden/out of sight. It is as if they're all just walking-talking Eves in the garden (read: beaches) of Eden (read: Cox's Bazar)—temptresses that arouse men who are going about their ways in a business-as-usual manner.
Fifth, it is unfair for women to be given 600 feet of segregated land whereas the entire beach—the longest unbroken beach in the world—is basically for the benefit of men. If men are generally the rapists, wouldn't it make more sense to keep them on a leash? Wouldn't it make more sense to keep a watchful eye on potential perpetrators than to do the same with potential victims? After all, you don't see law-abiding citizens in prisons. You see criminals behind bars.
The men who were involved in the gang rape of the female tourist—mother of an eight-month-old infant—were devoid of empathy, their egos bruised by their victim's husband in a minor altercation that had taken place earlier, where the latter had apologised but was not forgiven. These vindictive men decided to seek revenge by encroaching upon his wife. Thus, they treated her body as the site of control, or a battleground where victory would be ascertained.
Patriarchy has enabled man to dominate over woman "by reason of his more forceful and aggressive qualities both of body and mind. But the balance is already shifting; force is losing its dominance, and mental alertness, intuition, and the spiritual qualities of love and service, in which woman is strong, are gaining ascendancy. Hence the new age will be an age-less masculine and more permeated with the feminine ideals, or, to speak more exactly, will be an age in which the masculine and feminine elements of civilisation will be more evenly balanced" (Abdu'l-Baha). I believe these words uttered by a wise man more than a century ago (in 1912) may be enough to understand the root of the problem.
Coercion, violence, aggression, and machismo must be replaced with empathy, sensitivity, love, and intuition, among many others. When boys are taught to acquire these traits from a very young age, they will not grow up to embody toxic masculinity, which is very commonly found in rapists. There is no need to "protect" women; there is a need to make our boys become more sensitised and empathetic men—men who don't view women as vulnerable bodies to control or oppress.
Noora Shamsi Bahar is a senior lecturer at the Department of English and Modern Languages in North South University (NSU).