As climate change worsens, riparian management holds the key to our survival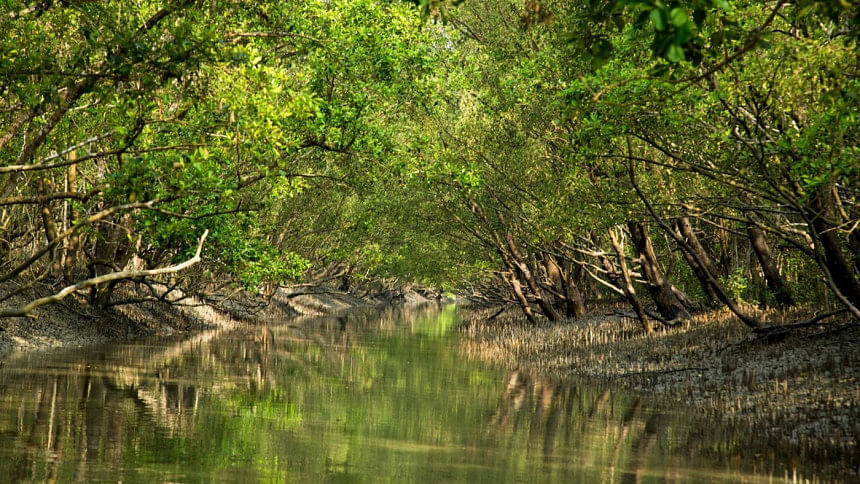 Frequent cyclones, flooding, riverbank erosion, salinity intrusion, and increased waterlogging are among the typical climate-induced adversities affecting Bangladesh. Addressing these issues requires establishing a link among adapting to climate changes, improving community livelihood, and sustaining biodiversity and ecosystems. However, relevant adaptation plans and projects often concentrate on one or two social or ecological issues, instead of looking at the overall situation. Such an approach is insufficient to deal with climate-induced socioecological problems. One way to effectively address multiple socioecological issues—all at the same time—is to advance riparian management. It will also help to make the country green—a call made by Prime Minister Sheikh Hasina at the inauguration ceremony of the National Tree Plantation Campaign 2021. Hence our national adaptation and biodiversity conservation plans need to have a focus on riparian management.
To understand riparian management, let me clarify that the areas around the vast networks of rivers, canals, and streams that crisscross Bangladesh are riparian habitats. Riparian vegetation filters sediments and pollutants. The fallen leaves and litter from riparian plants support healthy aquatic communities, including shrimp and fish. The roots of riparian vegetation hold the soil tight, protect the river and canal banks from erosion, and provide the much-needed river and canal bank stability. We have witnessed the collapse of many coastal embankments during Cyclone Yaas. What did not get much attention was the fact that most of the collapsing dams had little or no riparian vegetation, making those embankments inherently fragile. Meanwhile, many plants and wildlife species—including mosses, amphibians, and reptiles—live primarily in the land-water interfaces. So, riparian management should help conserve biodiversity and ecosystem services essential for climate change adaptation.
Globally, riparian habitats are treated as areas of ecological significance. The relevant authorities in many environmentally sensitive countries often maintain a 30- to 100-metre-wide belt of intact vegetation around water bodies. Unfortunately, the idea of riparian management has yet to take proper hold in Bangladesh—a significant gap in our nature management or climate change adaptation planning. Although we lack hard statistics regarding the extent of the loss of our riparian ecosystem, there are plenty of reports regarding the encroachment of river and canal banks and the clearing of vegetation around water bodies. A recent report by the UNDP Bangladesh also shows a significant loss of riparian mangroves in selected southwestern coastal districts. All these reports imply that our riparian ecosystems and biodiversity are in grave danger.
That being said, the government's current initiative to restore the congested rivers and canals is praiseworthy. However, past experiences suggest that many restored rivers and canals are likely to return to their previous congested conditions within a few years. Establishing riparian plantations around the rivers and canals is likely to minimise river or canal congestion, as riparian vegetation traps sediment. Moreover, riparian vegetation can also reduce river or canal bank erosion by holding the soil tightly.
The effectiveness of riparian management towards tackling complex socioecological issues, including climate change adaptation, has been proven scientifically and are preferred by local communities worldwide. Local communities in some southwestern districts in Bangladesh are also raising riparian mangroves along the riverbanks as a second line of defence against natural disasters and collapsing coastal embankments. We need to capitalise on these community-led initiatives to restore the degraded riparian vegetation, and create new plantations around rivers, canals, or water bodies.
Since rivers and canals are spread all over the country, effective riparian management would also spread greenness and simultaneously make the country climate-resilient. However, one should not confuse riparian management with a one-time tree planting programme around dams. We need to designate at least 30-100 metres of buffer zones around water bodies, and keep the buffer zones undisturbed and managed by local communities. Our vast experience in social forestry can be handy in designing a community-based riparian management model that can offer climate resilience and community livelihood. We must keep in mind that the engagement of local communities and providing them with livelihood diversification opportunities are mandatory for the success of riparian management.
One underlying challenge in this regard is the lack of policy guidance. However, Section 18(A) of our constitution calls for the protection of wetlands and biodiversity. Relevant authorities need to specify policies to safeguard our riparian ecosystems and integrate them into land and water management plans. Although the Forest Department under the Ministry of Environment, Forests and Climate Change is responsible for managing vegetation, the Ministry of Land and the Ministry of Water Resources have jurisdiction over riparian habitat as well. Inter-ministerial coordination is, thus, essential.
We should not forget that the Bay of Bengal sea level rises by 0.6-2 cm per year due to global warming. Riverbank erosion has been increasing over the past two decades as well. Areas vulnerable to cyclone and tidal surge-related hazards in Bangladesh will increase by 13.8 percent by 2050. A 30cm increase in the Bay of Bengal sea level will lead to the sinking of about 5.4 percent land area in the country. The intrusion of saline water into agricultural lands, increasing land erosion, loss of biodiversity, and displacement of people are expected to follow.
Our preparedness to adapt to those situations is the key to our survival and development. To that end, the Bangladesh government, in partnership with UNDP, is currently updating its National Adaptation Plan. I sincerely hope that our national adaptation and conservation plans focus on riparian ecosystems and utilise green ingredients to save the people, nature, and biodiversity of the country from natural disasters, and build a greener Bangladesh in the process.
Shekhar R Biswas is a professor of ecology at East China Normal University in Shanghai.