76th UNGA Session: Call for decisive policy measures to combat the fallout of Covid-19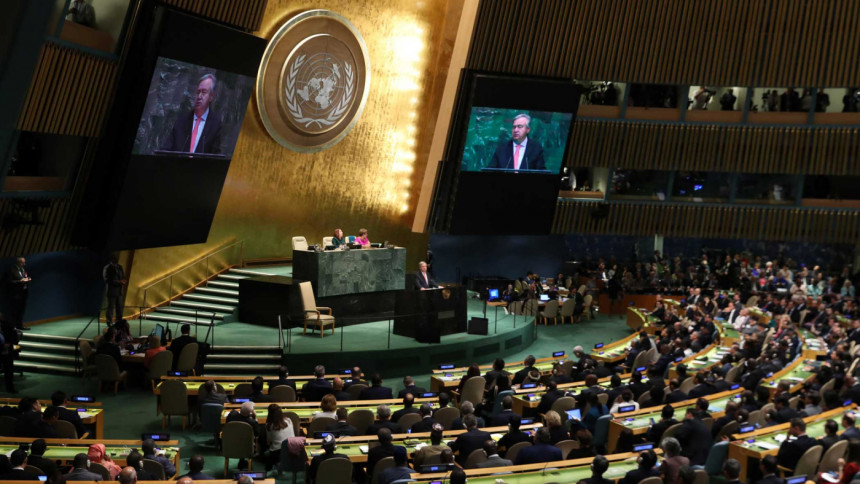 "To be more sustainable and effective, the United Nations needs to revisit priorities and respond to the needs and challenges of time."
—Trygve Lie, the first secretary-general of the United Nations (1949) 
The 76th session of the United Nations General Assembly (UNGA) is set to open tomorrow. The secretary-general has already outlined a well-articulated and focused 10-point agenda for discussion that covers several broad challenges the world needs to overcome—ranging from poverty to climate change and adaptation, as well as SDG implementation. However, right now, the core thrust should be on enabling member countries to overcome the severely adverse impacts of Covid-19. At the same time, the international community needs to undertake broader collaboration in addressing the key issues and concerns that impede economic and social development, the disproportionate trend in resource mobilisation and utilisation, as well as critical challenges in building up a robust health infrastructure.
In addition to the well-articulated priorities, the forthcoming UN session is expected to take into account the optimum means for recovery, making up for the deficits in trade and services sectors, and providing support to revive growth levels. Keeping this in view, some of the critical areas that warrant the UN's focused intervention in the medium term are highlighted below:
Global and regional thrust on food security
Due to the prolonged pandemic and the severe disruptions in global production and supply chains, there is a need for special emphasis on strengthening food security. The UNGA may ask Food and Agriculture Organization (FAO) and World Food Programme (WFP) to coordinate with the countries in taking concrete measures to ensure consistent and stable food supply and security, based on the key strategic pillars envisioned by these institutions. A global commission on ensuring food security and prevention of hunger, under the umbrella of WFP, would be relevant at this stage.
Anti-poverty focus through reinforcing stimulus incentives
Respective country policies have prioritised specific interventions to reduce poverty and inequalities. It would be pertinent for the UN to coordinate with multilateral agencies to gear up support for country systems and programmes to ensure effective implementation of the stimulus incentives, and promote safety nets and social protection instruments of the governments. This should be aimed at maximising the welfare impact.
Enhancing concessional assistance
Based on the 2005 Paris Declaration on Aid Effectiveness, development partners are required to strengthen the overall alignment of country strategies and programmes to respective national development strategies and programmes. The subsequent Aid Effectiveness discourse in 2009 and 2011 added further impetus through better tracking, monitoring and evaluation tools. To combat the Covid impact, the UN may ask multilateral financing institutions to have in place a window for extremely concessional assistance, outside the ambit of country partnership strategy/country assistance allocations. This would enable budgetary support, meet current deficits and compensate for the jobs and incomes due to Covid.
Creating platform for private sector and NGO collaboration
Covid-19 has resulted in severe challenges for the key sectors of growth, and the overall pace of recovery has slackened critically. The UNGA may facilitate a platform for a coordinated and integrated role to be played by the private sector, NGOs and CSOs to supplement and strengthen programmes undertaken by the governments, especially for stimulating the recovery and compensatory programmes in the services and social sectors.
Strengthening regional incentives
The UN may consider an integrated programme of action that would propel Regional Cooperation and Integration (RCI) frameworks to streamline, strengthen and align core programmes on minimising the Covid-19 fallout, aimed at a further substantive and long-term impact and effectiveness. In this context, a key element would be to enable member countries to work on integrated mechanisms for monitoring and surveillance of health and service sectors. There is evidence that regional approaches enhance abilities to cushion external shocks.
Forced migration
In the past decade, forced displacement has worsened the migration and refugee crisis in several areas of the world. Pushing out citizens forcibly to neighbouring countries is one of the most critical humanitarian challenges in recent times. Displacement creates pressure on limited resources, erodes gains achieved through effective policy interventions, and slackens service delivery. The current UN conventions may be restructured to enforce provisions for violations in this regard.
Restructuring SDG focus to counter Covid impact
Accomplishment of the Sustainable Development Goals (SDGs) will continue to reflect the trend of social and economic progress. Overall, the response in SDG implementation has been satisfactory. The UN may consider upgrading institutional and functional frameworks to review and assess challenges caused by Covid, and take concrete measures for effective SDG implementation. Support to country capacities and systems could ensure sustainable and effective outcomes in this regard. The renewed commitment and focus on the implementation of the Paris Agreement on Climate Change is expected to ensure sustainable outcomes.
Business continuity plans
The UN needs to emphasise supporting countries and institutions on undertaking business continuity plans (BCP) for strengthened leverage to continue programmes, despite disruptions. Performance-based and results-based components can render BCPs to economise resources and facilitate smooth transition to overcome unforeseen contingencies.
Finally, the success of the UN interventions depends on having in place resilient institutions, effective development partnership, and improved governance mechanisms. Flexibility in the modus operandi of bilateral and multilateral collaboration, restoring broadened market access and overall competitiveness, and robust RCI programmes could lead to better outcomes. The UN and overall multilateralism need a significant paradigm shift both in operational and structural terms, to overcome the current challenges and support countries to move ahead towards the perspectives of higher levels of inclusive growth.
Dr Mohammed Parvez Imdad is an economist, governance specialist and policy analyst.
Email: mpinayefmimdad@gmail.com