Why are rice prices soaring?
Reportedly, there is no shortage of it in the country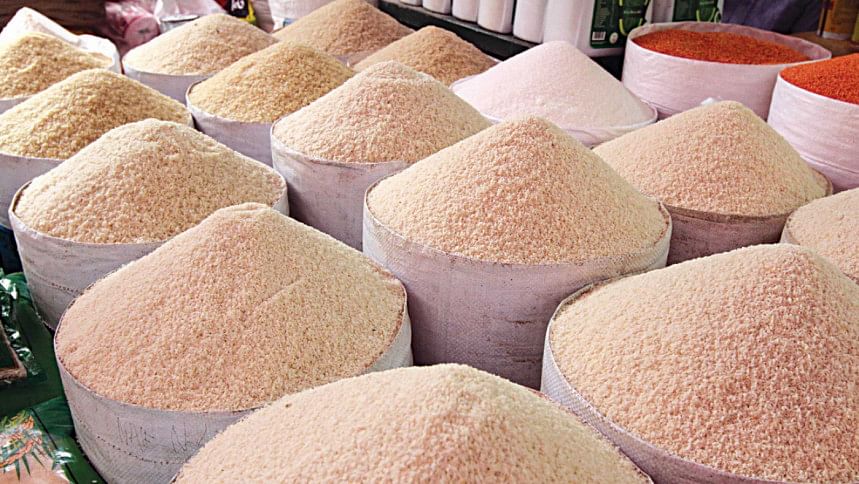 It is concerning that prices of both fine and coarse rice have gone up in the capital's wholesale and retail markets in the last few days, despite there being no shortage of food grains in the country. The price of fine rice increased by Tk 2-5 per kg in the retail market, while coarse rice prices also increased.
Over the last five months, prices of almost all the daily essentials such as edible oils, lentils, eggs, flour, powdered milk, etc., have increased in the market.
While prices of imported items have increased due to supply chain disruptions caused by the Russia-Ukraine war, prices of many locally produced items, such as mustard oil, have also increased for no apparent reason.
While flash floods in Sylhet and Sunamganj could be a legitimate reason for the price hike, traders have alleged that some local companies are buying paddy in bulk and creating an imbalance in the market, thereby triggering the price hike. If that is indeed the case, the government must take strict action against these companies that are hoarding paddies at the prospect of making more profit, manipulating an already volatile market.
Illegal hoarding has always been an issue for us. We had seen earlier how traders and even local politicians hoarded large amounts of edible oil in order to sell them later at higher prices. And we might be experiencing something similar in the case of rice, if the government cannot stop this buying competition among the big companies. The Directorate of National Consumer Rights Protection (DNCRP), an agency of the commerce ministry, must remain vigilant and regularly conduct drives against illegal hoarders. Since traders have claimed that there is no shortage of the staple in the market right now, it is the government's duty to keep the rice market stable.
As it seems, the global market may remain volatile for quite some time because of the ongoing Russia-Ukraine war. Therefore, the government must ensure that our food grain stock remains stable for a significant amount of time in the future. And rather than depending on the next Boro harvest—which is supposed to be a good one—the government should also look for markets to import rice and wheat from. Ensuring food security for the people is now a most difficult challenge facing the government. And it should not let the people down.