Wake up and smell the 4th Covid wave
Virus transmission could go from bad to worse during Eid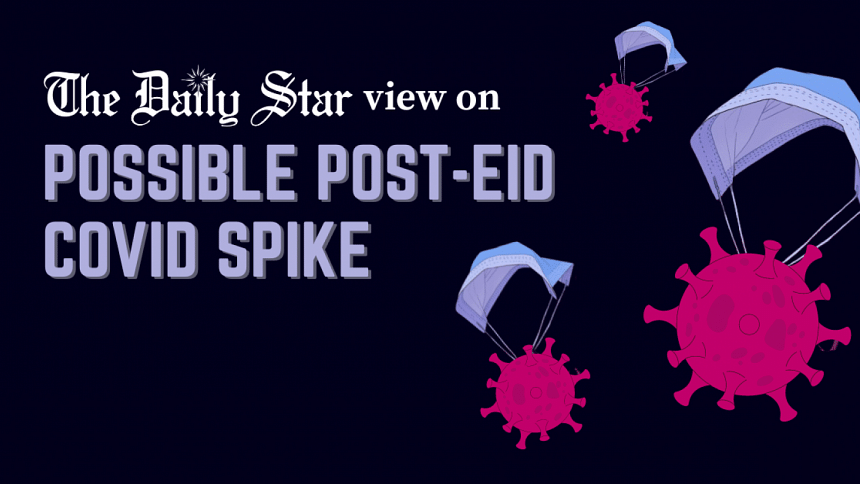 As experts have confirmed already, Bangladesh has entered its fourth wave of Covid infections within the last few weeks. In the 24 hours till 8am on Monday, the Directorate General of Health Services (DGHS) reported 12 Covid deaths – the highest after March 5 this year when 13 people had died – and 2,285 cases of infection. According to data from the World Health Organization (WHO), the test positivity rate for the virus stood at 15 percent, which is a staggering difference from the 0.8 percent positivity rate at the end of May. While it was timely of the Cabinet Division to issue a mask mandate on June 28 to battle this rise in Covid cases, all institutions and individuals must come together to practice health safety rules vehemently – especially during the upcoming traditionally chaotic homegoing days of the Eid-ul-Adha.
In addition to a reluctance towards mask-wearing and social distancing, many of the population also seem to be in denial of the fact that the fourth Covid wave is in Bangladesh. Some think their fever may be due to dengue – which in itself is nothing to be brushed aside – or that their symptoms indicate only a seasonal flu. However, the data of recent weeks proves otherwise.
The only way for one to find out whether their symptoms are from the coronavirus or not would be to get tested. Given that many are intimidated by the costliness of laboratory tests, the government should subsidise such testing so that citizens are able to get reliable diagnoses early on and can seek proper treatment.
More worrying is the fact that Eid holidays are days away, during which thousands of people will be travelling between the capital and the rest of the country, packed into cars, buses, trains, and ferries. Experts rightly fear that this could result in a high surge in Covid cases post-Eid.
The coronavirus is something that is here to stay, and will only mutate to take different, often more dangerous, forms. To combat this, it is crucial that the population stays up-to-date on their Covid vaccines, as every dose eventually wears off – exposing a person to higher chances of being infected.
As such, only our vigilance (through daily health safety measures and receiving vaccines) can prevent the virus from devouring numerous lives and livelihoods, as it has done in the past. We urge the government to ensure that health and safety rules are strictly enforced at shopping malls, kitchen markets, and on public transport vehicles, and that a thorough and efficient vaccine drive is conducted to safeguard the population against this fourth wave of the Covid virus in Bangladesh.