UGC luxury trip defies PM's call for austerity
Public authorities should lead by example, not dilute the message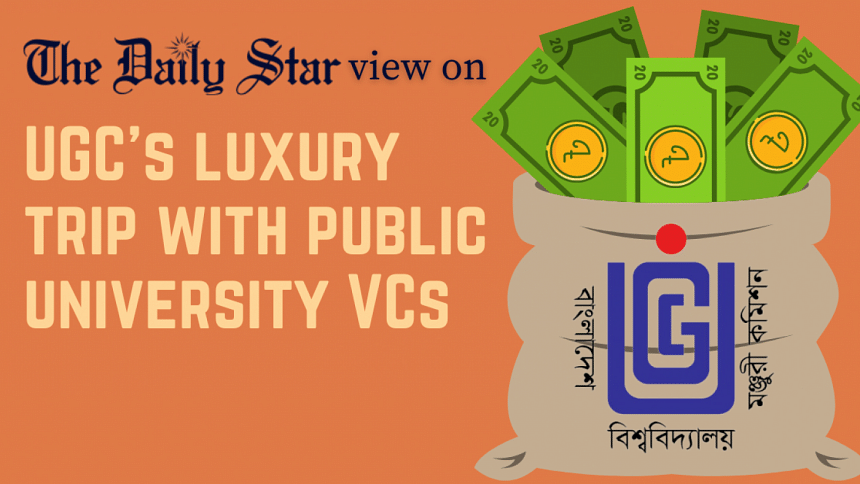 We're surprised to learn of a two-day luxury trip being organised by the University Grants Commission (UGC) at a time when the government is undertaking austerity measures to reduce public spending. A number of government offices and banks have already cancelled foreign trips following a May 12 circular and amid repeated insistence on exercising austerity by the prime minister. It was necessitated by the economic pain caused by Covid-19 since 2020 and the ongoing Russia-Ukraine war that has led to escalation of prices globally. But it seems the message was lost on the UGC, which has organised a Tk 15 lakh trip to Cox's Bazar for vice-chancellors and registrars of all 50 public universities and 25 high officials of the UGC itself.
The reason cited for the trip by UGC is that it is "to sign annual performance agreements with the public universities to ensure good governance, transparency, accountability, excellence and proper utilisation of resources as well as improve their institutional capacity". We cannot help but ask: How does a luxury trip sit with the purposes of accountability and proper utilisation of resources? Couldn't the agreements be signed at the UGC's office at Agargaon, like it was done in the last two years?
We are told that the UGC held similar meetings before the pandemic. In 2017 and 2018, the events were held in Bogura and Cumilla, and it cost Tk 30 lakh each time. The following year, the meeting was held in Bandarban, costing the UGC Tk 25 lakh. But the agenda for such meetings doesn't justify the expenses incurred. Had the UGC organised it at its own office, it would have saved cost and spared the government the embarrassment of seeing its austerity drive overlooked by one of its own offices. At a time when we're struggling to fund vital services like social safety net programmes and subsidies in various sectors, such wastage of public money is unacceptable.
The drive for reductions in public spending should not be limited to only trips, however. Huge amounts of money are wasted in various ways including corruption and mismanagement in the public institutions – autonomous, government and semi-government agencies under different ministries as well as state-owned banks and financial institutions. We have seen how public projects have dragged on year after year, leading to frequent cost overruns. Therefore, we urge public authorities in every sector to lead by example and establish control on all sources of unnecessary expenses.