Tk 46.25 crore down the river!
Poor planning, neglect and corruption in govt projects must end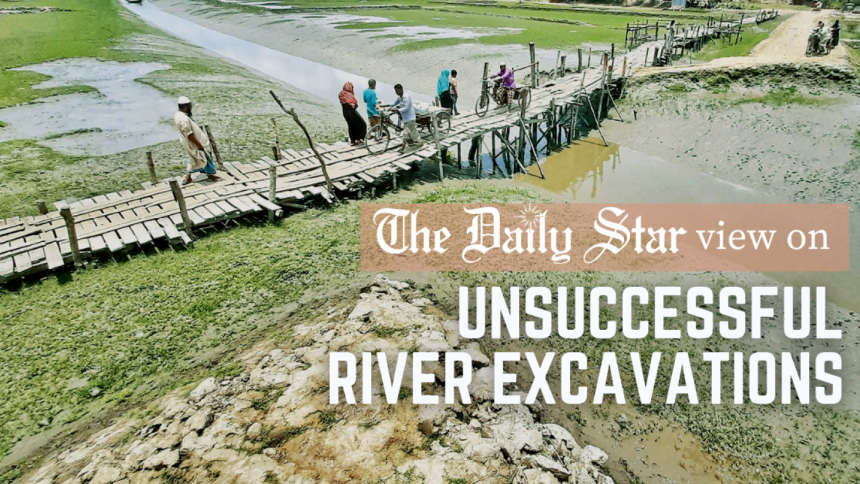 There is no denying the fact that the rivers of Bangladesh, which are drying up, need to be re-excavated on an urgent basis to get back the desired level of navigability for water vessels, as well as for using them as reservoirs for irrigation purposes during lean seasons. Though excavation work with dredgers is going on in many rivers, unfortunately, the standard of work often gives rise to more unsavoury questions at the end of the day. Reports abound in the media of negligence and exploitation surrounding such undertakings, manipulated by some corrupt elements lurking within the system.
A report in this daily shows that, though a drying river named Bhadra, in Khulna's Dumuria upazila, was re-excavated by the Water Development Board (WDB) with a whopping Tk 46.25 crore only two years back, it is getting filled up once again, to the dismay of local residents. Investigations revealed that the excavated silt kept on the two banks is falling back into the river and refilling it. As a result, the hope of economic activities centring the river being regenerated is becoming bleaker every day. Villagers and farmers complain of closure of the area's drainage system as the river is getting filled up with silt, thus triggering waterlogging.
Reportedly, 21km of Bhadra River were excavated in June 2019. And it is good to know that, for the purpose of retrieving the river, about 563 small and large installations (including three brick fields belonging to the encroachers) were demolished before starting the excavation work. The encroachers had reduced the river's width to merely 80 feet from its original 500 feet by constructing houses and factory buildings illegally. The project allegedly could not be completed as per the original plan because of interference from higher-ups.
What does the WDB have to say about this? The additional chief engineer of WDB's south-western zone said Bhadra was supposed to have two sluice gates at both ends, a plan that was later scrapped. As a consequence, the river has silted up within two years of excavation. There is no way to know why the sluice gate plan has been scrapped. At a time when the government is reducing its spending on social safety net programmes, allegedly due to a shortage of funds, such a waste of tax-payers' money is simply unacceptable. There is apparently a new project worth Tk 1,819 crore to excavate small rivers and canals in the vicinity, but we can't help but wonder whether there is even any point of this initiative – except to squander away more public money. We urge the authorities to follow through on projects that could ease public suffering, instead of intensifying it.