Should child age limit be lowered to try juvenile crimes?
The answer isn't easy, but it's vital that we consider all options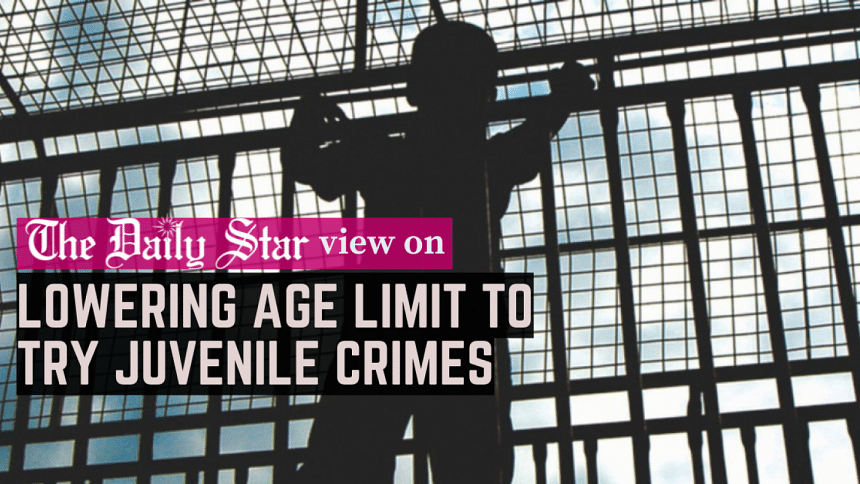 As social paradigms keep changing from time to time, many laws and regulations need to be changed to better respond to the challenges of the day. The government's decision to amend the Children Act – against the backdrop of rising crime involving juveniles – is, thus, rooted in reality. Just within the space of a week last month, two incidents – where a teacher was killed by his student in Ashulia and a principal was forced to wear a garland of shoes in Narail – brought renewed focus to the issue. But since anything involving children needs to be dealt with sensitively, we hope the law ministry would weigh all possibilities before taking any decision.
The issue of lowering the age threshold is more delicate in a society where the prevalence of child labour or marriage is as much a result of deep-rooted socioeconomic conditions as of loopholes prevailing in the laws. But the rise of teenage gangs who are getting involved in violent crimes needs to be addressed. The age of gang members has proven to be a barrier to criminal trial when they are sent to the court. There is also the problem of manipulating birth records. To escape punishment, a delinquent may be falsely shown to be below 18 – the current legal age limit – as it happened with the main accused in the murder case of the Ashulia teacher. On the other hand, in case of an early marriage, the bride's parents may manipulate records to show her as being of marriageable age.
To have a common age limit for all children and for all functional purposes is tricky. If it is lowered to 14 years, as a minister has suggested, a number of issues will crop up. It will, in all likelihood, increase the rate of child marriage in the country, and consequently early pregnancy and child birth. Already, we have legal complexities making the situation for minors difficult. For example, the labour law legalises the employment of children above the age of 14, although the Children Act sets the age limit for children at 18. The permission of underage marriage under "special circumstances" is another instance of legal loopholes. The last thing we need is another provision making the situation further complicated.
Therefore, we feel that any change in the Children Act, and the definition of children, needs to be done judiciously. The government may also consider other options like trying certain juvenile crimes, like murder, under "special circumstances". Revamping the juvenile correction facilities is also a priority.