Rising Covid cases should worry us
Authorities should respond properly to the emerging threat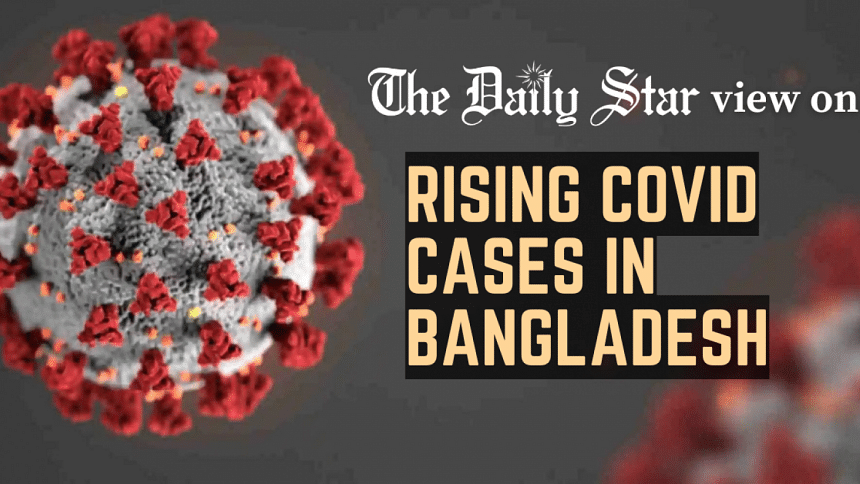 While the nation's attention was fixed elsewhere, the coronavirus numbers have been rising again, and fast, one should add. In the 24 hours till Sunday 8am, at least two people died from Covid-19, while 1,680 people tested positive. This, according to data from the Directorate General of Health Services (DGHS), marks the second consecutive day that the positivity rate crossed the 15-percent threshold – for the first time in over four months. On Saturday, at least three people died from Covid-19, while 1,280 people tested positive. A week-on-week analysis prompted a striking observation from the World Health Organization, which said that Bangladesh has the highest rate of infection in the world. In one week, the number of infected people in Bangladesh increased by 350 percent.
This pattern of increase – which, as an expert said, means we've entered the fourth wave of coronavirus – should concern us. The question is, why are Covid numbers rising when Bangladesh has vaccinated a large number of its citizens? Of the three who died by Saturday morning, two had received two shots of vaccine each, while the other had received a single dose, according to DGHS data. This is known as a case of "breakthrough infection", where a vaccinated person gets Covid-19. If this is a sign of things to come, Bangladesh, where a relatively small percentage of the population got the booster dose and where people are still generally lax in following health guidelines, has a lot to worry about.
Experts say that since the coronavirus is constantly mutating, no vaccine can guarantee a lifelong protection against it. Two Omicron subvariants, which are already causing havoc in a number of countries, are feared to be behind the recent rise of infections in Bangladesh. These new variants are highly infectious if not highly dangerous. But the effect of a vaccine, or the antibody produced from one's exposure to infections, gradually wears off after a certain period. This makes it extremely important that we follow health guidelines at all times even after vaccination, and that the majority of the population are given the booster dose (and more doses if the pandemic persists) as soon as possible.
Part of the problem in Bangladesh is people's indifference to testing. Earlier, when the pandemic was at its peak, there was some interest in voluntary testing but that, especially after being vaccinated, seems to have largely dissipated. This has to change. The authorities must launch a new drive to raise awareness of testing and other Covid precautions if we are to handle the new wave effectively. At the same time, the nationwide testing and vaccination programmes should be strengthened further. Following health guidelines, especially wearing masks in public and maintaining safe distance, should be made mandatory again.