Revive zila parishads to better serve people
Authorities must take steps to turn the zila parishads into powerful institutions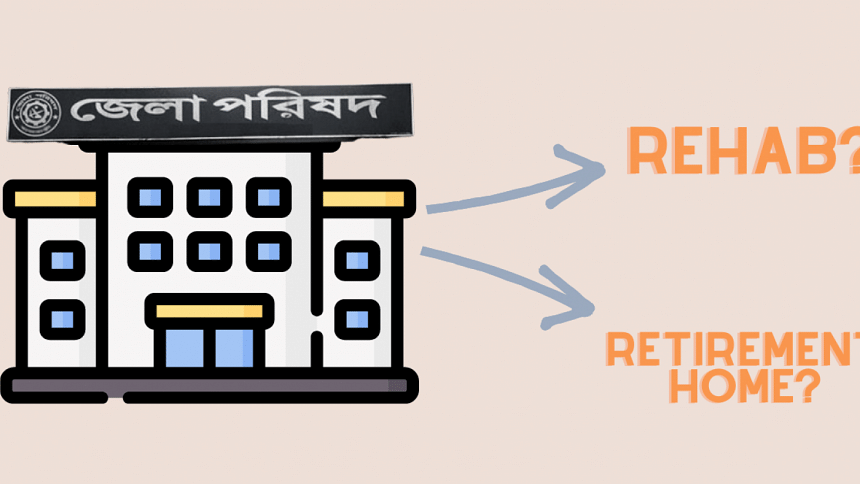 It is worrying that the country's zila parishads (district councils) are being reduced to what some observers called "rehabilitation centres" for the elderly leaders of the ruling party, as per a report by a national daily. These leaders, who are mostly 70-plus (some even 80-plus), reportedly cannot run these important local government institutions properly. In other words, these veteran leaders of the districts were given the posts of administrators as rewards for their past contributions to the party. But when it comes to executing their responsibilities, they can hardly rise to the occasion.
Although a zila parishad is expected to perform 12 different types of mandatory works and 68 optional works, in reality, little activity is seen in the council offices. These institutions have been limping for years for lack of energy. It is, therefore, necessary for the people of the districts to elect the right kind of people so that the zila parishads can function at full steam. 
There is no denying that despite having the potential to strengthen the arms of the local government and contribute to local development activities, the district councils are gradually being rendered useless for reasons we do not understand. The council almost exists as an appendix of the district administration and as another office under the ministry of local government. We strongly believe that its revival, empowerment and proper functioning can be a significant part of the administrative decentralisation process required for establishing good governance.   
It can be mentioned that although the district councils received budgetary allocations on a regular basis, subsequent governments since 1975 have not shown any interest to reorganise the councils into properly-functioning local government institutions. We believe that if the current government takes initiatives to reorganise these important organs of the state, it will immensely benefit the people in general. Once sufficiently empowered, these bodies would be able to undertake various responsibilities as per their mandates.
It should also be noted that the AL government, in its first term (1971-1975), took a decision to appoint "district governors" in all the districts but with the sad demise of Bangabandhu Sheikh Mujibur Rahman on August 15, 1975, the idea remained immaterialised. Since then, district councils have existed in the background with little visible contribution. However, significant developments began to happen with the enactment of the Zila Parishad Act 2000. But a further empowerment of the zila parishads is essential. It will be the right step towards ensuring good governance, especially from the perspective of making the system more representative, accountable and participatory.