Gas price hike amid a raging inflation is totally unacceptable
The government must leave breathing space for struggling citizens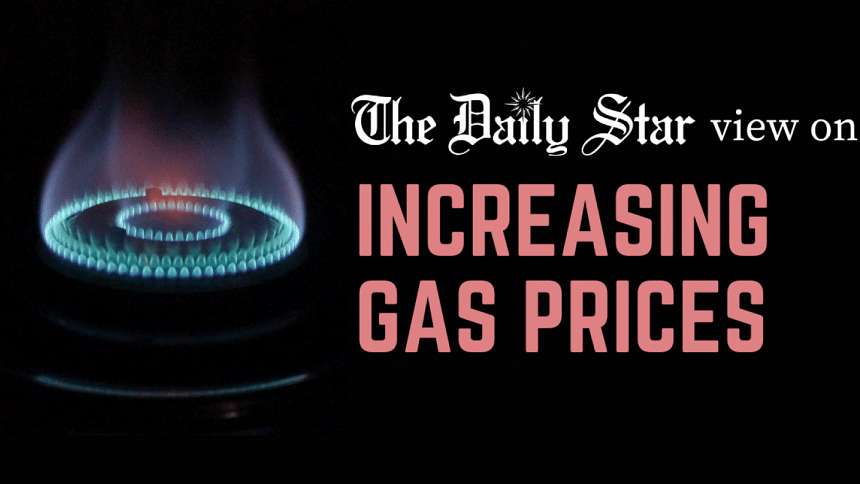 Amid the galloping prices of all essential commodities, the hike of gas prices by 22.8 percent has come as a cruel below-the-belt blow to citizens, especially those belonging to the middle and lower-middle classes. It means that the already shrinking purse of fixed-income groups will get further depleted to pay extra bucks for gas now. Concerned citizens and business leaders have rightly observed that the government could increase its subsidy in the energy sector instead of taking this suicidal decision.
The fear of gas price escalation has been haunting the people since the start of the Ukraine war, and it has finally come true. However, one good news is that the price for compressed natural gas (CNG) hasn't been increased, therefore, CNG-run industries and automobiles will have no excuse to charge extra money like in the past.
The hike is likely to hit some industries particularly hard, for example, fertiliser factories will have to pay Tk 16 per cubic meter of gas instead of Tk 4.45. This big jump in price will create the scope for increasing the price of fertilisers. This will also result in the rise of prices of crops and other agricultural products, and no doubt ordinary consumers and, by extension, people will have to bear the brunt in the end. Similarly, when we see that the tariff for power plants has been increased by 12.8 percent, for large-scale industries by 11.96 percent, for medium-scale industries by 10.09 percent, for tea estates by 11.5 percent, and commercial users like hotels and restaurants by 15.83 percent, we can very well guess that these sectors will ultimately make the consumers pay indirectly for what they will pay to the government.
This is, quite frankly, an anti-people decision and has all the elements for upsetting their family budget at a time when inflation is showing no sign of abating. The Bangladesh Energy Regulatory Commission's justification—that the government has taken the decision not to give subsidies for any product at the production level, rather it would be extended at the consumers' end—means that the government binned all the recommendations for alternatives offered by the Consumers Association of Bangladesh. Those recommendations included cutting the huge cost of "capacity charge" that the government pays for surplus electricity, as well as reducing dependency on privately-owned quick rental plants and single-cycle power plants which would have saved a lot of money.
Thus, we find the decision to increase the gas price arbitrary, unmerited and unacceptable. We urge the government to revise it in light of the prevailing reality.