Fix the issue of syndication for Malaysian labour market
Why not let all legitimate recruiting agencies send workers there?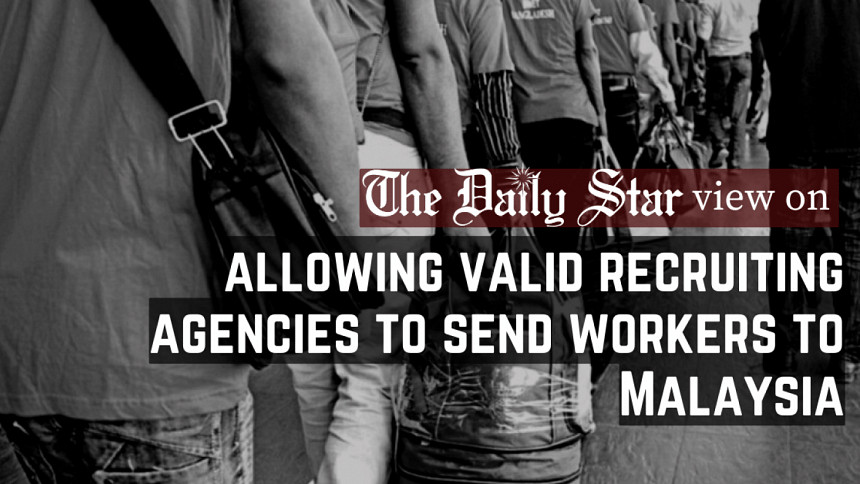 An alliance of recruiting agencies has called on the governments of Bangladesh and Malaysia to allow all valid local agencies to send workers to Malaysia. The issue of sending workers to the country has been a troublesome one for some time. There have been plenty of allegations of mismanagement and corruption in the past, followed by promises of reforms from both governments. But those reforms eventually failed to work with the Malaysian side cancelling the arrangements. The Malaysian government previously alleged that many Bangladeshi workers who went to the country struggled to find work because of mismanagement. Thus, it stopped accepting workers from Bangladesh saying that a government-to-government (G2G) agreement would solve it.
That again didn't work over allegations of mismanagement, as the agreement only allowed a 10-company syndicate to send workers. The Malaysian government then closed the facility for three years, only to now reopen it under the same syndication system – this time with 25 companies included. We fail to understand why, having previously complained that syndicates were causing issues, the Malaysian government would revert to the idea of recreating one. We are equally taken aback by the Malaysian human resources minister's remarks over the issue.
First, during his visit to Bangladesh, he told the media that the selection of recruiting agencies would be as per the decision of his country's cabinet. Then, after returning to Malaysia, he reportedly said it was not an issue to be discussed in the cabinet, leaving doubt over how the recruiting agencies would be selected. Needless to say, there are legitimate concerns, particularly given past experiences, that lack of clarity in this regard would mostly harm potential Bangladeshi migrant workers. Previously, many migrant workers had to pay huge sums of money – beyond what the government agreement required off them – to go to Malaysia. Such situations led to the agreement getting cancelled, which again cost them. Therefore, why is it that the two governments are willing to return to an arrangement that leaves scope for corruption and mismanagement to potentially ruin a beneficial arrangement?
Many of the past instances of mismanagement, it has to be said, happened on the Malaysian side. Thus, we call on the Malaysian government to fix those issues, and consider allowing all valid Bangladeshi recruiting agencies to send workers. The Bangladesh government, on the other hand, needs to ensure that it fully addresses the possibility of corruption on its end, so that these hard-working people can get jobs in Malaysia with any hassle. That will benefit both countries.