Another attempt to gag the press?
Proposed hefty fines for journalists are unrealistic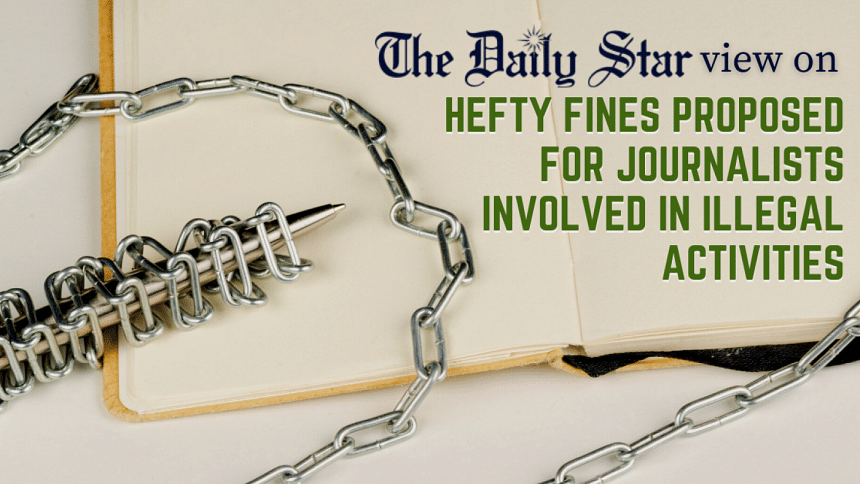 We're alarmed to learn that the Press Council Act, 1974 is being amended with a provision for fining a journalist up to Tk 10 lakh if found involved in any "illegal or criminal activities". The likelihood of this happening has been confirmed by the chairman of Bangladesh Press Council, who said the draft of the amendment may be placed in parliament after it is approved by the Cabinet Division. As per a report by this daily, he also claimed that all journalist-representatives in the council had "agreed" to it and that the issue had been "regularly discussed with the current committee", although some committee members denied having any such discussion. It appears that a discussion to increase penalties did take place five years ago, but none on the proposed amendment.
The mystery surrounding this issue aside, the fact that the press council felt the need to impose such penalties for activities which should already be covered by the existing criminal law is disconcerting. It may involve changing an existing norm too as, according to one member, Press Council cases can only be filed against organisations, not against any journalist.We understand the importance of enhancing the power of the press council, especially when it comes to upholding ethics and fairness in journalism. But often, the threat to ethical journalism is from the system, not from individual journalists. Currently, the council can rebuke a journalist if their wrongdoing is proven but nothing beyond that.
But such hefty fines potentially add to a growing list of legal tools being used to create a culture of fear for journalists, who are already walking a tightrope with various draconian laws and regulations. It may contribute to further shrinking the space for them. They need to work independently to cover stories important to citizens, with no fear of retribution from any quarter whatsoever.
That said, we wholeheartedly support any move to ensure responsible journalism. But hefty fines and repressive laws for individual journalists or media organisations are not the way to go about it. There is no denying that journalists practising objective journalism can strengthen democracy in the country. No country or regime can thrive by throttling the voice of the people. Thus, we find the proposed amendment to the Press Council Act to be problematic, and therefore oppose it. We hope it will be rejected by the Cabinet Division.