Fining journos up to tk 10 lakh: Not all in press council on board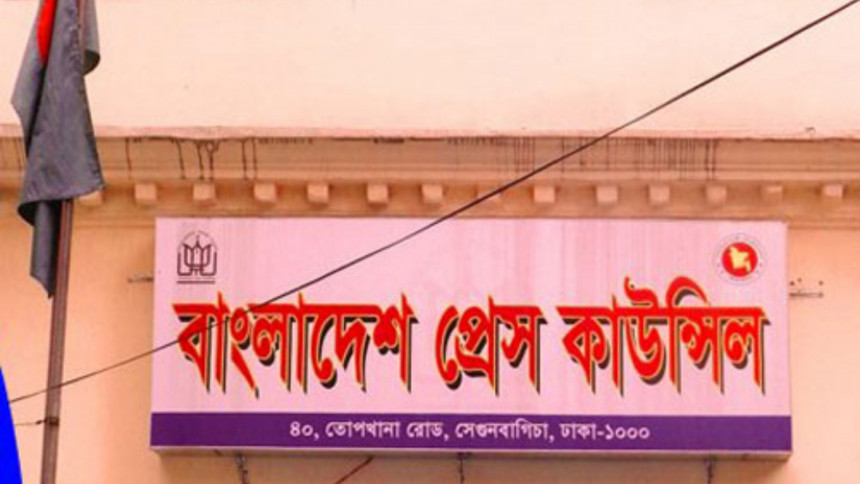 The Press Council Act-1974 is being amended with a provision of fining a journalist up to Tk 10 lakh for participating in illegal activities.
Bangladesh Press Council Chairman Justice Nizamul Huq Nasim confirmed it to The Daily Star.
"The work to amend this act began in 2016. I joined the Council in 2021… I have heard that this [proposed amendment] is with the Cabinet Division now."
Upon the cabinet's approval, it will be placed before parliament.
He further said all the journalist-representatives in the Council have agreed to the proposed amendment. "Our records say so."
Justice Nasim said that this issue has been regularly discussed with the current committee as well.
"We have no record stating that the members have opposed this," he added.
Meanwhile, senior journalist Monjurul Ahsan Bulbul, who is currently a member of the Council, said that no such discussion took place during the meetings of the current Council.
"This Council was formed in late 2021 and this issue did not crop up. A discussion to increase penalties and empower the Council took place five years ago but I don't know when such an amendment was formulated. I don't know what was recommended.
"I cannot comment on it without seeing it," said Bulbul, who was also in the Council of 2017.
"The intention was to enhance the power of the council. As per the existing law, if a journalist gets accused, the council can rebuke them. The publications which will go against the sacred statute of journalism can be spared if they admit their wrongdoing. At the same time, repeat offenders can also be exposed to exponentially harsh punishments.
"However, Press Council cases can only be filed against organizations, not against any journalist."
Saiful Alam, editor of Dainik Jugantor, said, "The current committee had five meetings, but amending the law was not discussed in any of them. Individuals who were part of the committee five years ago had talked about enhancing the judicial authority of the council.
"However, I do not know anything about the 10 lakh taka fine issue being included in the amendment."
Regardless of the situation, journalists should always work independently, he opined.
He said, "We never move away from this demand. We are against each and every impediment that comes in front of independent journalism. It is not even appropriate to think about controlling journalism with so many different laws.
"There are many laws already. I am not for putting the journalists in a new kind of quagmire using freshly enacted laws. We are responsible journalists and we practise objective journalism."
Iqbal Sobhan, editor of The Daily Observer and the prime minister's former information adviser, said, "This committee has not discussed the amendment. However, earlier committees have had discussions in this regard. At the moment, the Council is basically a toothless tiger. They can only rebuke someone once their wrongdoing is proven.
"This law will put a stop to malicious journalism. I firmly believe that if someone does something wrong, they should definitely be fined. Those who practice objective journalism will not be affected.
"Before penalising someone, each and every aspect will be thoroughly examined. The penalty amount will be determined based on the gravity of the crime. Ten lakh is just the maximum. In certain cases, the fine will be much less."
Utpal Kumar Sarker, executive committee member of the Bangladesh Federal Union of Journalist, said, "The amendment of this law was not in committee meeting agenda. This law cannot exist. We are against it and we do not support it in any way.
"One cannot penalise journalists Tk 10 lakh. However, if a journalist is at fault, there should be a provision for imposing a punishment.'
Mustafiz Shafi, editor of Protidiner Bangladesh, told The Daily Star, "I do not know about this issue. I was included in the current committee as a member, but I have not been invited to any meetings so far."