7 injured in California bar shooting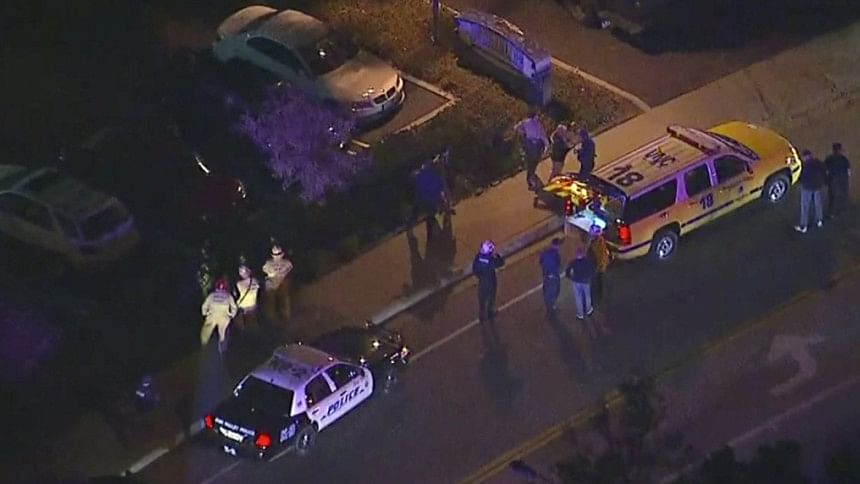 A gunman shot a sheriff's deputy and around six other people inside a country-and-western bar and dance club in Southern California on Wednesday night, authorities said.
Ventura County sheriff's Capt. Garo Kuredjian said he could not confirm whether any of those shot were dead.
He described the situation as still active.
"We're still looking for the shooter," Kuredjian said. "We can't confirm that the shooter is in custody."
Kuredjian said hundreds of people were inside the Borderline Bar & Grill in Thousand Oaks at 11:20 pm, and shots were still being fired when deputies arrived.
It was college night and country two-step lessons were being offered Wednesday at the Borderline, according to its website.
It has been "quite some time" since there was a shooting of any kind in Thousand Oaks, a city of about 130,000 people about 40 miles (64 kilometers) west of Los Angeles, just across the county line.
Nick Steinwender, student body president at nearby California Lutheran University, rushed to the scene when he heard about a shooting at the bar where he knew friends and fellow students were inside.
"It was chaos, people jumping out of windows, people hopping over gates to get out" Steinwender told KABC-TV.
He said he heard from people inside that they were hiding in bathrooms and the attic of the bar.
It was reportedly college night at the bar.