Trump's shocking rise to the presidency
Less than 17 months -- that's how long it takes Donald J Trump to reach the White House, besting rivals who had been chasing that dream for years.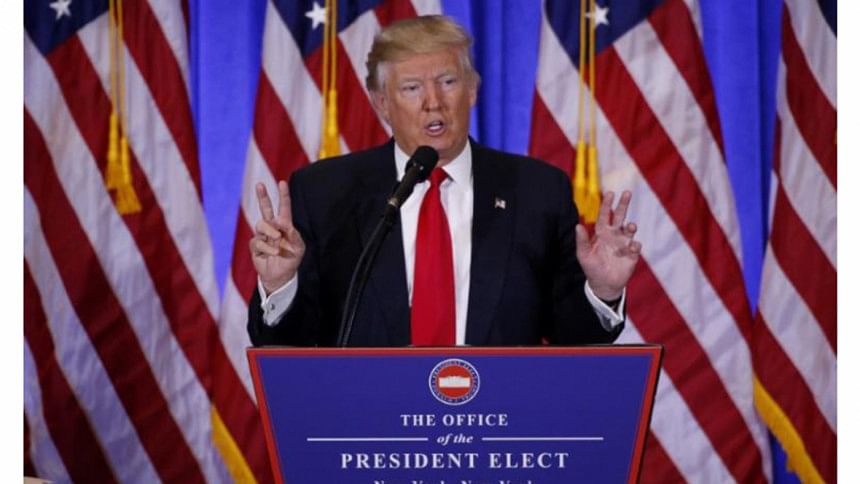 Less than 17 months -- that's how long it took Donald J. Trump to reach the White House, besting rivals who had been chasing that dream for years. But his political ambitions go back nearly three decades.
In 1998, on the set of Oprah Winfrey's talk show, the provocative billionaire first signalled his interest in the Oval Office.
"I think I'd win. I'll tell you what, I wouldn't go in to lose," he boasted to the iconic television host.
"People are tired of seeing the United States ripped off," added the real estate tycoon.
The author of the best-selling "The Art of the Deal" was then just 42. He ultimately declined to run that year, but the seed was planted.
Beginnings, and a breakthrough
In 1999, Trump took the idea a step further. He quit the Republican Party and announced an exploratory bid under the Reform Party banner, with neither a conservative or liberal agenda but backing for America's "workers."
He blasted Germany, France and Japan as countries that treat America "like a whipping post" when it comes to international trade.
Trump abandoned his bid after four months, but that early run helped shape his nationalist, populist orientation that would prove crucial to his success 17 years later.
Fast forward to June 2015, when a new race for the White House was cranking up.
Hillary Clinton and Bernie Sanders dominated the Democratic field, while 11 Republicans including Jeb Bush, Marco Rubio and Ted Cruz were already running for their party's nomination.
In the glittering lobby of Trump Tower in Manhattan, Trump threw his hat in the ring pledging to "make America great again" -- a vow that would become his campaign slogan.
A month earlier, he had not even been included in Republican primary polling, and was known far more for his role as the brash reality TV boss on "The Apprentice."
By July, he was leading in the polls.
His candidacy proved a blockbuster. As controversy swirled and he flung his harsh rhetoric in multiple directions, Trump never apologized.
As his presence on cable news channels grew, he endured endless criticism while soaking up the benefits of wall-to-wall coverage.

The political establishment collectively cringed on December 7, 2015 when he proposed that Muslims be barred from entering the United States -- one month after terror attacks in Paris left 130 people dead.
"The Donald" nevertheless rose steadily in the polls: from 25 percent, to 30, and then 35 percent approval among Republican likely voters.
The primaries
On the eve of the first primaries in February 2016, the Republican establishment became convinced that the anti-Washington candidate would hit a support ceiling of 30 or 35 percent, and that another candidate would ultimately consolidate the remainder of the party's support and oust Trump.
But the party's base appeared to be in open revolt, riding the anti-establishment wave embodied by Trump and rival Ted Cruz, a senator with Tea Party backing.
On February 1, Cruz snatched a narrow victory in the opening contest in Iowa, and the primaries race congealed around the battle between two figures distrusted and disliked by Republican heavyweights.
As Trump slowly built a lead, outside groups poured millions of dollars in vain into an "anyone but Trump" movement.
But by early May, Trump had seized the nomination.
Victorious, he strode on stage at the Republican convention in Cleveland in July, proclaiming: "America first!"
But the real war was yet to come.
Target: Clinton
Trump's tactics hardly shifted as he pivoted to battle the Democrats, who were better funded and enjoyed support from incumbent President Barack Obama.
Trump expertly tapped into the anti-elitism that swelled in communities across America, and despite his brutal rhetoric, he managed to rally most of his party.
At campaign events that often attracted tens of thousands of supporters, he portrayed Clinton as the ultimate political insider, chummy with Wall Street and a symbol of the status quo who deserved to go to prison over her email scandal.
In September, Trump seized on Clinton's bout with pneumonia to portray the 68-year-old former secretary of state as too feeble to lead.
But he lagged behind in public polling.
Clinton appeared to dominate their three televised debates, and Trump earned rebukes when he tangled with the Muslim parents of a US soldier killed in action, and then a former Miss Universe.
Controversies over his foundation and his unreleased tax returns simmered.
One month before the election, Republicans were sent reeling with the release of a decade-old video in which Trump is heard crudely boasting about assaulting women.
But in the campaign's final weeks, the political winds began to shift in Trump's favor.
On October 7, WikiLeaks began publishing emails hacked from Clinton campaign chairman John Podesta's account, laying bare the cynicism and indiscretion of her campaign's inner workings.
Combined with a surprise relaunch of an FBI probe into the email case, the revelations proved devastating for Clinton, who thought she had weathered that storm.
Even on the eve of the November 8 election, polls suggested the damage was not enough to reverse the trend line of a Clinton triumph.
But in a surprisingly close election, broad antipathy against Clinton combined with Trump's change-agent message was enough for the political novice to gain ground in several "Rust Belt" states.
The world was stunned to see many white working-class voters in those states -- who once supported Obama -- favoring the Republican candidate.
Even the brash billionaire appeared stunned by his own victory.
"I sort of thought I lost," Trump said, recalling how he had purposely rented a small New York ballroom for election night.