Trump vows 'new vetting' to weed out Islamic radicals
Bars Syrian refugees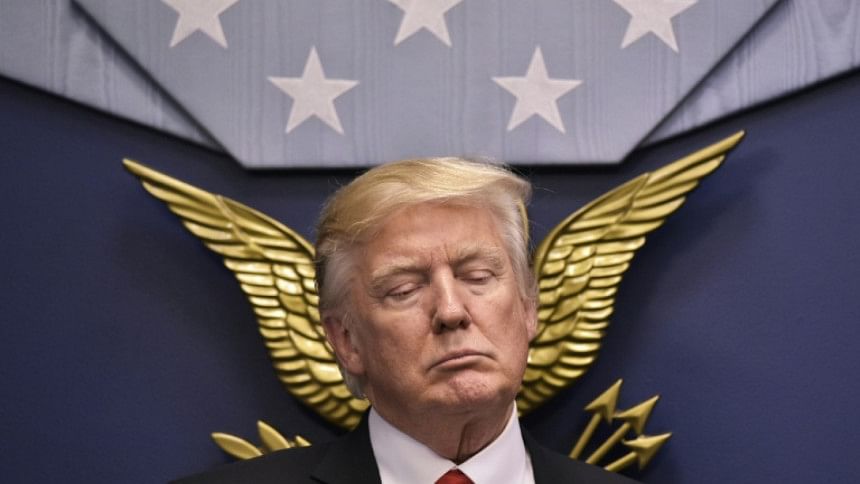 US President Donald Trump signed a sweeping new executive order to suspend refugee arrivals and impose tough new controls on travelers from seven Muslim countries.
Making good on one of his most controversial campaign promises, and to the horror of human rights groups, Trump said he was making America safe from "radical Islamic terrorists."
"This is big stuff," he declared at the Pentagon, after signing an order entitled: "Protection of the nation from foreign terrorist entry into the United States."
Trump's decree suspends the entire US refugee resettlement program for at least 120 days while tough new vetting rules are established.
These new protocols will "ensure that those approved for refugee admission do not pose a threat to the security and welfare of the United States."
In addition, it specifically bars Syrian refugees from the United States indefinitely, or until the president himself decides that they no longer pose a threat.
Meanwhile, no visas will be issued for 90 days to migrants or visitors from seven mainly-Muslim countries: Iran, Iraq, Libya, Somalia, Sudan, Syria and Yemen.
- Extreme vetting -
During the suspensions of the refugee and visa programs, new rules will be devised for what Trump as called the "extreme vetting" of applicants' backgrounds.
Some exceptions will be made for members of "religious minorities," which -- in the countries targeted by the decree -- would imply favorable treatment for Christians.
Civil liberties groups and many counterterror experts condemned the measures, declaring it inhumane to lump the victims of conflict in with the extremists who threaten them.
"'Extreme vetting' is just a euphemism for discriminating against Muslims," said Anthony Romero, executive director of the American Civil Liberties Union.
Romero argued that, by choosing countries with Muslim majorities for tougher treatment, Trump's order breaches the US Constitution's ban on religious discrimination.
Ahmed Rehab, director of the Chicago chapter of the Council on American-Islamic Relations, said his group would mount legal challenges to fight the order "tooth and nail."
"It is targeting people based on their faith and national origin, and not on their character or their criminality," he told AFP.
Malala Yousafzai, the Pakistani activist and Nobel peace laureate who was shot in the head by the Taliban in 2012, said she was "heartbroken."
She urged Trump not to abandon the world's "most defenseless children and families."
But the measure will be popular with Trump's nationalist base, and stops short of a threat made during last year's campaign to halt all Muslim travel to the United States.
Trump's supporters defend the measures as necessary to prevent supporters of Al-Qaeda or the Islamic State group from infiltrating the US homeland disguised as refugees.
And the State Department, which with the Department of Homeland Security will have to implement the measures, said it was ready to put them into immediate effect.
"We will announce any changes affecting travelers to the United States as soon as that information is available," spokesman Mark Toner said.
"We take seriously our responsibility to safeguard the American public while remaining committed to assisting the world's most vulnerable people."
- 'Wonderful thing' -
Trump signed the order -- which will cut the number of refugees the United States plans to resettle this fiscal year from 110,000 to 50,000 -- in a ceremony at the Pentagon.
Moments earlier, he had signed an order to "rebuild" the US military and had watched Vice President Mike Pence swear in respected former Marine general James Mattis as his new secretary of defense.
Trump showered Mattis with praise and had earlier admitted he would allow the general's opposition to the use of torture to override his own enthusiasm for harsh measures.
In what was a busy day from Trump, one week after his inauguration, he also met with Britain's Prime Minister Theresa May, the first foreign leader to visit his White House.
He hailed the "most special relationship" between the twin Atlantic powers and praised Britain's decision to leave the European Union as a "wonderful thing."
"When it irons out, you're going to have your own identity, and you are going to have the people that you want in your country," Trump said, in a nod to his own immigration stance.
"You're going to be able to make free trade deals without having somebody watching you and what you are doing."
May conveyed an invitation from Queen Elizabeth II for Trump to come to Britain for a state visit this year, and thanked him for his "100 percent" support of NATO.
Over the weekend, Trump is due to make calls to Japanese Prime Minister Shinzo Abe, Germany's Chancellor Angela Merkel, Russia's President Vladimir Putin, France's President Francois Hollande and Australian Prime Minister Malcolm Turnbull.
He is keen to develop friendly ties with Moscow, but played down reports that he might quickly end US economic sanctions imposed on Russia for its intervention in Ukraine.