Obama-era veteran picked to lead Democratic Party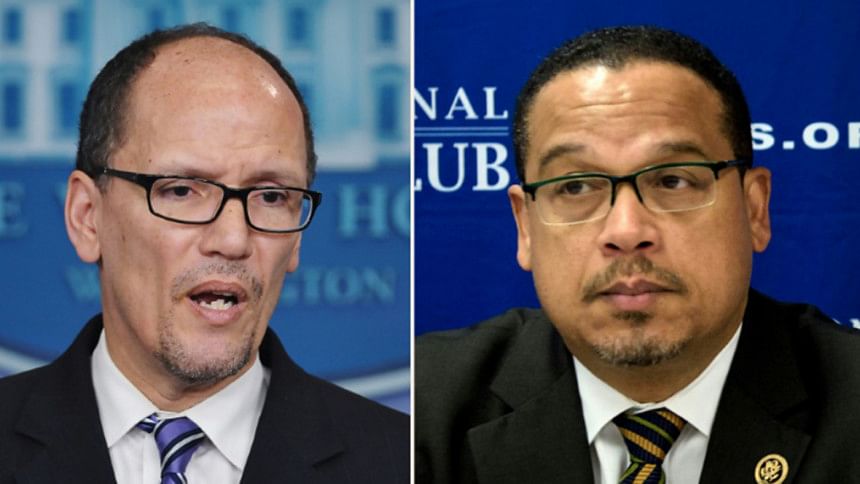 Democrats chose Tom Perez, a former Barack Obama cabinet member, as their new leader, tapping an establishment candidate to lead the fight against US President Donald Trump and claw back the ground lost to Republicans in Congress.
With opposition Democrats preparing for crucial 2018 midterm elections and the nation's next presidential race on the distant 2020 horizon, nothing less than the future of the party was seen as being at stake.
Perez, a former secretary of labor under Obama and the party's first Hispanic-American leader, named as his deputy the contest's runner-up Keith Ellison -- a progressive representative who has left open the prospect of pushing to impeach Trump.
"Someday, they're going to study this era in American history... and ask the question, of all of us, where were you in 2017 when we had the worst president in the history of the United States?" the 55-year-old Perez said.
"And we will all be able to say, the united Democratic party led the resistance, ensured this president was a one-term president and elected Democrats across this country."
Ellison, an 53-year-old African American who is the first Muslim elected to the US Congress, warned that "we don't have the luxury to walk out of this room divided."
The fight over who would chair the Democratic National Committee (DNC) appeared at times to be a proxy battle between the supporters of two 2016 also-rans: defeated Democratic presidential nominee Hillary Clinton and her liberal primary rival Bernie Sanders.
Perez, who won 235 votes against 200 for Ellison, was seen as the establishment pick.
Unlike in other democracies, the leaders of the United States' two main political parties wield relatively little influence on policy, with leading Congressional Democrats and Republicans holding far more clout.
But the backstage role is taking on greater significance following Clinton's surprise defeat, with many looking to the chair to take a strong stand in the media and elsewhere fighting Trump.
Perez 'will unite us'
Perez will succeed the DNC's interim chair Donna Brazile, who took over after Representative Debbie Wasserman Schultz was forced from the position last summer when leaked emails showed that members of the organization, which pledges neutrality in presidential primaries, favored Clinton over Sanders.
A third DNC candidate, South Bend, Indiana Mayor Pete Buttigieg -- a gay, 35-year-old Rhodes Scholar and military veteran -- dropped out of the race before the vote, which was held in Atlanta, Georgia.
Liberal Democrats were quick to pounce on Perez, with progressive group Democracy for America criticizing the "incredibly disappointing result."
Choosing Perez "is another missed opportunity for a Democratic Party desperately trying to regain relevance and proves, once again, how out of touch party insiders are with the grassroots movement currently in the streets, on the phone and at town halls nationwide," said the group's chair Jim Dean, an early supporter of Ellison in the race.
But Obama, who cast himself in the 2008 elections as the country's "great uniter," called for mending rifts.
"What unites our party is a belief in opportunity -- the idea that however you started out, whatever you look like, or whomever you love, America is the place where you can make it if you try," he said.
"I know that Tom Perez will unite us under that banner of opportunity, and lay the groundwork for a new generation of Democratic leadership for this big, bold, inclusive, dynamic America we love so much."
Crisis of confidence
Republicans claimed that Perez's victory is an indication of just how much the Democrats have lost touch with the American people.
After the vote, Trump offered what appeared to be a tongue-in-cheek congratulations to Perez.
"I could not be happier for him, or for the Republican Party!" the president wrote on Twitter.
Republican National Committee chairwoman Ronna McDaniel said in a statement that "by selecting a DC insider, Democrats only create deeper divisions within their own party by pushing a far left agenda that rejects a majority of their base outside Washington."
During a debate with several DNC candidates late Wednesday, Perez said Democrats needed to "get back to basics" by making house calls in all 50 states and establishing a year-round organizing presence to remind American workers that the Democratic Party represents their values and interests.
"When we lead with our message, our message of economic opportunity, that's how we win," he said.
Perez also warned that Democrats must reform their party's presidential primary system, which he said has created "a crisis of confidence" because of its lack of transparency.
He and other candidates, well aware that Democrats lost ground to Republicans in state house and governor races, stressed the need to seed the party with new, young talent.