Minister hopes for solution, teachers vow to continue protests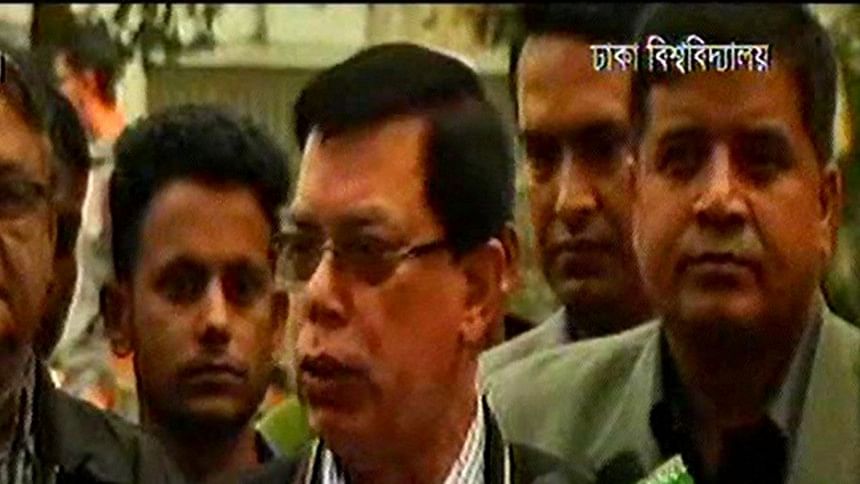 Education Minister Nurul Islam Nahid today assured the agitating university teachers of solving the deadlock over "disparity" in the new pay scale through discussion.
"I expect that we would reach a solution through discussions," Nahid told The Daily Star after a meeting with representatives of the agitating teachers.
About the outcome of the meeting, the minister said fruitful discussions were held in a congenial atmosphere with the teachers. "We are heading towards a solution."  
Nahid held the meeting with President and secretary general of Federation of Bangladesh University Teachers Association (FBUTA) at his ministry office this afternoon.
The teachers of all 37 public universities across the country have been carrying out protest programmes protesting "discrimination" in the new pay scale.
Emerging from the meeting, the FBUTA leaders warned that they would continue the strike until their demands including revision of the new pay scale is met.
"Movement and discussion will continue simultaneously until the demands are met," they said.
Public university teachers across the country say they will continue work abstention until their demands including revision of the new pay scale is met.
Earlier at a press briefing today, FBUTA General Secretary ASM Maksud Kamal made the disclosure on the second day of the continuous work abstention programme today.
This came after yesterday's criticism from Prime Minister Sheikh Hasina who said that teachers should resign and sign up for civil service if they want an equal status to that of a secretary.
No class is being held at Dhaka University today as part of the programme, our university correspondent reported.
Maksud Kamal said the work abstention programme is being staged at all the universities, and they will continue the strike until their demands are met.
ALSO READ: Do not agitate halting classes
Addressing the press briefing, FBUTA President Farid Uddin Ahmed criticised Prime Minister Sheikh Hasina's yesterday's statement.
"The prime minister is not getting information from a neutral source. That's why she made such comments," Farid told the press briefing.
The FBUTA president also claimed despite several pleas for a meeting with the premier, the protesting teachers got no response.
Saying that the premier can solve the problem easily, Farid Uddin claimed, "If the prime minister sits with us for just five minutes, the issue will be resolved."
Farid then urged the prime minister to sit for a talk with the teachers to solve the crisis.