Do not agitate halting classes
PM asks public university teachers, criticises them for indefinite strike over 'pay disparity'
Prime Minister Sheikh Hasina yesterday criticised public university teachers for going on an indefinite work stoppage and asked them not to wage a movement at the expense of students' education.
"Dignity cannot be achieved through halting classes and examinations of students. Such a move does not go with teachers," she said.
"Students will not accept it if you continue protests against the new pay scale, boycotting classes ... You have to keep education at public universities operational," she said.
Stressing the high status of teachers, she said, "If there is a problem, we will look into it."
Hasina, also chief of the ruling Awami League, was addressing a rally at Suhrawardy Udyan in the capital, marking Bangabandhu's Homecoming Day.
She also expressed her disappointment about the teachers' demand for the same status as secretaries.
"If you want status equal to secretaries, just resign and become a secretary by sitting examinations through the PSC. Then there will be no problem," she pointed out.
Highlighting the difference of age limit between teachers and secretaries, Hasina explained, "I myself extended the age limit of teachers to 65 years, which they did not need to demand. But now, do they want their age limit back to 59 years? They do their job till 65 years and get allowances."
She urged the agitating teachers not to compare themselves with others and wanted them to do their job with dignity.
In her speech, she also defended the new pay scale.
"We have raised the salary of the teachers by 123 percent in the new pay scale. Everyone's salary has increased. But I don't understand why some people are still aggrieved," said the AL chief.
She said it was unfortunate that some people were never happy with what they were given.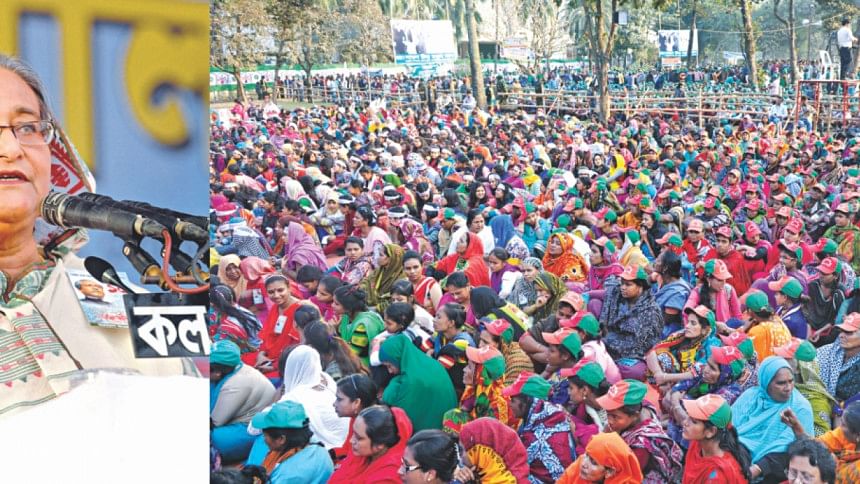 The prime minister's comment, however, frustrated teachers.
"Bangabandhu loved and honoured teachers. Being his daughter, she should know better than to say this," said Prof Farid Uddin Ahmed, president of the Federation of Bangladesh University Teacher's Association, a platform for all 37 public universities.
"We're more concerned about our beloved students than them [bureaucrats]," he told The Daily Star.
Prof Farid said they did not want the same status as secretaries.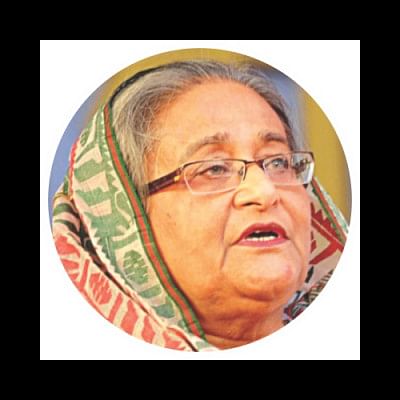 "We don't want to be secretaries. Why would we want to be secretaries? It's us who make secretaries. A student can be a bureaucrat by obtaining a BA or with a third class, but to be a university teacher, he must have top academic results," he added.
Responding to the prime minister's take on sitting the BCS exams to enjoy the status of secretaries, he said more than half of the civil servants "are selected through the quota system."
He urged the prime minister to advise them on how they could realise their demands without a movement.
"We have been trying to sit with her for the last eight months, but could not do so. If she sits with us for only 10 minutes, the problem will be solved," he said.
IMPASSE AT PUBLIC UNIVERSITIES
As per their prescheduled programme, teachers of all 37 public universities began an indefinite work stoppage since yesterday, protesting the "government inaction" on addressing their demand for removing the "pay disparity" with bureaucrats.
Under the leadership of FBUTA, they refrained from giving any classes at the universities, report our correspondents from the universities. Evening courses, too, remained closed.
Dhaka University, the premium educational institution in the country which always remains abuzz with activities, had a thin presence of students and teachers. Most of the classrooms were locked.
As the course final exams were out of the purview of the strike in special consideration of students, some semester final exams were held at DU yesterday.
"Teachers all over the country observed the work stoppage successfully and spontaneously," said Prof Farid Uddin Ahmed. "We will continue the strike until our demands are met."
Holding bureaucrats responsible for the crisis, he alleged, "The bureaucrats have placed themselves in the highest position in the pay structure. And now they are behaving as if they were doling out alms to the employees of other professions."
Earlier in the morning, Khandaker Shariful Islam, vice-president of FBUTA, said, "We had no choice but to take a hard line."
All academic activities at Bangladesh Agricultural University (BAU) were suspended too, said Shariful, also president of (BAU) Mymensingh Teachers' Association.
"This might cause session jam and hamper their future. That is why we urge the government to take prompt action," he said.
Though Chittagong University teachers had started agitation since January 3, they went on the indefinite work stoppage yesterday. The scheduled exams of different departments, including mathematics, statistics, applied physics, computer science and chemistry, were not held.
Teachers of Chittagong University of Engineering Technology, Chittagong Veterinary and Animal Sciences University, and Jahangirnagar University refrained from giving classes, and conducting exams and administrative activities, causing uncertainty among students.
The picture was similar in other universities.
Teachers of all the 37 universities have been protesting the 8th pay scale since May last year, pressing for a four-point charter of demands, including formation of a commission to initiate an independent pay scale for public university teachers.
Other demands include parity between senior professors and senior secretaries, and between professors and secretaries in salaries and allowances; upgradation of teachers' status in the warrant of precedence, and equalisation of the provisions of cars, foreign and government scholarships and other allowances between teachers and bureaucrats.
HASINA LAMBASTS METRO RAIL ROUTE PROTESTERS
The prime minister, in her speech, also criticised those agitating against the metro rail route inside Dhaka University, saying the rail line was taken through Dhaka University campus for the benefit of the teachers and students.