Outrage over Facebook post on providing 'Garo housemaid'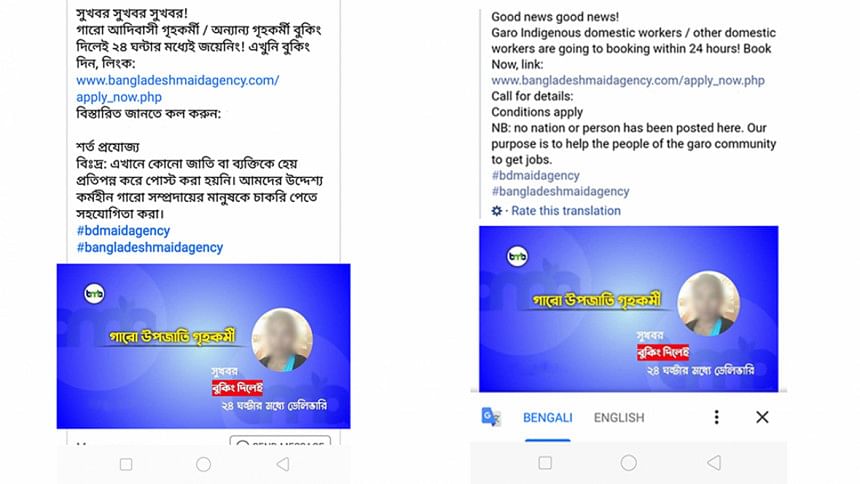 A Facebook post with the picture of a Garo woman made by a maid-providing agency has caused outrage among social media users, including people from the ethnic minority community.
Bangladesh Maid Agency, based in Dhaka's Uttara, circulated the post on July 14 with a digital flyer that also read "Delivery within 24 hours, once booked".
Although the agency mentioned in the post that it did not mean any disrespect, the racist overtones and comparing a human to a product sparked anger among netizens.
Many Facebook users shared the post protesting the agency's marketing strategy and the language used in the post.
Others commented on the post saying that it was "disrespectful" towards a community and using the word "delivery" compared a human being with a product.
"Let's protest against the agency that wants to deliver a human within 24 hours comparing him/her as a product. Demeaning a community for profit is violation of human rights," Tony Mathew Chiran, a young Garo activist, wrote on his timeline.
Talking to The Daily Star, Subhajit Sangma, Nokma (chief) of Dhaka Wangala Celebration Committee, said, "This is outrageous. No agency can use such language for advertisement...Such promotion is clearly disrespectful to the Garo people."   
"Don't you think the same pattern of racism exists in America? Is this how agencies value human beings?" Adnan Aziz Chowdhury, a student of Dhaka University, wrote on a different post. 
Nahidul Alam commented, "Why did you mention a particular community if you didn't mean disrespect? If you wanted to provide jobs for others, why not simply say you are providing housemaids?
"Those who need housemaids will contact you and you could then inform the details to them personally."
Terming the post "disgusting", Waseka Wahid Hasan, a cultural programme coordinator at British Council Bangladesh, commented, "This is a fraud agency. Last year it took Tk 20,000 from me in the name of providing me a well-trained maid."
While this report was underway, the post was withdrawn amid heavy criticism.
Contacted, Amzad Hossain, head of the agency, said, "We removed the post as many objected to the use of the word 'delivery'. We didn't want to present anyone as a product.
"We realised that the word 'delivery' should not have been used. It was not our intention to compare a human being to a product. Next time we would not use such words," he said.  
However, he tried to justify using the caption "Garo Ethnic Housemaid".
"There are many clients in Gulshan and Banani areas who prefer to employ only Garo maids. Therefore, we used the caption keeping that in mind," Amzad Hossain said.
"If the clients can ask for Garo house help, then why can't we use the words 'Garo Housemaid'?  Besides, there are many Garo people who are now jobless due to the coronavirus situation," he said.
He added that the agency took permission of the person whose picture was used for the post.