Kate Middleton wears clothes made in Bangladesh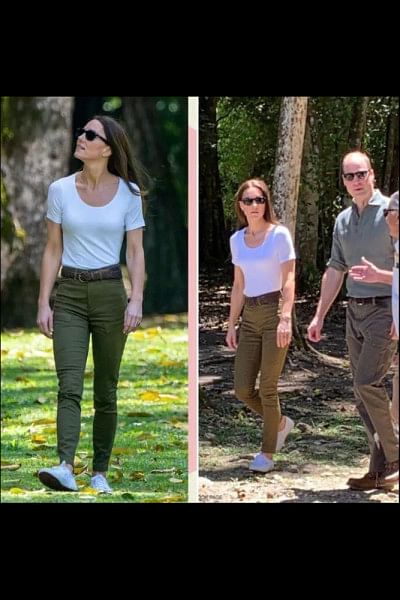 British Royal family member Kate Middleton has recently been seen wearing clothes made by a Bangladeshi brand.
Recently, the Duchess of Cambridge was seen with her husband Prince William wearing a G-Star pant made by MBM, a Bangladeshi garment factory.
Bangladesh Garment Manufacturers and Exporters Association (BGMEA) shared a post on its Linkedin page today with two photographs of Kate wearing the pant.  
Without giving further details about the photographs, BGMEA, in the post, said it feels proud to see apparel made in Bangladesh reaching the highest levels of fashion society.
The MBM Group founded by Mahmudur Rahman is one of the pioneers in the garment industry of Bangladesh.
It also said that Bangladesh has secured a trusted and strong position as a prestigious brand among tens of millions of people in more than 160 countries for garments "Made in Bangladesh".
Years of hard work, dedication, the commitment of workers and entrepreneurs and continuous strive for excellence have made Bangladesh the second largest readymade garments exporter in the world, it said.
Garments made in Bangladesh with care and quality have earned the confidence of tens of millions of people all over the world. The tag "Made in Bangladesh" has become synonymous with world-class quality that can be trusted without a doubt, BGMEA said.
In the LinkedIn post, BGMEA President Faruque Hassan said, "We are proud of our garment industry which has not only made an immense contribution to the socio-economic transformation of Bangladesh, lifting millions of people from the abyss of poverty, empowering women, paving way for girls' education, but also brought glory for the country by making a prestigious brand in the world."
"Bangladesh would continue its efforts to remain be a preferred choice of global apparel brands as a safe, ethical and sustainable sourcing destination," he added.