'Great Wall' for free media falls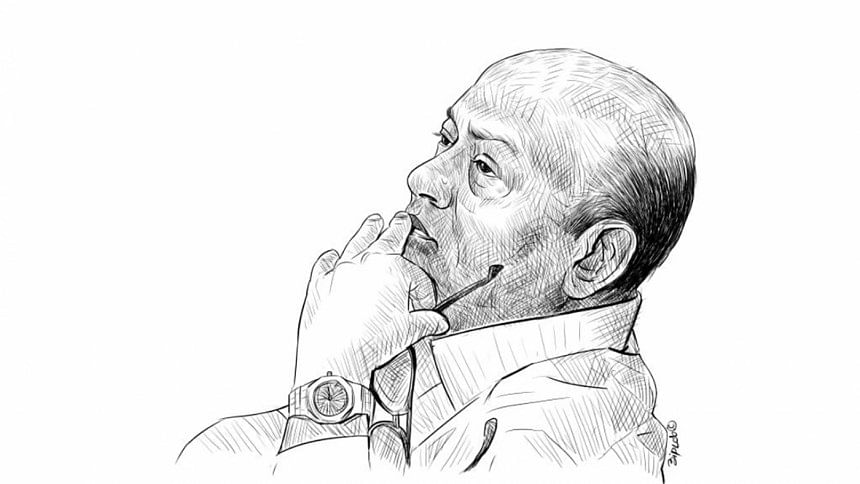 "You know who I am!"
A glare, snarl and look-down-upon intense stare personify characters of most of us. It's the tendency of people in general to flaunt authority and pull rank with what power we have or what power we wish to have.
Humility is the rarity that goes sorely missing in people with power. Among hordes of influential people in our society, only a few stand apart as rarity, a light of hope for the society against show of arrogance. With the passing of Latifur Rahman on Wednesday, a light of rarity went out for good.       
There are over a dozen businesspersons in Bangladesh who are as renowned as Latifur Rahman, yet not as respected as Latifur Rahman. Why? Successes had never gone to his head and made him arrogant. He was one of the richest and most influential men in Bangladesh. Yet, it never showed in the way he, with a disarming smile, carried himself around in the businesses he owned, the society he lived in and people he mingled with. As if, he learnt to be more honest with every taka he earned, humbler with every authority he gained, firmer with every crisis he came across and calmer with every tragedy he faced.  
Every business is designed to make profit. Those who shine with profit are deemed successful businesspersons. Those who do business ethically are considered as respected businesspersons. There are a lot of businesses which are making profits and a few enterprises that are notching happy score in the yardstick of honesty and ethics. But, Latifur Rahman, chairman of Transcom Group till his death, went far ahead of all others by driving forward his close to half a century ethical business initiatives to perform social and national responsibilities as well.                
"Employers have a huge responsibility (for employees), beyond just being an employer," he said about his vision of entrepreneurship while receiving the prestigious Business for Peace Award, 2012 in Oslo. He's a kind of employer who took extra care of his employees and stood by them in times of crisis. A strong sense of responsibility was in his DNA that set him apart from others in the league of entrepreneurs.       
"Invest, empower and then don't interfere," was the hallmark of his entrepreneurship development. An entrepreneur, in his eyes, takes the business initiative but a successful entrepreneurship develops only when decision-makers in the organisation -- CEOs, managers and executives -- are fully empowered. "With authority, not only with designation, every decision-maker acts as an entrepreneur," he told a lecture session, organised in his honour, a couple of years back.     
Latifur Rahman and his businesses were just an open book. Unlike most of his contemporaries, his personal integrity and business practices were kept under the constant scanner of the power that be for decades, ever since he invested in the media -- The Daily Star in 1991 and Prothom Alo in 1998, the two daily newspapers that went on to become the most circulated and respected media outlets within a few years.  
Quite ridiculously though, there are about 600-plus national dailies, 32-odd TV stations and over 8,000 news portals in Bangladesh, and almost all of those are owned by business people. As the practice goes, business people strive to have a media of their own in order to abuse it in the interest of their other businesses. But, the media merchants seldom showed the courage and principle of Latifur Rahman, letting the media be free of influence and interference.       
Money has power. And media provides an extra gear to the power in an autocracy or democracy under threat. The new power, if used in favour of people in power, is a guarantee for a relationship of convenience. Latifur Rahman could easily be just one of them. Having been involved with two most popular media outlets, he should have been one of the most powerful persons in the country. But, as a rare personality he was, he chose to be powerless despite being in possession of media power.
He, along with other co-investors, lived up to his principle of entrepreneurship: invest, empower and then don't interfere. Non-interference is in practice so much so that a good number of The Daily Star employees do not know yet how many investors are actually in the board, let alone an instance of influencing news.       
With this freedom, the two newspapers emerged as truly independent media, becoming hugely popular among people and equally unpopular among all the governments that ruled Bangladesh. Every bold reporting, critical view or commentary drew praise but wrath as well. As independent media, the two newspapers learned to live in neglect and fury from influential people.   
But this freedom came with a huge cost for Latifur Rahman. Though he neither interfered nor played any role in the journalism of the two newspapers, he was deemed responsible for it. His businesses were made to suffer, approvals from authorities were delayed or not given and harassment by tax offices increased despite being the top taxpayer for years.  
Tremendous pressure from different quarters tested the character of Latifur Rahman. He neither complained nor interfered in journalism by asking the two newspapers to reign back. With every strike, he remained silent, but got firmer in his resolve. Knowingly or unknowingly, he started to act like the Great Wall of China, taking all the external hits on himself, only to keep the media safe. And that Great Wall for free media fell on Wednesday.
Losing Latifur Rahman, that is why, is such a colossal loss for a nation craving freedom of expression. Then, he left at a time when he was needed most, with the coronavirus pandemic turning every business upside down and pushing millions out of jobs.
Sadly, Latifur Rahmans are a rarity. When rarity goes, it rarely returns. Free media is unlikely to get another Latifur Rahman anytime soon. But his legacy is left to draw strength from and keep the struggle for freedom of expression ongoing, till some Great Wall reappears from nowhere.