Fit-again booters to boost national squad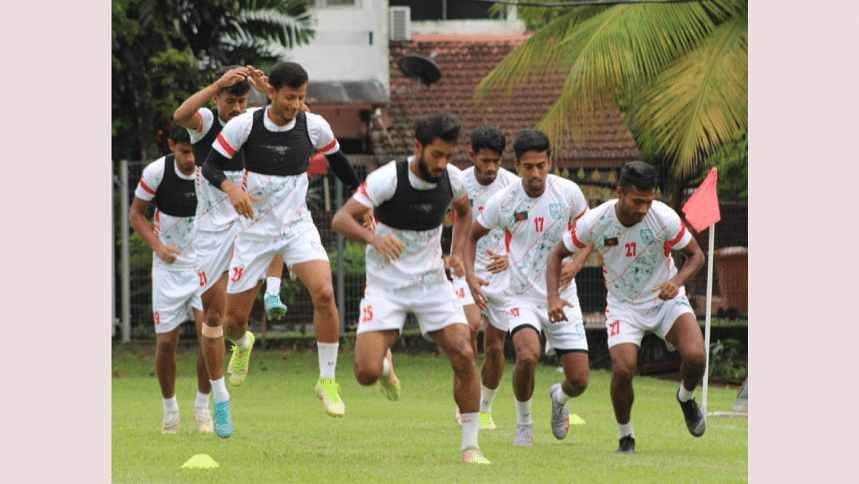 Although Bangaldesh could not win a single match in the Asian Cup Qualifiers last June, the charges of Spanish coach Javier Cabrera showed some signs of improvement with competitive displays against highly-ranked Bahrain, Turkmenistan and Malaysia despite the absence of key players.
While the likes of Tapu Barman, Tariq Kazi Raihan, Saad Uddin, Nabib Newaj Jibon, Matin Mia, Suman Reza, Masuk Mia Jonny and Hemanta Vincent Bishwas were sidelined, the booters performed better against Bahrain and Turkmenistan through a good defensive display combined with flashes of build-up play and sporadic attacks.
They also struck a goal each against Bahrain and Turkmenistan in narrow defeats before a big loss against ultimate group champions Malaysia.
With two FIFA-sanctioned friendlies against Cambodia and Nepal in September, Bangladesh are likely to be boosted by the return of some key players that missed the Asian Cup Qualifiers when they begin a residential camp from August 26.
Six of those eight players -- Tariq, Jibon, Matin, Suman, Masuk and Hemanta -- have recovered from their ailments and returned to action in the Bangladesh Premier League, with the coaching staff, including Cabrera, monitoring their performances closely from the galleries. Meanwhile, Tapu and Saad are still rehabilitating.
Cabrera, who was scheduled to return home today [Friday], has not announced his preliminary squad for the two friendlies. Matin and Jonny are confident of returning to the national fold while defender Yeasin Arafat believes the return of those key players will increase the strength of Bangladesh squad.
"I'm now fully fit and seven matches in the league for Bashundhara Kings. So I am really confident of getting a call-up to the national squad. If I am given an opportunity, I think I can do better for the nation," said Matin Mia, who hit a goal each against Saif SC and Sheikh Jamal DC after returning to the Kings' squad.
Midfielder Masuk Mia Jonny added: "Bangladesh had to play with inexperienced and junior players in the Asian Cup Qualifiers and they have earned valuable experience from the tournament. So, if the experienced players, who sat out due to injuries, can be called to the team, the squad's depth will increase."
Matin added: "We still don't know who is going to be called to the national squad for the two friendlies but I think if players like Tariq, Matin, Suman and others come back, our strength in defence and attack will also increase," the Bashundhara Kings defender said.
Both Matin and Jonny believe Bangladesh have favourable chances against Cambodia and Nepal.
"The matches against Cambodia and Nepal are 50-50 and I am hopeful of performing well against them," Matin said.
Jonny was a little more confident, saying: "We beat Cambodia in the play-off match of the World Cup Qualifiers, so we have good opportunity to do well against them. Nepal beat us in the final of a tri-nation final, but I am confident of doing better against them because our team is stronger than before."