3 madrasa teachers held for torturing student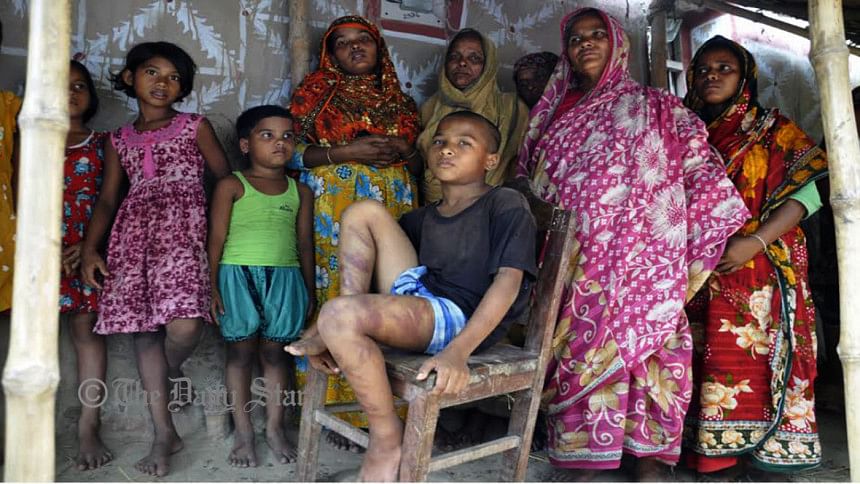 Police picked up three madrasa teachers in Dinajpur Sadar Upazila for their alleged involvement in torturing a student accused of stealing.
The detainees -- Riazul Islam, Shariful Islam and Rezaul Islam --are teachers of Nurani Talimul Quaran Hafizia Madrasa at Kamalpur village in the upazila, reports our Dinajpur correspondent.
On the basis of a verbal complaint made by the victim's family, police raided Kamalpur village around 4:30pm and detained the three teachers who went into hiding there after the incident, said ATM Khalequzzaman, officer-in-charge of Dinajpur Kotwali Police Station.
The teachers caught nine-year-old Abu Sayeed, a Class-II student at the madrasa, on charge of stealing money on Friday.
Later, they kept Sayeed confined for three days in a room of the madrasa and tortured him ruthlessly, Hasan Ali, victim's father, said.
On information, the victim's family rescued him with several injury marks on his body and took him to Dinajpur Medical College Hospital on Monday night, he added.
Other students of the madrasa told our correspondent that Rezaul Islam and Shariful Islam caught Sayeed and tortured him overnight inside a room. Sayeed had been tortured for three days since the confinement.
"They just caned me under the waist continuously for three days and kept me almost half fed, "the boy told the media at the hospital bed.  
"How can a teacher show such cruelty on his student despite a ban on corporal punishment at educational institutions?"
"We demand punishment of the teachers behind the incident," said Hasan Ali.
Meanwhile, the managing committee of the madrasa formed a five-member body to investigate the matter.
Hasan said he was preparing to file a case against the teachers today.