2 Dhaka buildings tilt, 6 show cracks after quake
Two residential buildings tilted in separate areas of Dhaka after a 6.7 earthquake rocked Bangladesh in the early hours of dawn today.
Also READ: Strong quake kills 6 in northeast India
The worst hit was a six-storied building in Shanir Akhra area, Brig Gen Ali Ahmed Khan, chief of Bangladesh Fire Service and Civil Defence, told The Daily Star.
The building leaned over and was resting against an adjacent nine-storied building, he said. "Fire fighters are working there. The adjacent building has shown several cracks."
READ more: What you should do when an earthquake strikes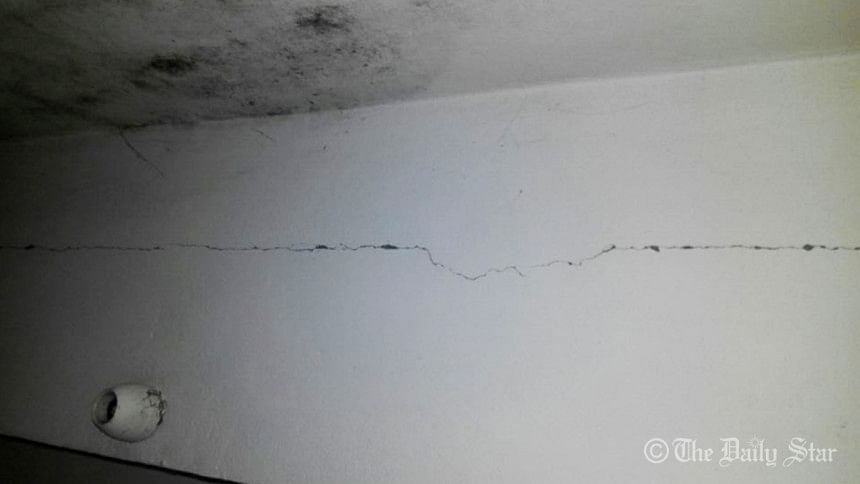 The other building, on Mazed Sardar Road in Old Dhaka, has tilted about six inches, according to television reports. Around 60 families living in the building were evacuated.
A team of Bangladesh University of Engineering and Technology (Buet) is expected to visit the spots to ascertain the damage, fire service sources said.
READ more: 3 dead in Dhaka, other areas after 6.7 quake
About five other buildings in Dhaka have shown cracks after the quake, the chief of fire service said.
Meanwhile, a building in Shukrabad area of Dhaka developed large cracks. "We panicked… thought the building would collapse on us," said Uday Ahmed, a resident of the building.