Strong quake kills 6 in northeast India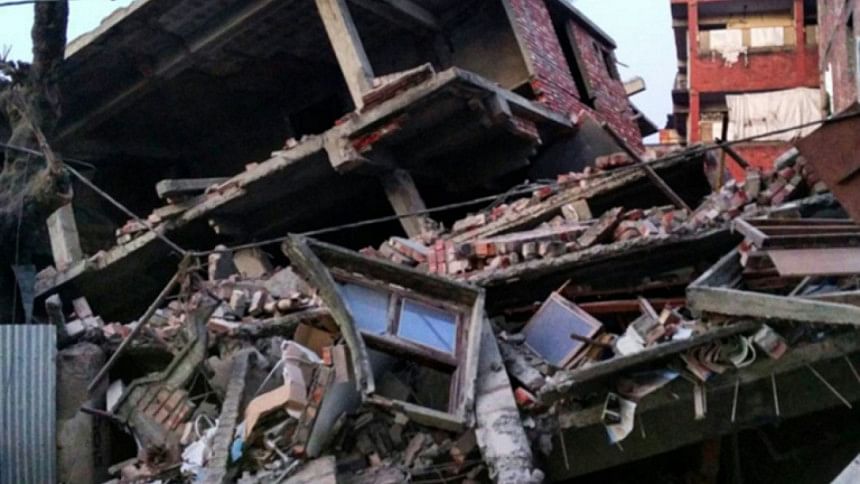 At least six people were killed and dozens injured when a strong 6.7 magnitude earthquake struck northeast India, sending panicked residents fleeing into the streets even hundreds of kilometres away in Bangladesh.
Five were killed in India, the government said, while one man died in Bangladesh after apparently suffering a heart attack after the early-morning quake.
Anurag Gupta of India's National Disaster Management Authority said buildings had been damaged in Imphal, capital of Manipur state where the quake was centred.
"Five people are confirmed dead and 33 have been injured in Imphal. A six-storey building in the capital was partially damaged and some small structures have also developed cracks," he told AFP.
An official at one of the main hospitals in Imphal however said more than 50 people had been admitted since the quake with head injuries and limb fractures.
Imphal resident Deepak Shijagurumayum whose house was severely damaged described scenes of chaos after the quake.
"Almost everyone was asleep when it struck and were thrown out of their beds," Shijagurumayum told AFP by phone from the city.
"People were crying and praying in the streets and in open spaces. Hundreds remained outdoors for several hours fearing aftershocks."
The US Geological Survey said the quake hit at 4:35 am (2305 GMT Sunday) 29 kilometres (18 miles) west-northwest of Imphal.
The Press Trust of India (PTI) news agency said buildings had collapsed near the epicentre and the electricity supply had been cut across the area.
- 'State of shock' -
Police in Dhaka said 40 people were being treated at a major hospital in the Bangladeshi capital, including one university student who jumped from a fourth-floor balcony and was in a critical condition.
There were similar scenes in the northeast Indian city of Guwahati, the main commercial city of the mineral-rich state of Assam, where an AFP correspondent said residents were "in a state of shock" after being woken by the shaking.
Indian Prime Minister Narendra Modi tweeted that he had spoken to local authorities in Assam about the impact of the quake.
The tremors were felt as far away as Kolkata some 600 kilometres distant in the Indian state of West Bengal, where buildings shook.
"Many people were seen coming out of their homes in panic," said local resident Rabin Dev.
India's seven northeastern states, joined to the rest of the country by a narrow sliver of land, are located in an area of frequent seismic activity. The border region is remote and sparsely populated on the Myanmar side.
In 1950, dozens of villages were swallowed in a string of disasters generated by a powerful earthquake whose epicentre was in Tibet but which caused the greatest destruction to India's Assam state.
More than 1,500 people died in the quake, which had a magnitude of 7.6, and its disastrous aftermath of landslides and floods.
There were no immediate reports of casualties on the Myanmar side of the border, a remote and sparsely populated area that suffered widespread damage this summer from landslides caused by torrential monsoon rains.
The USGS has raised its assessment alert for casualties and damage to orange, meaning there is a 33 percent chance of between 100 and 1,000 fatalities.