UpSkill raises $100 thousand in seed round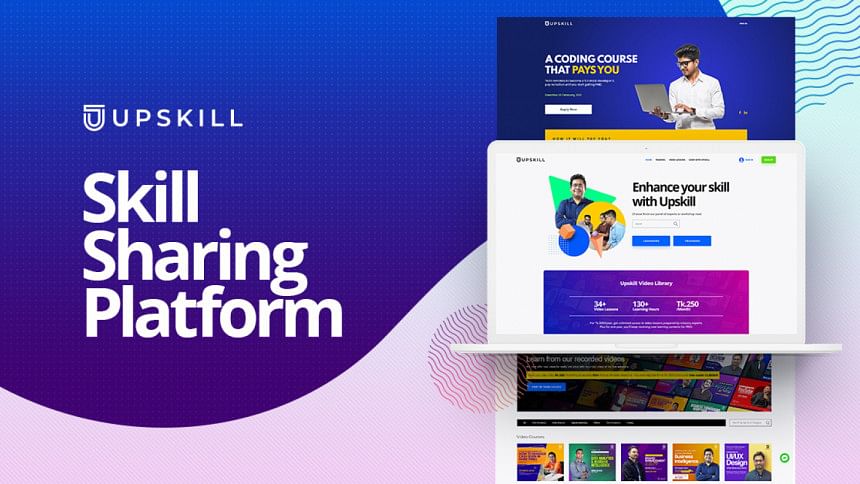 After raising its initial pre-seed funding in 2019, Bangladeshi EdTech startup UpSkill confirms that it has now closed over $100,000 seed investment from two investors, along with follow-on investment from a previous investor. The fresh capital is to be used for scaling employment partnerships and product development. 
Samin Yasar, Chief Executive Officer at VintValley said, "I knew the founders based on their earlier ventures and was impressed with the team's impact on the local startup ecosystem. There are only a handful of teams that I have looked into in Bangladesh and UpSkill's founding team was one of the very best. As a founder, Mustafizur is playing a vital role in bridging the skill gap in Bangladesh which excited me as an NRB. So, I joined in this round to accelerate their ambition." 
Amongst the other investors is Anita Gazi, CEO, and founder of a prominent legal firm who doubled down as a follow-on investor. When asked about her investment decision, she said, "The founders chose a market that is fundamental to the growth of Bangladesh's economy. We see a huge talent gap, especially in the growing digital economy as we move towards 4IR. So, I felt UpSkill is well-positioned to take advantage of it. The founders are successful serial entrepreneurs who have identified the gap through direct experience and is building a niche around it in the country." 
The pre-seed funding of UpSkill was invested by three female entrepreneurs, an unprecedented move in a male-driven tech business ecosystem. Sonia Bashir Kabir (CEO and founder, SBK Tech Ventures), Anita Gazi (Co-Founder, Legal Circle), and Zinia Chowdhury (CEO, English Essence) were the participating investors of the pre-seed round. 
UpSkill has now raised close to $200,000 of investment with plans to raise a larger round in 2022. The EdTech startup is currently focusing on building industry linkages for local talent particularly in the tech vertical. Recently it partnered with Chaldal to launch the country's first income-sharing agreement (ISA) to place talent in the partner company. It is in talks with two more local startups to fill their talent requirement for machine learning skills. 
UpSkill initially operated with a B2C revenue model which is supported by live online workshops and recorded video lessons based on the subscription fee. For the B2B market, it launched the Income Sharing Agreement (ISA) model to place talent in the partners' organisations. 
According to a World Bank report, Bangladesh adds 2 million youth to the workforce every year. Yet, 1 out of 3 graduates is unemployed because of the skill gap among young graduates. The irony is that when so many of our educated youths are left unemployed, foreigners working in Bangladesh are sending around US$ 5 billion a year due to the lack of skilled human resources in the country. On top of that, around 10,000 ICT-related graduates are produced per year by more than 95 universities and 200 polytechnic or technical institutes. This is more than the industry demand which is about 5,000 per year, but the IT/ITeS industry has struggled to find quality graduates. UpSkill is primarily focused on making these highly educated but not correctly skilled local talents relevant for the current job market. 
The founders of UpSkill Mustafiz, Fayaz, and Samad have been active in the local startup ecosystem since 2013. Together they co-invested in local startups, started one of the first co-working spaces in Bangladesh, launched the country's first accelerator program with a local telecom partner, and finally partnered with local NBFI to launch a VC fund. Their last 8 years of experience working with local startups
and founders had helped them reach the conclusion that the glaring talent gap in the market will hold back the progress in tech businesses. 
If Bangladesh is to achieve the government's ambitious revenue target of $5 billion from ICT, then considerable strides have to be made in training and skilling our educated base. UpSkill believes that it is well-positioned to support that ambition as the founders lived the problem themselves through investing and mentoring local startups. 
Since launching, UpSkill impacted 3500+ learners, of whom 90% were professionals and 10% undergraduate students. In 2020, its total revenue had grown by 34.6% from 2019 and has more than doubled its team size during the Covid period. These tractions came at the back of receiving the BASIS ICT Award in 2018, receiving a small grant from Startup Bangladesh (Govt. initiative) in 2019, and being chosen as one of the 5 Edtech startups by HolonIQ in India & South Asia EdTech 100 list in 2020. 
While speaking about the funding round, Mustafiz, founder of UpSkill, said, "We intend to disrupt the local Edtech vertical with the backing of strong founders and investors who believe that the path to Bangladesh's growth is through unlocking the potential of our large educated base who are either underemployed or unemployed. In the past 8 years, we disrupted every aspect of our local startup ecosystem and this by far is the largest challenge we face that we are determined to solve. With 2 years of business and customer data, we believe that we have great insights to innovate through our learning platform to create the biggest social impact in Bangladesh."