'Kaan Pete Roi' on suicidal thoughts in Bangladesh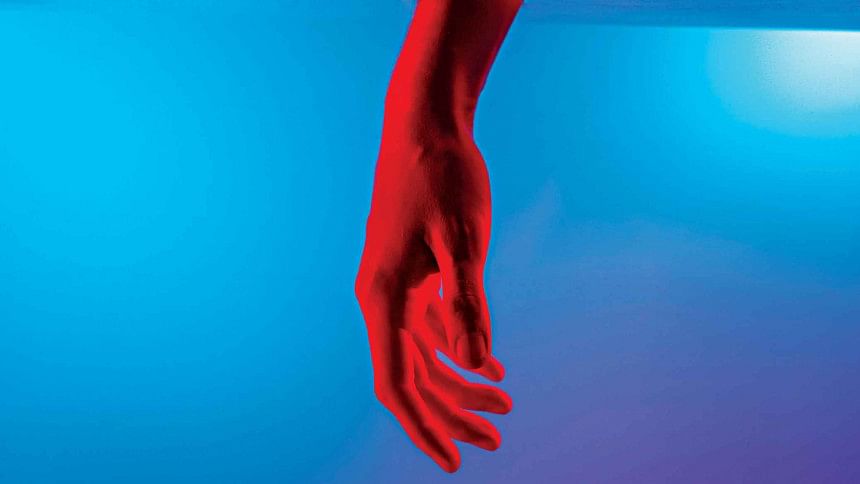 Having suicidal thoughts or suicidal behaviour indicates a psychiatric emergency. It can also be a predictor of suicide. No person takes their life out of the blue. It all starts with the thought of getting relief from their pain, distress or suffering. They want to end their pain, not life. As there is still a social stigma about mental health, such an important issue often gets overshadowed in our society, which exaggerates the sufferings of people having suicidal thoughts.
Kaan Pete Roi, the first-ever emotional support and suicide prevention helpline in Bangladesh, is trying to alleviate mental issues like distress, isolation, despair, and suicidal thoughts since 2013. In the past 8 years, they have received more than 31 thousand calls out of which around 30% of calls are suicidal. We have talked to KPR to find out some of the common causes behind suicidal thoughts in Bangladesh and some ways to support people facing such conditions.
Causes of suicidal thoughts
Every person is different and so are their reasons for having suicidal thoughts. Depression is the main risk factor, but there are more things that contribute to this depressed condition and to being suicidal. According to the before pandemic data containing calls over 7 years, which makes two-third of total calls of KPR, the topmost reason for having suicidal thoughts is relationship issues (24.68%). Those who are unhappy in an existing relationship or have ended a close or romantic relationship face the feeling of overwhelming loss, which sometimes leads to suicidal thoughts. 21.97% of total callers before pandemic have mentioned emotional issues and 10.09% of them have narrated their financial and educational difficulties as the causes of being suicidal. Other significant reasons for such a condition as per the KPR's data are- mental and physical illness (10.08%), loneliness (9.07%), domestic violence and abuse (1.6%), and death of someone close (0.45%).
During this pandemic, the causes are more or less the same but the percentage amount for each reason has altered a bit. In the last year, volunteers of Kaan Pete Roi have attended a huge number of calls from people seeking emotional support, making it one-third of the total calls of KPR. The top two causes are still relationship issues (15.81%) and emotional issues (15.51%). The number of people who are having suicidal thoughts due to loneliness has increased significantly. 13.38% of total calls have such feelings during this period. It shows how this pandemic has led many of us to feel alone, unwanted and empty and how it can even generate the thought of ending one's own life. The percentage of callers dealing with suicidal thoughts due to facing domestic violence and abuse and death of a close one has also increased to 2.7% and 0.52% respectively.
How to talk with someone
who is suicidal
Ashik Abdullah, chief of Training and Outreach, Kaan Pete Roi suggested some of the ways to deal with someone who seems to be suicidal.If you suspect a family member or friend to be suicidal, stay with the person and try to listen to what they want to say empathetically. The approach should be in a non-judgemental and non-confrontational way so that they do not feel uncomfortable and shy to share their issues with you. Make sure that you do not compare their problems with others' issues and provide solutions based on this comparison. It can make them feel like their problems are not worthy of sharing, and they can further try to hide their depression causing more harm to themselves. However, you can try to enable the person to seek professional help by reassuringly talking with them and letting them know about the availability of such support.
Around one thousand of the total calls of KPR were done by people in extremely critical condition. The trained volunteers handled such vulnerable situations with the training protocols. Listening and showing your support at best is the most appropriate way here, which the KPR volunteers have followed. Note that 50.3% of total callers of KPR were male and 49.7% of them were female in the last 8 years. It shows how people regardless of their gender can feel low, stressed or the urge to end their life. So, assuming that men cannot feel mentally vulnerable at any moment of their life is not correct at all. All kinds of distressed people need assurance and a safe environment to vent out their feelings.
Supporting distressed people during the Covid-19 pandemic
The non-profit organisation Kaan Pete Roi is currently operating 12 hours each day due to the Covid-19 pandemic as it has induced general stress as well as suicidal thoughts more than before. They used to receive 10-12 calls per day before the pandemic, which are now 30-35 calls per day with their doubled working hours. The ultimate target is to reach out to more depressed people and provide them with the emotional support that they need. Besides, we all need to help ourselves and our loved ones who are having a mental breakdown and suicidal thoughts. Help is right here. We just need to find out the best option for us.