Go paperless for an eco-friendly workplace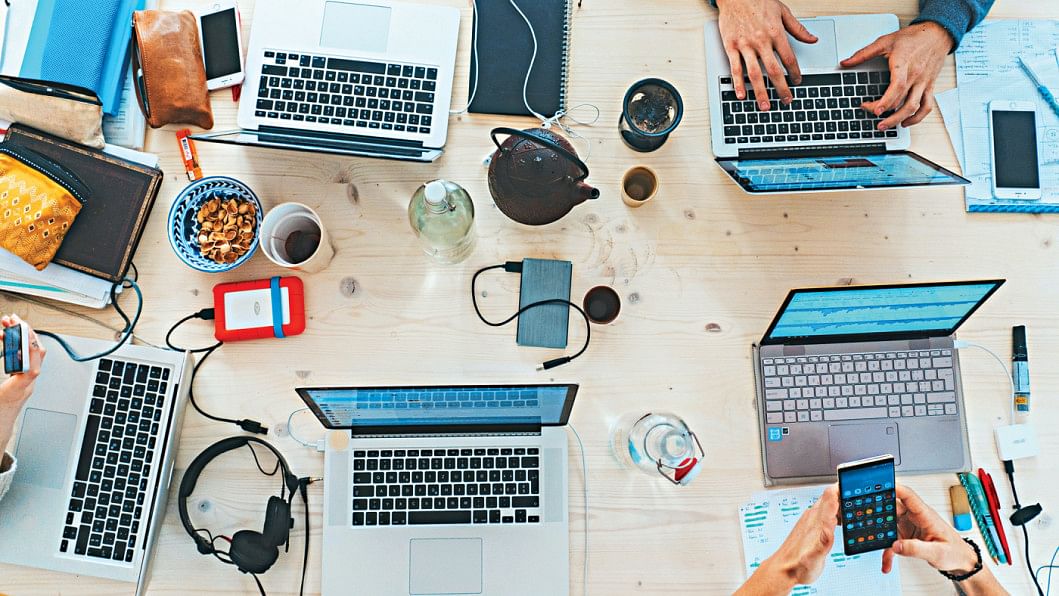 Making offices paperless is a good idea, not only to reduce environmental footprints but also to make the employees' lives and the office work easier. We've built habits around papers that cost us both our time and money. More paper consumption leads to more lost hours in creating documentations, among a myriad of other hassles. Here are some ways of going paperless to reduce office waste, store documents in a safer, smarter way, save employees' valuable time and obviously to save some trees.
Moving to digital documents
To tackle the mounds of paper documents, the cloud, an electronic system and common paperless document storage can be a convenient strategy to store and backup important documents and files in a secured way. Work in a team if you want to organize your stacks of paper files quickly. Create a unified system that can be accessed only by the employees. Let each department tackle their own files and set a goal for them to complete and enter the documents into the central management software. Determining an "expiration date" is important. Documents older than this date should be shredded so that the cloud doesn't get overloaded with the unnecessary files and slower the whole system. Off-site file storage lets you decide who can access the documents. In this way, you and your team can even work remotely into the paperless era.
Nowadays there are many scanner apps available, such as CamScanner, Adobe Scan, Google Drive Scanner, Office Lens etc. Just scan the files with any of these, make PDF files, and upload them to the cloud. Consider switching to e-signatures. Furthermore, switching to digital banking can remove the clutter of mailed paper bills and the hassle of writing hundreds of checks.
____________________________________________________________________________________________
Related story: 3 apps that can help you help the environment without going out in the wild
____________________________________________________________________________________________
Encouraging paperless meetings
Employees need to be encouraged to use their laptops, smartphones and tablets for meetings or for other situations where they need to take notes. They can embrace the option of using note-taking apps like Notion, Evernote, OneNote and many more. Instead of using paper handouts in a meeting, email each team member the digital files in advance and share the presentation through the cloud storage after the meeting. One important point is that some employees may brainstorm better when they doodle or take notes physically. So do encourage them for a paperless meeting, but don't force them as it can harm people's creative ways to function at full steam. If employees have their own tablets and digital-pens, even the process of doodling can be moved to the digital space.
Encouraging recycling and reuse
Concentrate on purchasing recycled, reusable, durable, and high-quality materials to encourage recycling and reusing. Provide recycling bins or containers where staff can put recycle items. Shred confidential documents with the help of paper cutting machine before putting those in the recycling bin for safety purpose. Buying recycled paper for the printer is also an environment-friendly strategy. Consider using reusable mugs and towels instead of using paper cups and paper towels to promote a paperless office environment.
Being smart regarding office supplies
Printed documents and faxes are generally expensive and a bit inconvenient. Storing these paper documents is time-consuming and they are not accessible if you are not in the office. If you are going for digital documents, then reduce the use of the additional office equipment that needs paper such as printers, faxes and copiers. Be certain about whether the documents need to be printed or should be in an electronic record. Monitor office inventories and keep a track on the usage to ensure that the team is working according to the plan. It is impossible to go paperless totally. However, it can be minimized to make an environment-friendly workplace.
In the context of developing countries, the United Nations addresses how going paperless may seem particularly challenging, with fewer technological resources and overall resistance to change regarding the traditional ways of doing business. Nonetheless, as the benefits far outweigh the cost of implementation, private sector and government agencies should consider taking up paperless operations for future prosperity.