Designed to divide
A look into the grim reality of online education in Bangladesh amid the pandemic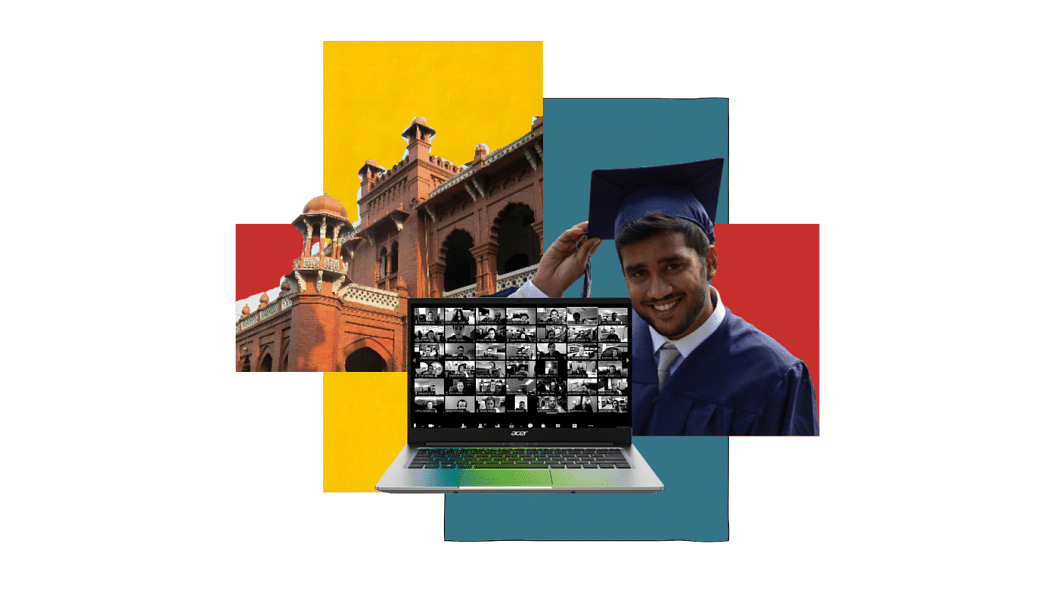 Ever since the pandemic struck, it massively affected the normal course of education, economy and naturally brought about a thousand more inconveniences in a country of 170 million people. Even though in the last 3 months of the collective turmoil, businesses are learning to adapt to the new normal. The only sector that is potentially the biggest struggling variable is the education sector since just 'going online' isn't really ensuring an all-inclusive reach throughout the country.
Even though some institutions tried adapting quickly to the crisis, some are still bound and limited by national policy changes regarding the issue. Perspectives of educationalists, faculties, and student experiences from prominent institutions throughout the country shed light on the bigger question here -Is Bangladesh really ready for the transition imposed?
Is accessibility the only variable to consider?
Dr Atiq Rahman, a professor at the Economics department of North South University, shares his experience: "I have been in the teaching profession for 27 years now. All my life, I have been emphasizing on my interactions with my students and this is really important to me as an Economics faculty. Due to going online and my lack of immediate proficiency in the abruptly shifting technological aspects, it is difficult for me to conduct a proper interactive class. I cannot understand if all of my students are equally attentive and are actually grasping the concepts."
Although the country's noteworthy private universities have made an effort to continue their academic activities as conveniently as possible, the entire system isn't as responsive to the shift. According to sources, these universities are reporting a handsome percentage of student attendance in the online classes, but it isn't the only metric to ensure an effective learning environment. Discrepancies in the income levels can majorly influence the accessibility of such facilities as well.
Nazmul Amin, a student of East West University, living in a boys' hostel in Rampura describes his struggles amid the pandemic: "I used to tutor students to accommodate my living expenses while my parents took care of my university tuition fees. With my tuitions gone, I am now barely able to manage my expenses. It is now a do or die situation where I either have to study or drop out. I cannot afford the expenses required to avail of an online degree."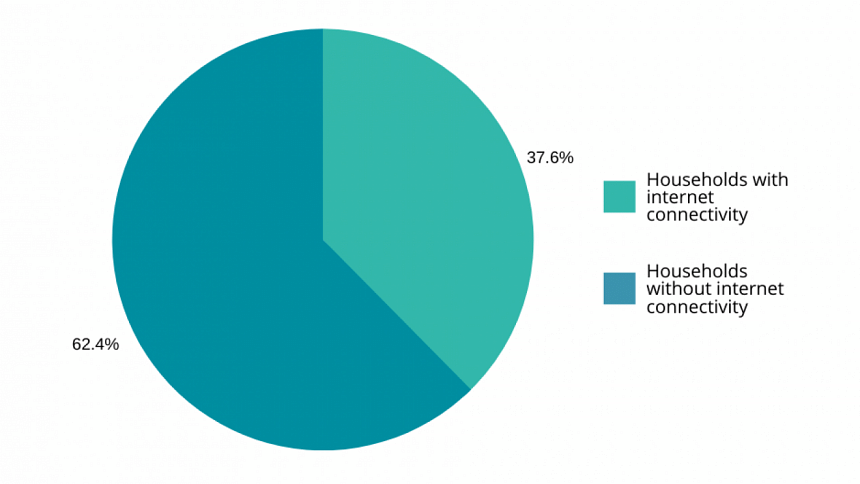 Questionable practicality of remote learning
The Bangladesh Bureau of Statistics' Multiple Indicator Cluster Survey 2019 shows that only 37.6 per cent of households in the country have access to the internet. It also found that only 5.6 per cent of households have a computer. 
While students in Dhaka city are relatively more entitled to better connectivity, students outside the region suffer beyond comprehension. Students who had to return to their villages are either deprived of the technology needed to access online classes or simply devoid of it.
"I'm currently staying at my village home in Gaibandha. I don't have WiFi connection here, so have to attend classes with mobile data. The network is not good enough inside the house, most often I have to go out in the open to do my classes. Since I'm not well connected, I don't always get notified about them and so I'm missing classes as well." said Akhlaqur Opu, a student of the Economics department of Dhaka University.
Many have left their gadgets in their University dormitories. As a result, they are having to attend classes on their mobile phones. This is causing a hiccup in the timely delivery of their academic assignments.
"My WiFi connection at home is terrible, so I have to go through a lot of troubles to attend online classes. I left my laptop in my university hall, so I might not be able to attend classes regularly or meet my deadlines, which worries me a lot,"  said Shamoli Jannat, a student of Economics at Dhaka University, when asked about the challenges of online classes.
When asked what measures should be taken to make this system convenient for everyone, she said, "I think it'll be easier if we are provided with class or tutorial videos. Classes can be recorded so that we can cover up for if we miss them by chance because of network issues. These issues make it very hard to attend live classes."
Student-teacher interaction, a fading tradition?
"I faced two problems in conducting online classes: lack of interaction with the students, and lack of stable connectivity. In most cases, it is challenging to engage the students over zoom or other platforms.
Also, a lot of students do not have access to a stable internet connection. Internet service offered by the telecom operators is not stable, and very expensive for long uses.
There is also the issue of service with Zoom, the most common platform used for online classes, which is hampered due to heavy traffic. I think the teachers will adjust and adapt new pedagogy which will enable better student engagement, while the infrastructural problem can be solved with active planning from the relevant stakeholders" said A.T.M. Jakaria Khan an Assistant Professor at IBA, University of Dhaka.
"There is a high possibility that from the lack of interactive learning, students will slowly lose motivation to learn and their education will only revolve around meeting due dates for assignments," said Bipasha Majumder, a teacher at Capstone School Dhaka.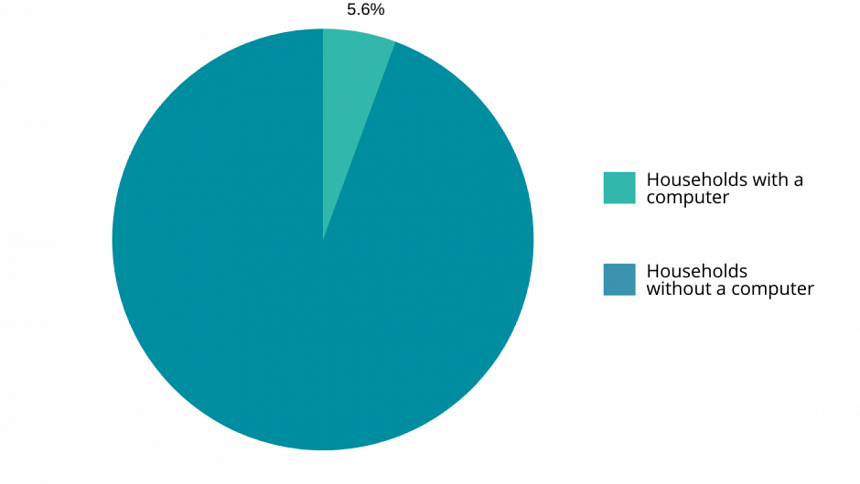 Light at the end of the tunnel
In the midst of unavoidable inconveniences as online education fails to overcome connectivity issues and technological limitations, some universities are trying to make the model as inclusive as possible.
BRAC University recently launched an online learning platform 'buX' - which will enable Brac students to learn wherever they are, whatever their internet connectivity is, and make learning interactive and lively, according to a press release.
"We recognized the issues with online learning in the Spring 2020 session, and have thus implemented this industrial, high-grade solution," said Vice-Chancellor of Brac University, Professor Vincent Chang.
"Part of buX's functionality is to enable online learning even with haphazard connectivity. To make learning feasible for students with poor internet connectivity, we have been working to find proper solutions. These include internet packs and broadband solutions in some cases. In necessary cases, the university will provide hardware for the most at-risk students", he added.
Platforms like buX may address the issues regarding the lags but it is important to consider such options as a viable solution for the long run as well. The policymakers have reportedly identified and addressed these issues, assuring implementations to be underway.
"After considering all factors and speaking with teachers and students of both public and private universities, we are working so that all kinds of institutions can run under a unique online education policy for the long run in Bangladesh," said Professor Dil Afroza, a former teacher of BUET, leading the committee to formulate the Online Education Learning Policy in an interview with New Age.
Bangladesh University of Professionals has promised to facilitate the students with technical support who are suffering from financial distress while many private universities have waived tuition fees for all.
However, students from public universities are yet to be included in the narrative of transforming education. The anxiety of falling behind and session jam due to classes being halted and the resumption without technological readiness has raised concerns among the students.
Despite promising developments in a handful of institutions, the bigger picture continues to paint a grim palette with a larger section of students being left out of the containment measures. With no foreseeable end to the pandemic in sight, the looming question is still left unanswered; "What now?"