Current Affairs
The Fortunetellers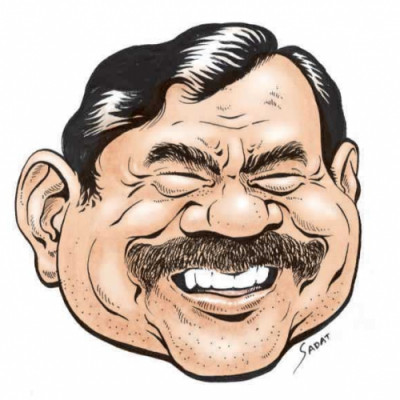 At the Friday afternoon rally in the capital, he announced that utility connections to BNP chief Khaleda Zia's Gulshan office would be disconnected if she did not call off the ongoing non-stop blockade. To many people, his threat appeared as a joke as he had made some more such ridiculous remarks in the past.
Following the tragic death of filmmaker Tareque Masud and journalist Mishuk Munier along with their driver and two other crew members in 2011, he had said that the BRTA [Bangladesh Road Transport Authority] should issue driving license only if a driver could identify a cow or a goat on the road. He made the callous remarks in the face of public outcry following the tragic deaths. In 2012 at a meeting of parliamentary body, Shajahan, also a labour leader, made a shocking demand to the parliamentary body that extortion in the transport sector be made a legal practice.
So his threat to disconnect utility connection to Khaleda's office where she has been living since January 3 was not taken seriously by many. But only a few hours after the threat a team from Desco [Dhaka Electricity Supply Company] had cut off the power connection to Khaleda's office. Cable and internet, land/mobile phone connections were also disconnected in phases.
All those actions were aimed at mounting pressure on Khaleda to leave her office, which she refused to do. The actions however triggered some huge criticism. After 19 hours, the power connection was restored. But other utility connections were not restored till writing this report on Tuesday.
What the government has done is unimaginable in any civilised society. It has set another bad precedent in our politics. If the BNP comes to power in the future and follows the AL government's footsteps, it will further worsen our political culture.
Next day, the shipping minister said something even more dangerous. Talking to journalists on Saturday in Bagerhat, he said: "We will also stop Khaleda Zia's food supply. We will lay siege to her with all the burnt transports."
A day after the shipping minister's fresh threat, Prime Minister Sheikh Hasina on Sunday at a meeting of ruling Awami League Parliamentary Party, indicated that Khaleda had to face many more sorrows.
BNP leader Sadek Hossain Khoka at a programme on Sunday in New York spoke abut the fate of the Hasina-led government. He said that the government would not be able to retain power by banking on the police and the Rab. He also spoke about the fate of the AL leaders and workers in Dhaka city. He said that it needed only 30 minutes to oust all AL men from the city if there is no police and Rab to protect the ruling party men.
Khoka and his party BNP want to return to power through the elections. For this his party BNP must win the election. But Khandaker Mosharraf Hossain, minister for expatriates' welfare and overseas employment, has predicted the outcome of the next election last Friday in Faridpur. He has said that people will elect 200 AL candidates uncontested in the next polls for the present government's massive development activities and for the "subversive activities" of the BNP men.
In the January 5 one-sided parliamentary election, 153 of 300 Jatiya Sangsad seats were uncontested. Electorates did not have any say in electing their MPs in those 153 seats. If Mosharraf's forecast comes true in the next polls, two thirds of the electorates will appear redundant. And if so, the BNP-led alliance's desperate efforts to return to the power through elections must go in vain.
Interestingly, politicians have been speaking about their own future. But people want to know when and how the ongoing political impasse will come to an end.
The writer is Senior Reporter, The Daily Star.