The raging soloist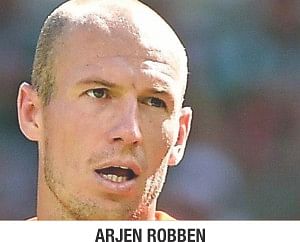 Arjen Robben is the exact anti-thesis of the Dutch footballer; a man whose style reminds you more of a sturdy village footballer in a kickabout than an elite professional player.
On a good day, Arjen Robben looks like a 45-year-old bank manager who would be more comfortable cracking a winning smile to clients behind a big, clean, teak desk. Out on the pitch too, Robben's bald plate and wide smile seems totally out of character with the blazing orange jersey of the Netherlands, which is generally pictured worn by soulful, lithe superstars in rockstar mops. This image disintegrates even further when Robben starts playing. The man is annoyingly one-footed, incredibly selfish with the ball and almost always plays with his head down. He gestures wildly when the ball is not passed to him and even his ex-coach branded him a 'serial diver.'
Robben is the kind of person who, you think, irritates not only the opposition but also his own teammates. As the Dutch journalist Simon Kuper puts it, "you would imagine that a lot of people want to slap Arjen Robben, but only Franck Ribery actually did." That offending incident happened during a Bayern Munich game when both of them got into a scuffle over who would take a free-kick. Almost about the same time, Robben was swiftly developing a reputation as a choker -- he had missed a glorious chance in the World Cup final in 2010 and then missed a penalty in extra-time in Bayern's heartbreaking loss to Chelsea in the Champions League final in 2012. Suffice to say that the vitriol from the public was not kind.
But there is a small caveat that people have seemingly always ignored -- Robben is truly an exceptional footballer. And in a World Cup where the power of the individual has often made the difference, Robben has emerged as perhaps the best of the lot -- perhaps ahead of even Lionel Messi, James Rodriguez and Neymar.
Robben's position in a Dutch side forever obsessed with the power of the collective is even more unique. The unbreakable Dutch code of Total Football that emphasises the power of many over the power of the individual seems the exact opposite of the code that binds Robben's style of football. In truth, Robben is the exact anti-thesis of the Dutch footballer -- a man, whose knock-kneed dribbling style direct towards goal with his head down and shoulders hunched remind you more of a sturdy village footballer in a kickabout than an elite professional player. And that is exactly what Robben is -- a footballer from a windy Dutch village in the north who spent most of his formative years dribbling down the wing while his contemporaries learned the perfect geometric exercises that define Dutch football.
And therein is Robben's charm. He is a one-trick pony, but with a trick so good that he almost always wins the prize;  receiving the ball on his left foot on the right wing, cutting diagonally across defenders before finding the angle to beat the goalkeeper either at near or far post with a shooting technique that can only be described as genius.
He is quick too, unofficially recorded at running at a mind-boggling 37.2 km/hr during a manic sprint to beat Sergio Ramos to score a thrilling goal in their 5-1 win over Spain in the group phase. That game exorcised some of Robben's ghosts from 2010 when his feint and miss managed to send Iker Casillas the wrong way but still found the goalkeeper's body during a finish that might have won them the World Cup. "I play that miss over in my head a lot," admitted Robben. This follows close on the heels of his rolled finish in the Champions League final in London last year that meant that he finally had a Champions League trophy to his name.
The Dutch coach Louis van Gaal has been a great fan of Robben ever since he saw him first as a 17-year-old in 2001. "I have never seen a talent as big as him," Van Gaal had said at that point. It was true that his blinding pace and direct play had won Robben many admirers -- the world looked his oyster. But a series of injuries managed to debilitate Robben, who could be unstoppable on his day but rarely managed to stay fit long enough to create those days.
At 30, Robben is a seasoned professional in a World Cup of young men. He is finally fit and showing why many still say that on his best day he can reach the level of a Messi or a Ronaldo. He is also an outlier in a Dutch side; a raging soloist in a team of passmasters, but one on whom plenty depends. Van Gaal believes in him enough to anoint him as the X-factor, the man who can make the difference with his significant departure from tactics. A man who plays like "a dog chasing a piece of fly-paper floating in the wind". Not even the best defence can cope with a Robben special and even the defence knows that.
The Dutch are playing Costa Rica in the quarterfinal and with a potentially winnable semifinal against Argentina on the cards. The path to a second final in two consecutive World Cups seems a tantalising possibility. If they get there, maybe Robben can make up for 2010 again. And with that he would not remove the unfair tag of choker just from himself, but also from a nation who, for all their storied history, have never won the World Cup.